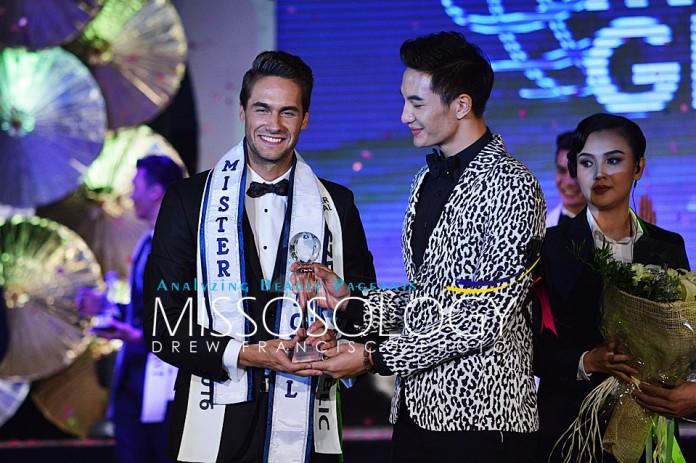 Tomas Martinka of Czech Republic was named Mister Global 2016 during the finals held May 6 at Chiangmai Hall in Chiang Mai, Thailand, as correctly predicted by Misssology.
The 26-year-old lifeguard bested 29 other candidates to succeed the outgoing titleholder Son Van Nguyen. Asked during the final question what he would do to save the environment in case he wins, Martinka said he will stop using his car and take the bicycle instead.
Host delegate and another top favorite Thawatchai Jaikharn finished first runner-up. He won the People's Choice award (voted by the audience of the preliminary show held May 5), giving him an automatic spot in the Top 16.
Second runner-up was Spain's Chema Malavia, who also received the Mister Photogenic special award. Brazil's Giba Pignatti placed third runner-up, while Singapore's Noel Ng was fourth runner-up. Ng also won the Most Charming Smile award.
Missosology predicted the placements of the Top 5 correctly.
The Top 10 finalists included Philippines, Nepal, Myanmar, Korea and Malaysia. The rest of the Top 16 were USA, Guam, India, Japan, Peru, and Puerto Rico.
Philippines' Mark Louie Bornilla won the Missosology People's Choice Award, after receiving more than 200,000 votes in the poll hosted on Missosology's forum. He also got the Mister Global 2016 Mister Internet Popularity title (voted on Facebook), earning him a spot in the Top 16.
The winners of other special awards were: Sri Lanka (Best in National Costume), Turkey (Best Physique), India (Best Model), Guam (Mister Congeniality) and Malaysia (Best in Talent). Text and photos by Drew Francisco/Missosology.Org