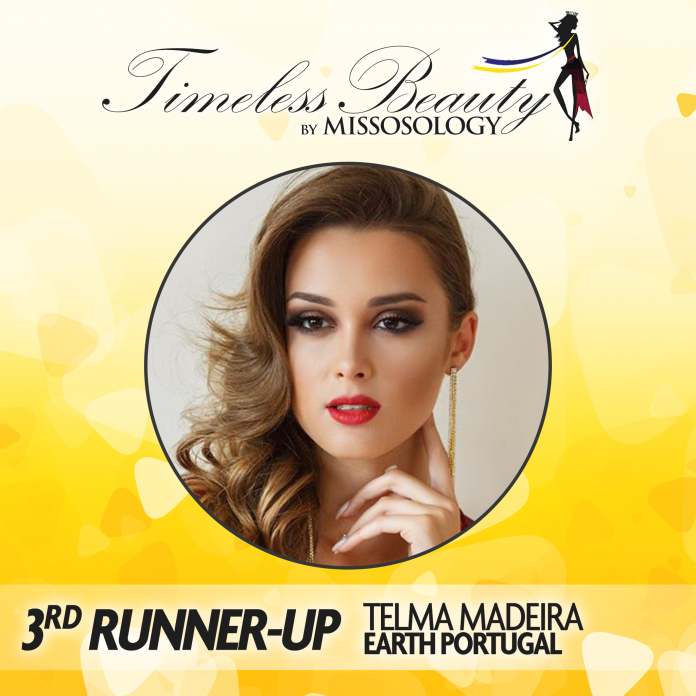 Text and graphics by Drew Francisco
With a final score of 4.197, our Missosology Timeless Beauty 2018 3rd runner-up is Telma Madeira of Portugal.
Miss Earth was the first among the Big5 pageants to take place last year, and it was one of the pageant's most competitive editions to date. A lot of delegates made an impact, but no one compared to the beauty of Telma.
Beauty and timeless appeal: 4.455
Overall performance: 4.136
Global impact: 4.000
FINAL SCORE: 4.197
No one could argue that the 19-year-old Porto native was the face of the competition. Her youthful looks and unassuming aura truly captivated the hearts of everyone. With the Miss Earth criteria giving a heavier weight on beauty of face and poise, Telma was expected to finish strong come finals.
On the finals night, she breezed through the first parts of the competition with her great figure and beautiful face. However, she came up short in the important Hashtag round. Despite missing the Top 4 bus, Telma received lots of love and appreciation from pageant observers. The super-beauty would've been the perfect personification of Miss Earth 2018's "Goddess of the Earth" theme. But we look forward to seeing what's next for this Portuguese queen. Missosology.Org