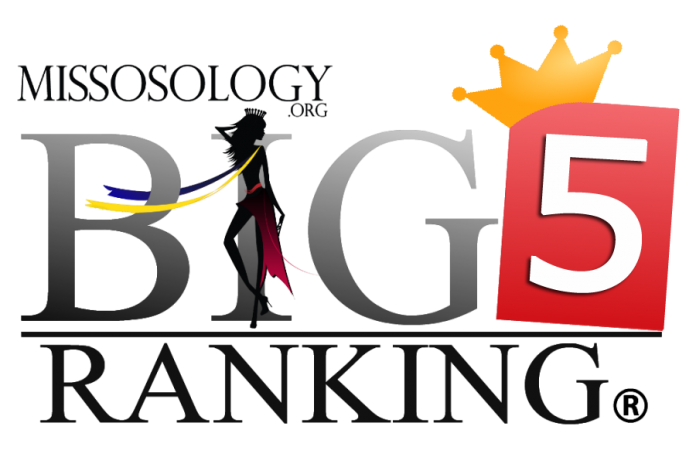 Just a few days before a new Miss Universe is going to be crowned, we have resumed the update of the longest-running pageant ranking available – the Missosology Big5 Ranking, which is officially entering her 10th year of uninterrupted and unchanged ranking system. It is a solid proof that no amount of manipulative changes can define which countries are indeed the powerhouses in the field of pageantry.
2020 will be remembered as the year when no major pageant was physically held under the current circumstance, but in November of last year, a unique style of competition was conducted by the Miss Earth organization when it hosted a virtual pageant. After the result of Miss Earth 2020 was added to our 2019 Big 5 Ranking table, the Philippines has finally overtaken Brazil in the third spot. Interestingly, the result of Miss Earth 2020 has exactly reflected the current Top 3 of the Missosology Big 5 Ranking (see table below).
However, the long-delayed Miss Universe pageant might as well spoil everything for the Philippines if Rabiya Mateo fails to place in the Top 21, and Brazil's Julia Gama gets at least a 3rd Runner-up position.
| 2017 | 2018 | 2019 | 2020 | COUNTRY or REGION | TOTAL | Universe | World | International | Earth | Supranational |
| --- | --- | --- | --- | --- | --- | --- | --- | --- | --- | --- |
| 1 | 1 | 1 | 1 | U.S.A. | 21554 | 8440 | 5990 | 4730 | 1794 | 600 |
| 2 | 2 | 2 | 2 | VENEZUELA | 19485 | 6430 | 4715 | 5310 | 2410 | 620 |
| 4 | 4 | 4 | 3 | PHILIPPINES | 14126 | 3700 | 2710 | 4340 | 2616 | 760 |
| 3 | 3 | 3 | 4 | BRAZIL | 14008 | 4590 | 3435 | 3610 | 1778 | 595 |
| 5 | 5 | 5 | 5 | COLOMBIA | 13534 | 4810 | 2225 | 4530 | 1254 | 715 |
| 6 | 6 | 6 | 6 | AUSTRALIA | 11213 | 2900 | 3865 | 3270 | 768 | 410 |
| 7 | 7 | 7 | 7 | INDIA | 11072 | 2890 | 3755 | 2570 | 1042 | 815 |
| 8 | 8 | 8 | 8 | SPAIN | 10651 | 2780 | 2350 | 4250 | 1046 | 225 |
| 9 | 9 | 9 | 9 | JAPAN | 10485 | 2850 | 1725 | 4990 | 730 | 190 |
| 10 | 10 | 10 | 10 | FINLAND | 10180 | 3070 | 2670 | 4090 | 230 | 120 |
| 12 | 11 | 11 | 11 | FRANCE | 9822 | 2600 | 4020 | 2440 | 522 | 240 |
| 14 | 13 | 12 | 12 | MEXICO | 9495 | 2840 | 2670 | 2500 | 890 | 595 |
| 11 | 12 | 13 | 13 | SWEDEN | 9490 | 3890 | 3150 | 1860 | 450 | 140 |
| 16 | 14 | 14 | 14 | SOUTH AFRICA | 9310 | 3050 | 4560 | 510 | 990 | 200 |
| 17 | 17 | 15 | 15 | PUERTO RICO | 9109 | 3520 | 2090 | 1970 | 714 | 815 |
| 13 | 15 | 16 | 16 | ISRAEL | 8785 | 2790 | 3495 | 2120 | 350 | 30 |
| 15 | 16 | 17 | 17 | GERMANY | 8685 | 2930 | 2815 | 2530 | 330 | 80 |
| 20 | 20 | 18 | 18 | THAILAND | 8256 | 1970 | 1410 | 2550 | 1456 | 870 |
| 18 | 18 | 19 | 19 | KOREA | 7828 | 1560 | 1760 | 3300 | 868 | 340 |
| 19 | 19 | 20 | 20 | UNITED KINGDOM | 7695 | 410 | 4885 | 2360 | 40 | 0 |
| 21 | 21 | 21 | 21 | NETHERLANDS | 7043 | 2010 | 2240 | 1880 | 698 | 215 |
| 25 | 23 | 22 | 22 | POLAND | 6742 | 920 | 1340 | 1940 | 1402 | 1140 |
| 22 | 22 | 23 | 23 | CANADA | 6619 | 2770 | 2030 | 1010 | 404 | 405 |
| 23 | 24 | 24 | 24 | ARGENTINA | 6431 | 2090 | 2050 | 1820 | 296 | 175 |
| 24 | 25 | 25 | 25 | GREECE | 6260 | 2460 | 1910 | 1520 | 190 | 180 |
| 26 | 26 | 26 | 26 | NORWAY | 6115 | 2280 | 1655 | 1830 | 300 | 50 |
| 28 | 28 | 27 | 27 | NEW ZEALAND | 5826 | 1170 | 2360 | 1910 | 276 | 110 |
| 27 | 27 | 28 | 28 | ITALY | 5667 | 2250 | 1805 | 1080 | 432 | 100 |
| 29 | 29 | 29 | 29 | PERU | 5662 | 2350 | 1500 | 850 | 492 | 470 |
| 33 | 30 | 30 | 30 | JAMAICA | 5560 | 1330 | 3795 | 240 | 50 | 145 |
| 30 | 31 | 31 | 31 | DOMINICAN REPUBLIC | 5455 | 1750 | 1700 | 1270 | 460 | 275 |
| 34 | 34 | 34 | 32 | DENMARK | 5420 | 1170 | 2285 | 1220 | 510 | 235 |
| 31 | 33 | 32 | 33 | ENGLAND | 5398 | 2540 | 830 | 1430 | 338 | 260 |
| 32 | 32 | 33 | 34 | IRELAND | 5350 | 1500 | 2490 | 1220 | 60 | 80 |
| 36 | 36 | 35 | 35 | RUSSIA | 5273 | 1050 | 1550 | 1340 | 1068 | 265 |
| 35 | 35 | 36 | 36 | AUSTRIA | 5161 | 1210 | 2225 | 1170 | 556 | 0 |
| 37 | 37 | 37 | 37 | ICELAND | 4890 | 1030 | 1590 | 1880 | 20 | 370 |
| 39 | 39 | 39 | 38 | PANAMA | 4799 | 1420 | 830 | 1470 | 414 | 665 |
| 38 | 38 | 38 | 39 | BELGIUM | 4735 | 1510 | 1310 | 1530 | 200 | 185 |
| 41 | 41 | 40 | 40 | TURKEY | 4261 | 830 | 1435 | 1570 | 176 | 250 |
| 40 | 40 | 41 | 41 | SWITZERLAND | 4252 | 1650 | 1320 | 690 | 492 | 100 |
| 42 | 42 | 42 | 42 | CHILE | 4164 | 1820 | 800 | 490 | 964 | 90 |
| 43 | 44 | 43 | 43 | CZECH REPUBLIC | 4102 | 650 | 670 | 890 | 1192 | 700 |
| 44 | 43 | 44 | 44 | ECUADOR | 3943 | 960 | 885 | 1040 | 818 | 240 |
| 46 | 46 | 45 | 45 | CHINA PR | 3701 | 560 | 1470 | 1220 | 366 | 85 |
| 45 | 45 | 46 | 46 | TRINIDAD & TOBAGO | 3595 | 1460 | 1745 | 110 | 160 | 120 |
| 52 | 50 | 47 | 47 | INDONESIA | 3483 | 580 | 1010 | 1090 | 178 | 625 |
| 46 | 46 | 48 | 48 | COSTA RICA | 3466 | 970 | 760 | 1040 | 486 | 210 |
| 48 | 47 | 49 | 49 | UKRAINE | 3344 | 870 | 750 | 830 | 444 | 450 |
| 47 | 48 | 50 | 50 | BOLIVIA | 3228 | 870 | 870 | 1050 | 298 | 140 |
| 49 | 49 | 51 | 51 | PARAGUAY | 3192 | 970 | 700 | 630 | 602 | 290 |
| 65 | 56 | 52 | 52 | VIETNAM | 2943 | 320 | 800 | 590 | 658 | 575 |
| 51 | 53 | 53 | 53 | HONGKONG | 2885 | 1040 | 800 | 960 | 50 | 35 |
| 53 | 52 | 54 | 54 | MALAYSIA | 2867 | 650 | 1220 | 610 | 202 | 185 |
| 50 | 51 | 55 | 55 | LEBANON | 2842 | 780 | 1120 | 590 | 282 | 70 |
| 63 | 61 | 58 | 56 | PORTUGAL | 2688 | 510 | 690 | 740 | 508 | 240 |
| 54 | 54 | 57 | 57 | HONDURAS | 2642 | 570 | 410 | 930 | 462 | 270 |
| 55 | 57 | 56 | 58 | GUAM | 2640 | 730 | 1080 | 540 | 290 | 0 |
| 57 | 58 | 59 | 59 | SRI LANKA | 2580 | 640 | 900 | 790 | 90 | 160 |
| 63 | 64 | 61 | 60 | SINGAPORE | 2506 | 750 | 610 | 640 | 386 | 120 |
| 59 | 59 | 60 | 61 | SCOTLAND | 2505 | 940 | 815 | 310 | 350 | 90 |
| 58 | 60 | 62 | 62 | YUGOSLAVIA | 2400 | 430 | 1240 | 570 | 160 | 0 |
| 69 | 67 | 66 | 63 | NIGERIA | 2398 | 470 | 1190 | 70 | 558 | 110 |
| 61 | 62 | 63 | 64 | NICARAGUA | 2380 | 600 | 475 | 1100 | 190 | 15 |
| 60 | 63 | 64 | 65 | URUGUAY | 2360 | 1210 | 810 | 290 | 40 | 10 |
| 62 | 65 | 65 | 66 | GUATEMALA | 2338 | 780 | 530 | 570 | 368 | 90 |
| 72 | 72 | 70 | 67 | KENYA | 2072 | 220 | 1130 | 190 | 442 | 90 |
| 66 | 66 | 67 | 68 | CURACAO | 2070 | 1180 | 430 | 380 | 60 | 20 |
| 68 | 69 | 68 | 69 | WALES | 1976 | 980 | 530 | 220 | 116 | 130 |
| 66 | 68 | 69 | 70 | ARUBA | 1970 | 510 | 900 | 530 | 20 | 10 |
| 71 | 70 | 71 | 71 | SLOVAKIA | 1940 | 390 | 350 | 460 | 340 | 400 |
| 70 | 71 | 72 | 72 | EL SALVADOR | 1910 | 930 | 430 | 270 | 210 | 70 |
| 80 | 78 | 73 | 73 | BELARUS | 1880 | 0 | 280 | 440 | 260 | 900 |
| 73 | 73 | 74 | 74 | CHINESE TAIPEI | 1746 | 510 | 500 | 380 | 236 | 120 |
| 76 | 74 | 75 | 75 | HUNGARY | 1700 | 470 | 550 | 220 | 220 | 240 |
| 78 | 80 | 76 | 76 | GHANA | 1664 | 350 | 830 | 130 | 334 | 20 |
| 74 | 75 | 77 | 77 | BAHAMAS | 1652 | 580 | 690 | 60 | 182 | 140 |
| 81 | 76 | 78 | 78 | ROMANIA | 1645 | 160 | 400 | 210 | 350 | 525 |
| 77 | 79 | 80 | 79 | CROATIA | 1600 | 390 | 930 | 30 | 80 | 170 |
| 75 | 77 | 79 | 80 | POLYNESIE FRANCAISE | 1597 | 250 | 410 | 490 | 432 | 15 |
| 79 | 81 | 81 | 81 | GUYANA | 1586 | 220 | 1200 | 10 | 146 | 10 |
| 88 | 82 | 82 | 82 | MAURITIUS | 1445 | 320 | 620 | 90 | 280 | 135 |
| 90 | 90 | 83 | 83 | NAMIBIA | 1410 | 550 | 510 | 100 | 20 | 230 |
| 82 | 83 | 84 | 84 | MALTA | 1380 | 380 | 660 | 200 | 90 | 50 |
| 85 | 86 | 85 | 85 | MONGOLIA | 1366 | 20 | 480 | 500 | 346 | 20 |
| 84 | 85 | 86 | 86 | ANGOLA | 1290 | 580 | 580 | 0 | 100 | 30 |
| 83 | 84 | 87 | 87 | CYPRUS | 1286 | 380 | 560 | 190 | 146 | 10 |
| 86 | 87 | 88 | 88 | ZIMBABWE | 1261 | 150 | 855 | 30 | 196 | 30 |
| 91 | 88 | 89 | 89 | EGYPT | 1240 | 270 | 490 | 70 | 380 | 30 |
| 87 | 89 | 89 | 90 | HAWAII | 1240 | 370 | 10 | 860 | 0 | 0 |
| 89 | 91 | 91 | 91 | GIBRALTAR | 1221 | 90 | 900 | 150 | 36 | 45 |
| 93 | 92 | 92 | 92 | KAZAKHSTAN | 1172 | 110 | 730 | 10 | 212 | 110 |
| 111 | 98 | 93 | 93 | NEPAL | 1170 | 120 | 590 | 110 | 320 | 30 |
| 92 | 93 | 94 | 94 | LUXEMBOURG | 1150 | 270 | 290 | 480 | 40 | 70 |
| 94 | 95 | 95 | 95 | US VIRGIN ISLANDS | 1132 | 320 | 570 | 10 | 92 | 140 |
| 95 | 94 | 96 | 96 | BOSNIA & HERZEGOVINA | 1102 | 0 | 290 | 0 | 762 | 50 |
| 102 | 97 | 98 | 97 | SLOVENIA | 1064 | 190 | 260 | 0 | 354 | 260 |
| 96 | 96 | 97 | 98 | TANZANIA | 1056 | 210 | 390 | 60 | 396 | 0 |
| 100 | 100 | 99 | 99 | HAITI | 1050 | 590 | 170 | 170 | 70 | 50 |
| 98 | 101 | 99 | 99 | TUNISIA | 1050 | 80 | 370 | 600 | 0 | 0 |
| 97 | 98 | 101 | 101 | BERMUDA | 1010 | 450 | 550 | 10 | 0 | 0 |
| 99 | 102 | 102 | 102 | LATVIA | 966 | 110 | 270 | 280 | 176 | 130 |
| 103 | 103 | 103 | 103 | NORTHERN IRELAND | 960 | 0 | 570 | 0 | 310 | 80 |
| 101 | 103 | 104 | 104 | CZECHOSLOVAKIA | 920 | 220 | 250 | 450 | 0 | 0 |
| 117 | 113 | 112 | 105 | MYANMAR | 896 | 120 | 70 | 90 | 186 | 430 |
| 108 | 110 | 105 | 106 | ALBANIA | 890 | 430 | 170 | 0 | 80 | 210 |
| 105 | 105 | 106 | 107 | BOTSWANA | 880 | 270 | 530 | 0 | 80 | 0 |
| 104 | 105 | 107 | 108 | ESTONIA | 876 | 370 | 240 | 40 | 166 | 60 |
| 110 | 107 | 108 | 109 | MARTINIQUE | 850 | 50 | 290 | 30 | 470 | 10 |
| 106 | 108 | 109 | 110 | CUBA | 845 | 360 | 280 | 150 | 40 | 15 |
| 107 | 109 | 110 | 111 | SURINAME | 835 | 310 | 100 | 50 | 40 | 335 |
| 109 | 111 | 111 | 112 | CAYMAN ISLANDS | 790 | 320 | 450 | 0 | 20 | 0 |
| 111 | 112 | 113 | 113 | GEORGIA | 760 | 150 | 270 | 40 | 250 | 50 |
| 120 | 119 | 115 | 114 | GUADELOUPE | 700 | 60 | 210 | 230 | 140 | 60 |
| 113 | 114 | 114 | 115 | ETHIOPIA | 696 | 120 | 240 | 90 | 76 | 170 |
| 114 | 115 | 115 | 116 | BULGARIA | 690 | 260 | 380 | 10 | 10 | 30 |
| 114 | 116 | 118 | 116 | NORTHERN MARIANAS | 690 | 270 | 10 | 310 | 100 | 0 |
| 137 | 131 | 117 | 118 | UGANDA | 682 | 0 | 430 | 180 | 72 | 0 |
| 122 | 119 | 118 | 119 | BARBADOS | 680 | 170 | 490 | 0 | 10 | 10 |
| 117 | 116 | 118 | 119 | BELIZE | 680 | 380 | 190 | 30 | 70 | 10 |
| 120 | 122 | 122 | 121 | LIBERIA | 666 | 40 | 500 | 60 | 66 | 0 |
| 117 | 118 | 121 | 121 | SERBIA | 666 | 90 | 170 | 110 | 206 | 90 |
| 116 | 121 | 123 | 123 | CONGO, D.R. | 640 | 330 | 150 | 140 | 20 | 0 |
| 127 | 126 | 124 | 124 | BRITISH VIRGIN ISLANDS | 610 | 350 | 250 | 0 | 10 | 0 |
| 124 | 123 | 125 | 125 | KOSOVO | 600 | 430 | 20 | 0 | 90 | 60 |
| 125 | 125 | 126 | 126 | MACAU | 590 | 0 | 250 | 130 | 170 | 40 |
| 122 | 124 | 127 | 126 | SERBIA & MONTENEGRO | 590 | 170 | 30 | 130 | 260 | 0 |
| 126 | 127 | 128 | 128 | TURKS & CAICOS | 530 | 400 | 80 | 0 | 50 | 0 |
| 133 | 132 | 129 | 129 | MOLDOVA | 515 | 0 | 250 | 70 | 50 | 145 |
| 130 | 129 | 130 | 130 | ZAMBIA | 510 | 90 | 180 | 50 | 180 | 10 |
| 128 | 128 | 131 | 131 | LITHUANIA | 496 | 40 | 180 | 130 | 46 | 100 |
| 129 | 129 | 132 | 132 | SAINT LUCIA | 480 | 90 | 260 | 0 | 130 | 0 |
| 134 | 134 | 133 | 133 | SOUTH SUDAN | 460 | 0 | 310 | 40 | 60 | 50 |
| 131 | 133 | 134 | 134 | GABON | 436 | 40 | 40 | 40 | 36 | 280 |
| 132 | 135 | 135 | 135 | SEYCHELLES | 420 | 10 | 400 | 10 | 0 | 0 |
| 145 | 140 | 136 | 136 | COOK ISLANDS | 406 | 100 | 250 | 20 | 36 | 0 |
| 135 | 136 | 137 | 137 | SWAZILAND | 370 | 20 | 350 | 0 | 0 | 0 |
| 136 | 137 | 138 | 138 | MACEDONIA FYR | 360 | 0 | 140 | 160 | 30 | 30 |
| 141 | 142 | 139 | 139 | ANTIGUA & BARBUDA | 340 | 110 | 230 | 0 | 0 | 0 |
| 138 | 137 | 140 | 140 | MOROCCO | 330 | 170 | 80 | 60 | 0 | 20 |
| 138 | 137 | 141 | 141 | GRENADA | 320 | 10 | 310 | 0 | 0 | 0 |
| 149 | 148 | 143 | 142 | CAMEROON | 300 | 0 | 40 | 20 | 170 | 70 |
| 140 | 141 | 142 | 142 | USSR | 300 | 170 | 30 | 100 | 0 | 0 |
| 143 | 143 | 143 | 144 | SENEGAL | 290 | 30 | 30 | 230 | 0 | 0 |
| 150 | 144 | 145 | 145 | MONTENEGRO | 280 | 60 | 140 | 0 | 60 | 20 |
| 159 | 163 | 162 | 146 | COTE D'IVOIRE | 276 | 10 | 100 | 40 | 116 | 10 |
| 142 | 152 | 149 | 147 | SIERRA LEONE | 256 | 20 | 120 | 20 | 76 | 20 |
| 146 | 147 | 146 | 148 | FIJI | 250 | 20 | 70 | 120 | 40 | 0 |
| 161 | 145 | 146 | 148 | MADAGASCAR | 250 | 10 | 80 | 120 | 40 | 0 |
| 144 | 145 | 146 | 148 | VIRGIN ISLANDS | 250 | 210 | 40 | 0 | 0 | 0 |
| 153 | 151 | 150 | 151 | RWANDA | 245 | 0 | 40 | 0 | 30 | 175 |
| 148 | 150 | 151 | 152 | SAMOA | 226 | 100 | 50 | 0 | 76 | 0 |
| 161 | 155 | 152 | 153 | LAOS | 220 | 40 | 30 | 130 | 0 | 20 |
| 147 | 148 | 152 | 153 | RHODESIA & NYASALAND | 220 | 10 | 210 | 0 | 0 | 0 |
| 152 | 153 | 154 | 155 | CRIMEA | 206 | 0 | 0 | 0 | 206 | 0 |
| 155 | 155 | 155 | 156 | REUNION | 200 | 100 | 0 | 0 | 90 | 10 |
| 166 | 160 | 158 | 157 | BANGLADESH | 190 | 10 | 170 | 0 | 10 | 0 |
| 175 | 163 | 155 | 157 | EQUATORIAL GUINEA | 190 | 10 | 70 | 10 | 0 | 100 |
| 150 | 154 | 155 | 157 | GAMBIA | 190 | 50 | 90 | 0 | 0 | 50 |
| 154 | 155 | 158 | 160 | NEW CALENDONIA | 180 | 10 | 0 | 160 | 10 | 0 |
| 156 | 158 | 158 | 160 | PAPUA NEW GUINEA | 180 | 100 | 70 | 0 | 10 | 0 |
| 158 | 159 | 161 | 162 | TONGA | 176 | 0 | 20 | 0 | 156 | 0 |
| 170 | 162 | 164 | 163 | PAKISTAN | 168 | 0 | 0 | 0 | 118 | 50 |
| 157 | 160 | 163 | 164 | ALASKA | 160 | 160 | 0 | 0 | 0 | 0 |
| 159 | 165 | 165 | 165 | ST. VINVENT & THE GR. | 140 | 80 | 60 | 0 | 0 | 0 |
| 182 | 176 | 169 | 166 | ARMENIA | 130 | 20 | 30 | 30 | 40 | 10 |
| 161 | 166 | 166 | 166 | BONAIRE | 130 | 90 | 30 | 0 | 10 | 0 |
| 161 | 166 | 166 | 166 | ISLE OF MAN | 130 | 0 | 130 | 0 | 0 | 0 |
| 161 | 167 | 166 | 166 | MONTE CARLO | 130 | 0 | 130 | 0 | 0 | 0 |
| 182 | 179 | 172 | 170 | CAMBODIA | 126 | 30 | 20 | 20 | 56 | 0 |
| 171 | 170 | 169 | 171 | KYRGYZSTAN | 120 | 10 | 60 | 30 | 20 | 0 |
| 166 | 169 | 171 | 171 | LESOTHO | 120 | 10 | 110 | 0 | 0 | 0 |
| 166 | 170 | 172 | 173 | SAN MARINO | 110 | 0 | 0 | 110 | 0 | 0 |
| 166 | 170 | 172 | 173 | ST. KITTS & NEVIS | 110 | 30 | 80 | 0 | 0 | 0 |
| 171 | 173 | 175 | 175 | JORDAN | 100 | 10 | 60 | 30 | 0 | 0 |
| 171 | 173 | 175 | 175 | MONTSERRAT | 100 | 0 | 100 | 0 | 0 | 0 |
| 171 | 173 | 175 | 175 | WESTERN SAMOA | 100 | 0 | 100 | 0 | 0 | 0 |
| 176 | 176 | 178 | 178 | JERSEY | 80 | 0 | 80 | 0 | 0 | 0 |
| 177 | 176 | 178 | 178 | TOGO | 80 | 0 | 0 | 50 | 0 | 30 |
| 177 | 179 | 180 | 180 | SINT MAARTEN | 70 | 40 | 30 | 0 | 0 | 0 |
| 179 | 181 | 181 | 181 | GREENLAND | 60 | 40 | 20 | 0 | 0 | 0 |
| 179 | 181 | 181 | 181 | GUINEA | 60 | 0 | 50 | 0 | 0 | 10 |
| 179 | 181 | 181 | 181 | OKINAWA | 60 | 60 | 0 | 0 | 0 | 0 |
| 182 | 184 | 184 | 184 | CAPE VERDE | 50 | 0 | 30 | 0 | 0 | 20 |
| 182 | 184 | 184 | 184 | CONGO, REP. OF THE | 50 | 0 | 0 | 30 | 20 | 0 |
| 182 | 184 | 184 | 184 | IRAQ | 50 | 20 | 0 | 0 | 10 | 20 |
| 182 | 184 | 184 | 184 | ST. BARTHELEMY | 50 | 0 | 50 | 0 | 0 | 0 |
| 188 | 188 | 188 | 188 | BRITISH GUIANA | 40 | 0 | 0 | 40 | 0 | 0 |
| 188 | 188 | 188 | 188 | MALAWI | 40 | 0 | 40 | 0 | 0 | 0 |
| 195 | 190 | 188 | 188 | GUINEA-BISSAU | 40 | 0 | 40 | 0 | 0 | 0 |
| 190 | 190 | 191 | 191 | AZERBAIJAN | 30 | 10 | 0 | 0 | 0 | 20 |
| 190 | 190 | 191 | 191 | DOMINICA | 30 | 10 | 20 | 0 | 0 | 0 |
| 190 | 190 | 191 | 191 | FRENCH GUIANA | 30 | 30 | 0 | 0 | 0 | 0 |
| 190 | 190 | 191 | 191 | PALAU | 30 | 0 | 0 | 30 | 0 | 0 |
| 190 | 190 | 191 | 191 | SAO TOME & PRINCIPE | 30 | 0 | 10 | 0 | 0 | 20 |
| 195 | 196 | 196 | 191 | SYRIA | 30 | 0 | 20 | 0 | 10 | 0 |
| 195 | 196 | 196 | 197 | AFGHANISTAN | 20 | 0 | 0 | 0 | 20 | 0 |
| 195 | 196 | 196 | 197 | CHAD | 20 | 0 | 10 | 0 | 10 | 0 |
| 195 | 196 | 196 | 197 | GUERNSEY | 20 | 0 | 20 | 0 | 0 | 0 |
| 195 | 196 | 196 | 197 | NIUE ISLAND | 20 | 0 | 0 | 0 | 20 | 0 |
| 195 | 196 | 196 | 197 | SAINT-MARTIN | 20 | 20 | 0 | 0 | 0 | 0 |
| 195 | 196 | 196 | 197 | TIBET | 20 | 0 | 0 | 0 | 20 | 0 |
| 195 | 196 | 196 | 197 | TRINIDAD | 20 | 20 | 0 | 0 | 0 | 0 |
| 204 | 204 | 204 | 204 | ALGERIA | 10 | 0 | 10 | 0 | 0 | 0 |
| 204 | 204 | 204 | 204 | ANDORRA | 10 | 0 | 10 | 0 | 0 | 0 |
| 204 | 204 | 204 | 204 | BHUTAN | 10 | 0 | 0 | 0 | 10 | 0 |
| * | * | 204 | 204 | BURKINA FASO | 10 | 0 | 0 | 10 | 0 | 0 |
| 204 | 204 | 204 | 204 | NEW HEBRIDES | 10 | 10 | 0 | 0 | 0 | 0 |
| 204 | 204 | 204 | 204 | PALESTINE | 10 | 0 | 0 | 0 | 10 | 0 |
| 204 | 204 | 204 | 204 | TANGANYIKA | 10 | 0 | 10 | 0 | 0 | 0 |
| 204 | 204 | 204 | 204 | TOKELAO | 10 | 0 | 0 | 0 | 10 | 0 |
| 204 | 204 | 204 | 204 | UZBEKISTAN | 10 | 0 | 10 | 0 | 0 | 0 |
| 204 | 204 | 204 | 204 | ZANZIBAR | 10 | 0 | 0 | 0 | 10 | 0 |