That national costume conundrum yet again
It's a horrible thing to insult ones culture but it is even horrific to have a foreigner to take a jab at it. That what's the great Colombia designer Alfredo Barrazza is doing to the Filipino culture, whose name interestingly rhymes with a common word that both a Colombian and a Filipino would understand – basura.
Yes, the whole Filipino nation is upset about the national costume of Mary Jean Lastimosa at Miss Universe. The well-revered Filipiniana terno was turned into some Goldilocks cake, all-in, dedication optional. Or as some netizens would point out – a classic Selecta three in one ice cream.
It was a horrible joke made against the quintessential symbol of being a Filipino. The choice of colors was tacky at best. The cut was a mismatch. The whole flowery stuff in the hair is more of Ukrainian thing. Terrible! An absolute travesty to our culture.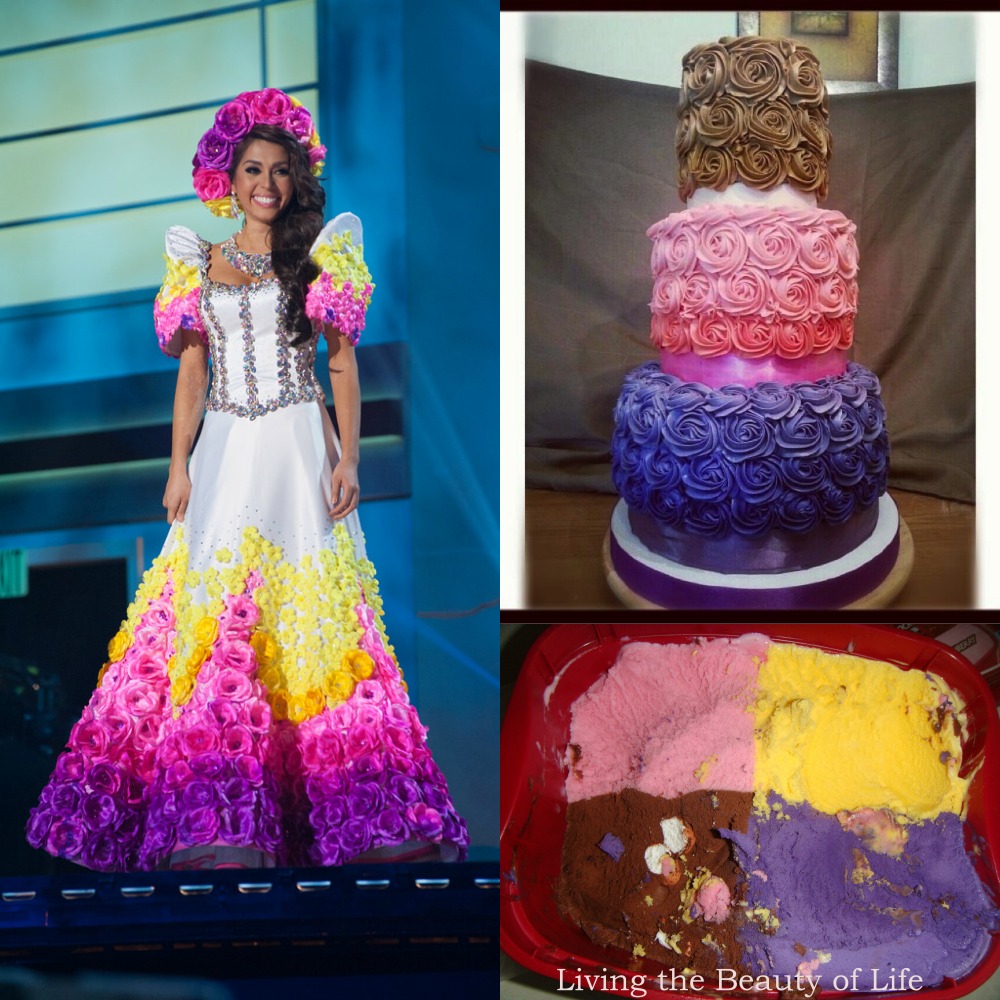 Mary Jean Lastimosa (left)
Basura, este, Barazza has been poking around the Filipino culture a lot quite lately. Ariella Arida for example has to wear that feather thingy that is more Colombian than anything else. Maricar Balagtas has to suffer the enormous embarrassment for her incoherent costume. Pamela Bianca Manalo had to carry around in what appears to be recycled plastics curled into flowers by Girl Scouts.
Why do we need a Colombian couturier to design our national costume anyway? Maybe, just maybe, it is because the BPCI no longer trusts its in-house designers including the great Pitoy Moreno whose latest attempts in designing our national costumes include Janine's okay-ish Marano costume and Jennifer Barrientos' butterfly-ridden pink costume in 2008, which was a flop by the way.
Zorayda Andam
But the greatest argument against a Colombian designing our national costume is that no one knows our culture better than us. And we are lagging behind our ASEAN neighbors wherein their national costumes are so well-thought. Thailand even has a national contest to select the very best national costume design. Not even the fact that Zorayda Ruth Andam almost bagged the award for her floral-embroidered terno could sway us not to think that some foreigner was, and still is, toying around with our culture.
Miss Universe is a competition of nations. Sure, national costumes have no bearing at all whatsoever to the overall outcome of the contest. But it's our national costume – a symbol of our nation, our heritage, our pride and our identity. It is just right and proper that we should have pride in it. And obviously, you don't want someone to mess with it let a lone a foreigner.