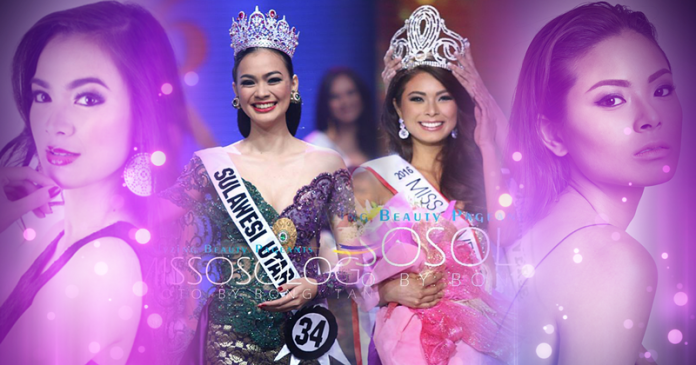 Imagine this scenario.  Asian pageant powerhouse and last year's Performer of the Year, the Philippines, is hosting the last Big 5 pageant of the year.  After four of the five major international pageants were done, it is surprisingly trailing behind to its neighboring country that was never considered a threat before.  Well, not until now!
Indonesia, the largest archipelago and the world's biggest Muslim country, is currently leading the 2016 Big 5 Performer of the Year ranking, after the scores of Miss World 2016 were punched in.  With 440 points, it is 30 points ahead of the Philippines (410 points), 60 points above Australia (380) and 80 points away from mighty Venezuela (360 points), and is poised to claim the Performer of the Year title for the very first time in history.
But, that's not an easy task.  Miss Universe is going to be held in the Philippines, and host delegate Maxine Medina has been pegged as the one to beat by Missosology.  In order to make the story even more interesting, Miss Universe Indonesia 2016, Kezia Warouw, a six-foot stunner from Jakarta, was reported to be trained by the same mentors who molded Medina into becoming Miss Universe Philippines 2016.  But who will prevail between the two?  Not only is the Miss Universe title at stake at this point, but also the pride of becoming the BEST of 2016.
With Miss Universe just being around the corner, the overall battle seems to be between Indonesia and Philippines, indeed.  If both of them enter the Top 5, Medina needs to place two ranks higher than Warouw in order to successfully defend the Performer of the Year title for the Philippines.   If not, Indonesia will become the proverbial David winning against Goliath in the interesting world of pageantry.
The usual powerhouse countries – Australia, Venezuela, USA and Brazil – are not to be underestimated too!  Historically, these countries have been doing well in Miss Universe, and they are not that far behind either to claim the Top 2 spot, and spoil everything from Indonesia and Philippines, should they perform a lot better at the 65th Miss Universe pageant.  Charming Caris Tiivel, determined Mariam Habach, controversial Deshauna Barber, and the breathtaking mulatta Raissa Santana will not just let this pass without a good fight.
So basically, it will all boil down into Miss Universe, and as pageant analysts we will be keeping an eye on Indonesia, Philippines, Australia, Venezuela, USA, and Brazil, and see who will earn the much needed points to succeed the Philippines and USA as the next to be enshrined in the Hall of Fame!
2016 Performer of the Year Top 20 
(Before 65th Miss Universe)
| | | TOTAL | International | Earth | Supranational | World |
| --- | --- | --- | --- | --- | --- | --- |
| 1 | Indonesia | 440 | 160 | 10 | 100 | 170 |
| 2 | Philippines | 410 | 200 | 10 | 50 | 150 |
| 3 | Australia | 380 | 180 | 100 | 50 | 50 |
| 4 | Venezuela | 360 | 10 | 160 | 180 | 10 |
| 5 | USA | 356 | 120 | 126 | 10 | 100 |
| 6 | Brazil | 300 | 10 | 140 | 50 | 100 |
| 7 | Russia | 291 | 100 | 126 | 55 | 10 |
| 8 | Dominican Republic | 290 | 100 | 10 | 0 | 180 |
| 9 | Mexico | 272 | 100 | 112 | 50 | 10 |
| 10 | India | 270 | 10 | 10 | 200 | 50 |
| 11 | Ecuador | 236 | 10 | 206 | 10 | 10 |
| 12 | Poland | 220 | 100 | 10 | 100 | 10 |
| 12 | Korea | 220 | 10 | 100 | 10 | 100 |
| 12 | Puerto Rico | 220 | 10 | 0 | 10 | 200 |
| 15 | Japan | 210 | 100 | 10 | 50 | 50 |
| 15 | Colombia | 210 | 10 | 180 | 10 | 10 |
| 17 | Vietnam | 201 | 10 | 126 | 55 | 10 |
| 18 | Hungary | 190 | 10 | 10 | 120 | 50 |
| 19 | Thailand | 176 | 100 | 16 | 10 | 50 |
| 20 | Suriname | 175 | 0 | 10 | 165 | 0 |
---
PERFORMER OF THE YEAR HALL OF FAME
| Year | PERFORMER OF THE YEAR | RUNNER-UP |
| --- | --- | --- |
| 2015 | Philippines | USA |
| 2014 | USA | Colombia |
| 2013 | Philippines | Spain |
| 2012 | Philippines | USA |
| 2011 | Venezuela | Philippines |
| 2010 | Venezuela | Puerto Rico |
| 2009 | Venezuela | Brazil |
| 2008 | Spain | Venezuela |
| 2007 | Venezuela | Mexico |
| 2006 | Venezuela | India |
| 2005 | Puerto Rico | Venezuela |
| 2004 | USA | Australia |
| 2003 | Venezuela | India |
| 2002 | Turkey | Colombia |
| 2001 | Russia | Venezuela |
| 2000 | India | Venezuela |
| 1999 | Spain | Venezuela |
| 1998 | Venezuela | France |
| 1997 | India | Venezuela |
| 1996 | Venezuela | Colombia |
| 1995 | Venezuela | Trinidad and Tobago |
| 1994 | Venezuela | India |
| 1993 | Venezuela | Colombia |
| 1992 | Venezuela | Australia |
| 1991 | France | Venezuela |
| 1990 | USA | Venezuela |
| 1989 | Poland | USA |
| 1988 | Korea | Norway |
| 1987 | Venezuela | Puerto Rico |
| 1986 | Venezuela | USA |
| 1985 | Venezuela | USA |
| 1984 | Venezuela | Sweden |
| 1983 | USA | Ireland |
| 1982 | USA | Finland |
| 1981 | Venezuela | Brazil |
| 1980 | USA | New Zealand |
| 1979 | Bermuda | USA |
| 1978 | USA | Spain |
| 1977 | Germany | Spain |
| 1976 | Venezuela | Israel |
| 1975 | Finland | Yugoslavia |
| 1974 | USA | United Kingdom |
| 1973 | Philippines | USA |
| 1972 | Australia | Brazil |
| 1971 | Brazil | USA |
| 1970 | Australia | USA |
| 1969 | Finland | USA |
| 1968 | Brazil | Israel |
| 1967 | USA | Israel |
| 1966 | India | Norway |
| 1965 | USA | Finland |
| 1964 | Argentina | Brazil |
| 1963 | Brazil | Korea |
| 1962 | Argentina | Finland |
| 1961 | Germany | Republic of China |
| 1960 | USA | Italy |
| 1959 | Israel | Holland |
| 1958 | Denmark | Sweden |
| 1957 | Japan | Peru |
| 1956 | Germany | USA |
| 1955 | Sweden | Venezuela |
| 1954 | USA | Germany |
| 1953 | France | USA |
| 1952 | Finland | Sweden |
| 1951 | Sweden | United Kingdom |
| | | |
| | | |
| | | |