BEAUTY TALKS WITH OHANA HUBER – MISS INTERNATIONAL TAHITI 2013
by Stephen I. Diaz
Somewhere in the South Pacific lies a territory where the people speak French.   In fact, it is composed of a group of neighboring islands with various sizes, and collectively, it is an overseas protectorate of the French Republic.   Thousands of miles away from the main French territory in continental Europe, lies these islands, known as the Polynesie Francaise (English: French Polynesia).  It's largest island is called Tahiti, and it is from this paradise island that our next featured delegate is from.  In this edition of Beauty Talks, we will get to know a little bit more about the island of Tahiti as they are represented by the exotic and lovely Ohana Huber in the Miss International 2013 pageant, finals to be held in Tokyo, Japan on December 17th.  Tahiti has two placements in Miss International, and both were 3rd Runner-up finishes: Marie Tapare (1965) and Michelin Mira Vehiatua (1973).  It's been almost 40 years since their last placement.  Armed with a very infectious smile, will Ohana finally bring Tahiti back into the winners' circle?  Let's get to know more about her.
1. Please tell us about yourself, your family background and your ambition in life.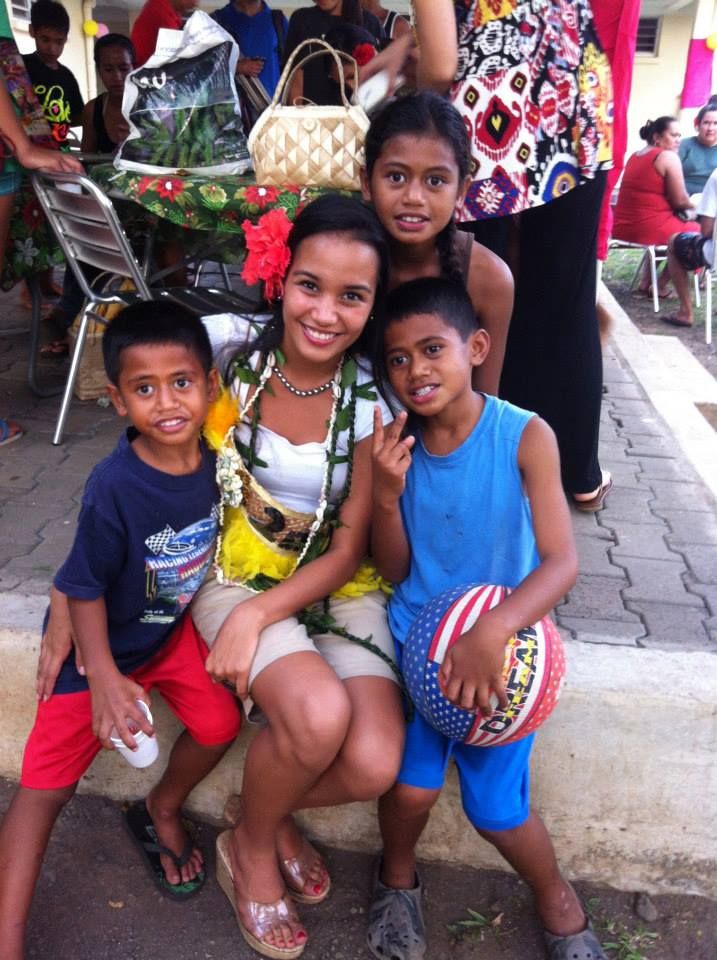 Hi everyone, my name is Ohana Huber! I'm from Tahiti, a beautiful island in the Pacific Ocean. I'll be turning 21 on the 5th of December in Japan. I'm currently undergoing my Master's Degree in Human Resources in order to work in this field or to become a human resources professor. I describe myself as someone generous, sensitive and honest but I'm also a hard working person. On my island home, I practice Tahitian dance, otherwise I'm very passionate about traveling and modeling. Concerning my family background I was born and always lived in Tahiti with my father and my mother ( the best parents in the world, and my brother too.  Today, we have one more person in our family: my little nephew. He's a real little brat but I love him soooo much.   My ambition in life is to be happy in all that I do, and also when I can, to give love and happiness to all the people who surround me.
2.How is it living in Tahiti? How is the weather? Food? People?
I believe Tahiti is the best place to live… Tahiti is like an endless summer and our landscapes are kind of "heaven on earth". We have beautiful beaches, lagoons, but also magnificent mountains and waterfalls.. We have our own traditional food called Ma'a Tahiti. We have fresh fish, exotic and very sweet fruits but you can find French, Italian, Chinese, Japanese, American and other types of food around the island.   However, I think that our particularity, is our inhabitants. People say when they come to Tahiti, they always notice that there is a Polynesian warmth and it's true : Tahitian people are kind and welcoming.  The culture is also really present here. I'm proud to be Tahitian and to represent this country.
3.The Miss Tahiti pageant is one of the most anticipated pageants in Missosology. While the winner goes to compete at Miss France, the runners-up are given the privilege to compete at the Big 4 pageants, namely Miss Earth and Miss International. How have you been preparing for this?
When I became the 2nd runner up of Miss Tahiti on June 2013, I didn't know that I would take part in Miss International. I really wanted to have this opportunity and so when the Miss Tahiti Organization told me that I was in, I was very happy and grateful about it because I thought that was an enormous privilege, an extraordinary once in a lifetime experience.  So my preparation for MI was simple : training, training and.. training again.  I learnt to do my own make-up and my hair all by myself, with profesionnals, to be at the top everyday and to stay in shape I went to the gym three times per week.
4. What can we expect from Ohana at the Miss International pageant next month?
It's always been one of my dreams to represent my island. I'm very happy and grateful to have the great opportunity to be part of such an adventure beause I'm sure this will be a fantastic experience so of course : I'll do my best ! Moreover, Tahiti wasn't placed in this pageant for very long time, so I'm hoping to do a placement this year.  I would be proud to bring the title home to Tahiti and make them happy and proud of me.
5. Who has been the biggest influence to you? Who is your role model from the pageant world?
Naturally, my mother has been the biggest influence to me. From the pageant world, I really admire Olivia Culpo, Miss Universe 2012. She's very beautiful, elegant and like so kind and funny. I appreciate her natural style.
6. Aside from winning the title, what else do you want to achieve at the Miss International pageant?
The most important thing to me is to represent my country with dignity. I want to spread the Tahitian warmth to everyone, starting with the organization, to all of my fellow contestants, and to the people whom I shall meet. I want this pageant to be a meeting during which I'll be sharing my culture and learning about the other constestants own culture.
7. Finally, why do you think you should be the next Miss International?
I'm a simple person and I give all of my heart in what I do. If I have to defend a cause, to help someone or some organization or simply to give some happiness in order to make people happy, I will always do it with love and joy. I usually say "when there's a will there's a way" and I think that we don't need lots of things to create happiness around us. Sometimes we just need to give our time and I can and I want to give mine…
Thank you so much to Missosology for this interview! See you soon in Japan !!