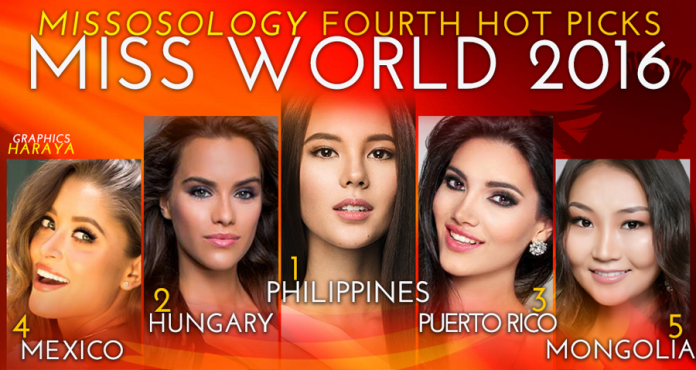 Washington DC.  It has been more than a week since the 120 delegates from all over the world have gathered in the American capital, but we still have to see the official photos of the delegates apart from the photos that they share in their social media accounts.  Despite the absence of photos coming directly from the Miss World organization, we are very much contented with the updates given to us by the contestants themselves.  Heaps of them are being shared in our official forum.  The clear standouts and favorites, however, do not seem to change and they are the reasons why millions of fans from all over the world are following the developments of this year's Miss World competition.
The Philippines' very own, Catriona Gray, is currently on the lead.  It cannot be denied that her popularity is beyond reach, with her introduction video garnering the most number of views to date.  Any social media platform that has Catriona on it becomes an instant hit.  But that's not to say she is just all about social media.  The reason for her unstoppable popularity is because of her amiable personality, as well as her natural charm and serene beauty.  She is also a very talented singer, which makes some people wonder, as to which aspect of the Miss World challenges could she possibly miss?  While the Philippines has just exploded in celebration when Kylie Verzosa won the Miss International crown, it looks like Catriona is here to give the Filipinos a double victory, similar to the feats achieved by Megan Young and Bea Rose Santiago three years ago.   It will surely be a great Christmas gift to our Filipino friends, and to the recipient of Catriona's charity project in Tondo, Manila, if she totally wins the second blue crown for her country.
Tímea Gelencsér of Hungary is currently in second place, and she has been gaining a lot of fans from all over the world after her amazing talent performance. This national champion in gymnastics is not only beautiful and athletic, she is also smart and serious in finishing her degree, which she is currently on hold because of her dedication to the Miss World Hungary title.  Unlike most of her predecessors, Tímea's English speaking skills is impeccable, and she can be a good spokesperson for Miss World Organization, in case she wins. This central European country almost bagged the Miss World 2014 crown with Edina Kulcsár, and we can see quite a resemblance between the two.  Will Tímea be luckier, and bring the first ever major international crown for Hungary?
In third place is Puerto Rico's Stephanie del Valle Diaz, who was our pre-arrival top pick.  Although she has dropped a couple of places, this does not mean that Stephanie is already losing her steam.  She is still a major front runner, as we have seen how well prepared she is for this competition.  She is also one of the best dressed delegates this year, and never fails to catch attention with her towering height and winsome smile.  Stephanie has been pretty impressive since arrival, and we have not seen a bad photo of her either.  After more than four decades, she could be Puerto Rico's second Miss World titleholder, and what could be sweeter than to see her crowned on US soil.
Ana Girault, the controversial anti-bullying advocate from Mexico is gaining a lot of attention lately, and is currently in fourth place.  There seems to be a polarizing opinion towards and against Ana, but let's admit, she is probably the most gorgeous delegate at this year's Miss World contest.  Some say that she is more of a "Miss Universe" prototype, but we actually disagree with this idea of stereotyping beauty queens based on which pageant they should compete in to.  Ana is a beautiful woman, and her beauty has a purpose.  A lot of people have been listening to her anti-bullying speech since the live Facebook video was aired.  Such is her influence and power.
Meanwhile, completing our Top 5 and is in fifth place is the Marco Polo Season 2 star Bayartsetseg "Bela" Altangerel, from Mongolia.  While Mongolia only has around three million people scattered all over the world, Bela managed to amass hundreds and thousands of viewers for her introduction video, and it has been gaining praises both by Mongolians and non-Mongolians alike.  If Bela wins,  this will forever change the Mongolian modern history, and will surely bring hope to their heavily battered national economy.  At Miss World 2016, she has been very helpful and friendly towards everyone, and is gaining a lot of respect from fellow contestants.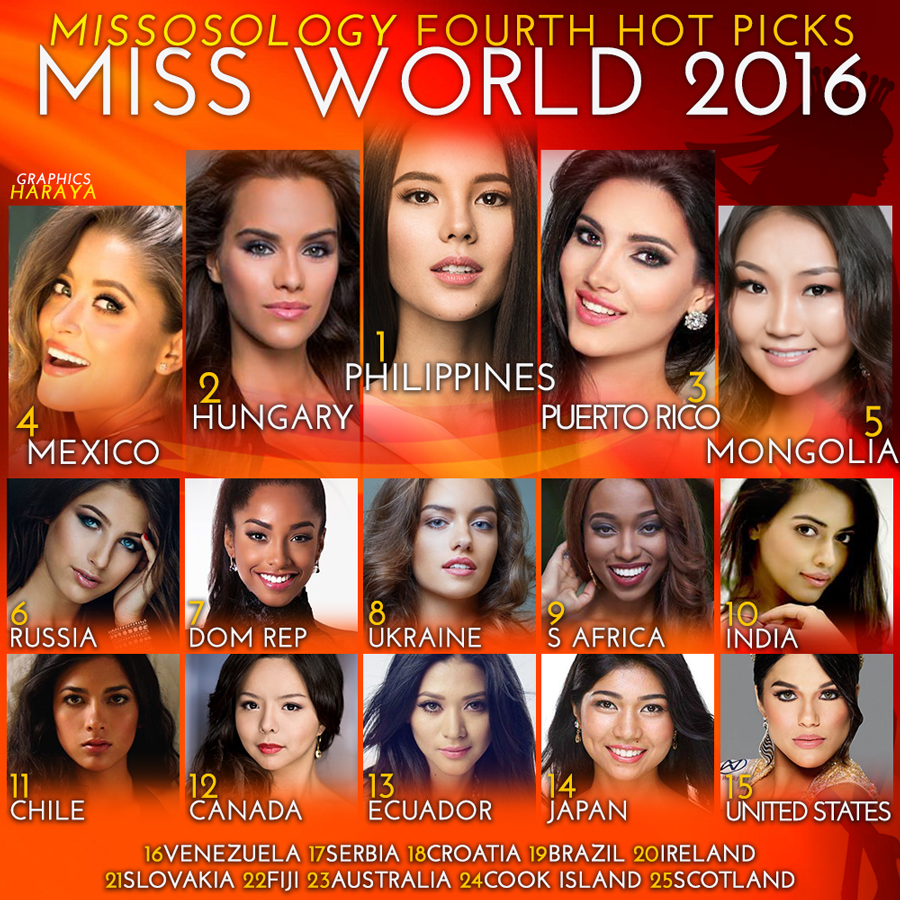 In sixth place is Russia's Yana Dobrovolskaya, whom many consider as the most beautiful delegate this year.  However, it is quite hard to determine how Yana has been doing at the pageant, although she did place as one of the finalists in the talent competition.  While beauty is essential at Miss World, it is also important to have a really active social media that can reach beyond your national territory.  Hopefully, we shall see more from this stunner whose turquoise eyes are perfect match for the blue crown.
Yaritza Reyes of the Dominican Republic is slowly going further up in the rankings, as we feel that this is going to be a neck-to-neck battle between her and Stephanie for the Miss World Caribbean title.  It could also be that Yaritza might become the first woman of color to win the Miss World crown since Agbani Darego won the title in 2001, which was already 15 years ago.
Following in eighth place is Oleksandra Kucherenko, the 19-year-old bombshell from Ukraine, who is now back in our ranking after being missed out in the previous one. Oleksandra has many admirers from all over the world, and her classic beauty is truly mesmerizing.
Ntandoyenkosi Kunene of South Africa is now in ninth place, and is back in the Top 10.  This intelligent young woman is a great spokesperson.  Although her short height might be a disadvantage her beauty and poise will more than make up to it when judging the physical aspect. But, never be deceived.  Once she speaks, you will be bound to listen.
Completing our Top 10 is India, Priyadarshini Chatterjee, who is said to be the strongest Miss World India in recent years.  Well, she does not disappoint.  Although she is one of the youngest Miss India we have seen, Priyadarshini is very mature for her age.  She has the proverbial Indian wit and philosophical soul.  Watch out for her in the live interviews.  And yes, never underestimate the power of India in Miss World!  They are still a force to reckon with.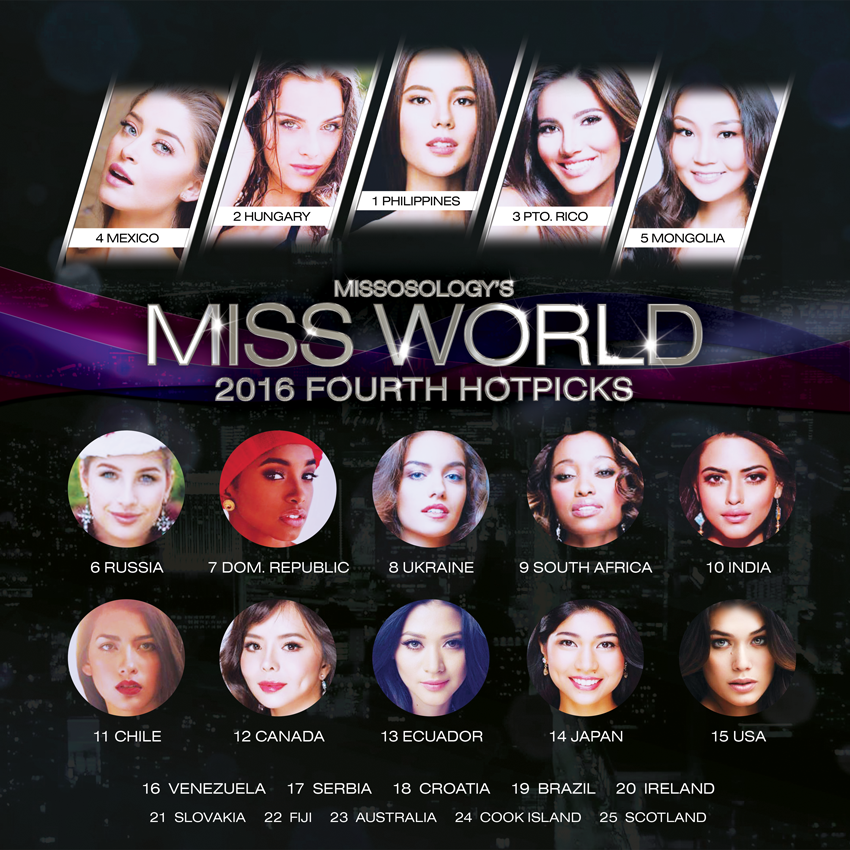 Chile's Antonia Figueroa has gained some attention with her talent, and is currently in 11th place.  Canada's controversial queen Anastasia Lin is finally able to compete, and is more determined than ever to compete for the title, and her principle. She is in 12th place.  Following her at 13th place is Ecuador's Mirka Cabrera who represents thebrand new Miss Mundo Ecuador, and is a beauty that cannot be simply forgotten.  Japan's Priyanka Yoshikawa is slowly gaining grounds with her natural beauty, wit and charm.  At 14th place, she is said to have won the hearts of the judges during the individual interview.  Completing the Top 15 is the host delegate, Audra Mari of the United States, whom many expected to be a strong contender but does not seem to show the eagerness to win.
Venezuela's Diana Croce went down into 16th place, while the beautiful teenager, Katarina Šulkić of Serbia is in 17th position.  Croatia is being represented strongly by Angélica Zacchigna who is now in 18th spot, while Brazil's Beatrice Fontoura dropped into 19th position.  Pretty woman Niamh Kennedy of Ireland completes the Top 10.
Slovakia, Fiji, Australia, Cook Islands and Scotland complete our Top 25.
While it is very difficult to evaluate the 120 delegates and to know exactly who they are as a person, we try to research on the individual delegates based on their social media platforms and updates from Miss World Organization.  So far, only the talent result has been partly revealed, while the all-important Top Model competition will happen at the last days of the competition. /Stephen I. Diaz