All roads lead to Elvis Presley's world-famous home, Graceland, in Memphis, Tennesse as the 2020 Miss USA competition finally kicks off. As the competition heats up, Missosology's panel of correspondents and editors has come up with this year's First Hot Picks for Miss USA.
Leading our first leaderboard is pageant veteran Andreia Gibau of New York, who was Miss Earth USA 2017 and placed in the Top 16 of Miss Earth 2017. Andreia is a speaker, writer, and philanthropist. She considers philanthropy being the core of who she is due to being an immigrant from Cape Verde and being born into poverty. Through her initiative, "More Than Enough," she serves as an advocate for inner city and underprivileged kids by instilling confidence and empowering them to live life to their full potential despite their circumstances.
In second place is Idaho's Kim Layne. She is no stranger to the Miss USA system as she was Miss Idaho Teen USA 2012. Passionate about health promotion and disease prevention, she is currently pursuing a Doctor of Veterinary Medicine degree at Washington State University, and a Master of Public Health at the University of Minnesota.
Not far behind is full-time model Taelyr Robinson of Maryland. As a child of parent suffering from addiction, Taelyr would like to advocate to youth the importance of breaking the cycle through decision making. She will use her past as an example to inspire young children that they can control their future through the choices they make on a day-to-day basis.
In fourth place is Mariah Jane Davis of Oklahoma. She works in reality television production, but has her sights set on working for a major network as an entertainment news host. As a suicide attempt survivor, Mariah advocates for mental health and created #LiftUpYourSister, a social campaign that provides women with a support group and encouraging resources that aim to restore hope.
Rounding out the Top 5 for now is Hawaii's Samantha Neyland, the first African-American Miss Hawaii USA titleholder. She has a successful career in the entertainment industry as an actress and model, and also stars in multiple ad campaigns airing across the country. Dedicated to guiding others to discover and utilize their voice, she founded Time to Talk Hawaii, a program designed to help teens learn to communicate effectively and grow into confident young adults.
Check out our complete list below:
1 New York, Andreia Gibau
2 Idaho, Kim Layne
3 Maryland, Taelyr Robinson
4 Oklahoma, Mariah Jane Davis
5 Hawaii, Samantha Neyland
6 California, Allyshia Gupta
7 Alaska, Hannah Carlile
8 Texas, Taylor Kessle
9 ​Tennessee, Justice Enlo
10 Indiana, Alexis Lete
11 District of Columbia, Cierra Jackson
12 Georgia, Alyssa Beasley
13 Ohio, Sthephanie Miranda
14 West Virginia, Charlotte Bellott
15 New Hampshire, Alyssa Fernandes
16 Washington, Imani Blackmo
17 New Jersey​, Gina Mellish
18 Utah, Rachel Slawson
19 Florida, Monique Evans
20 Missouri, Megan Renee Kelly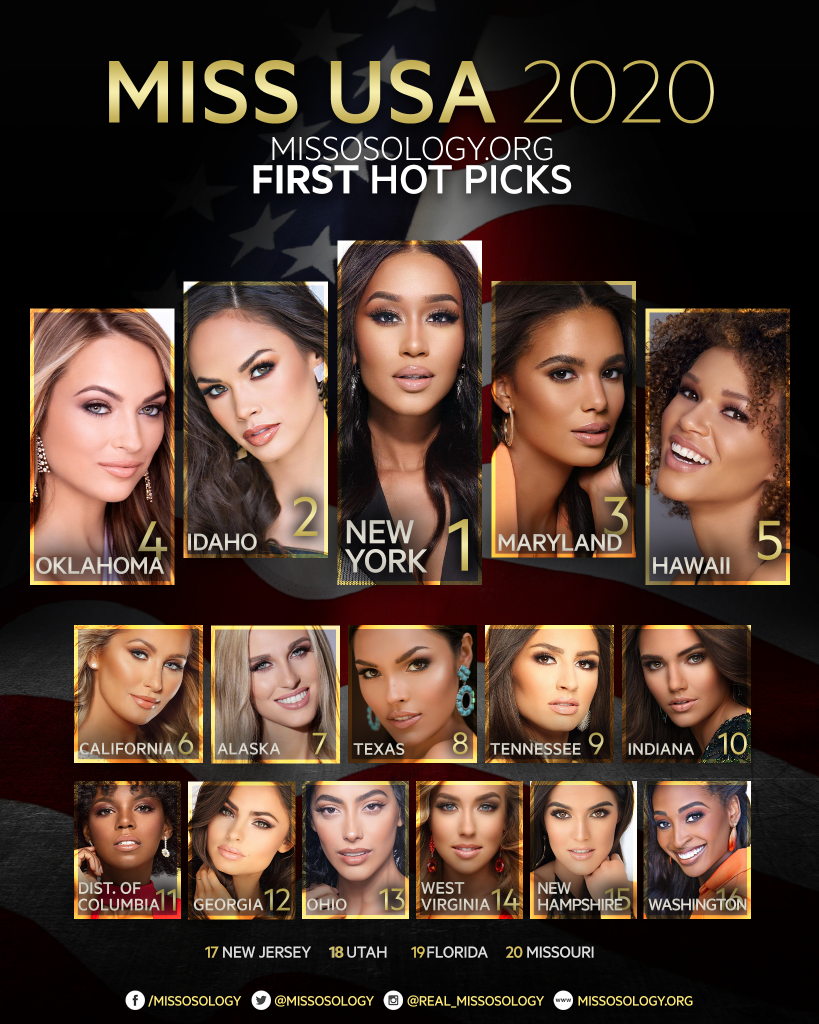 Follow Missosology's social media pages for updates. Missosology.Org