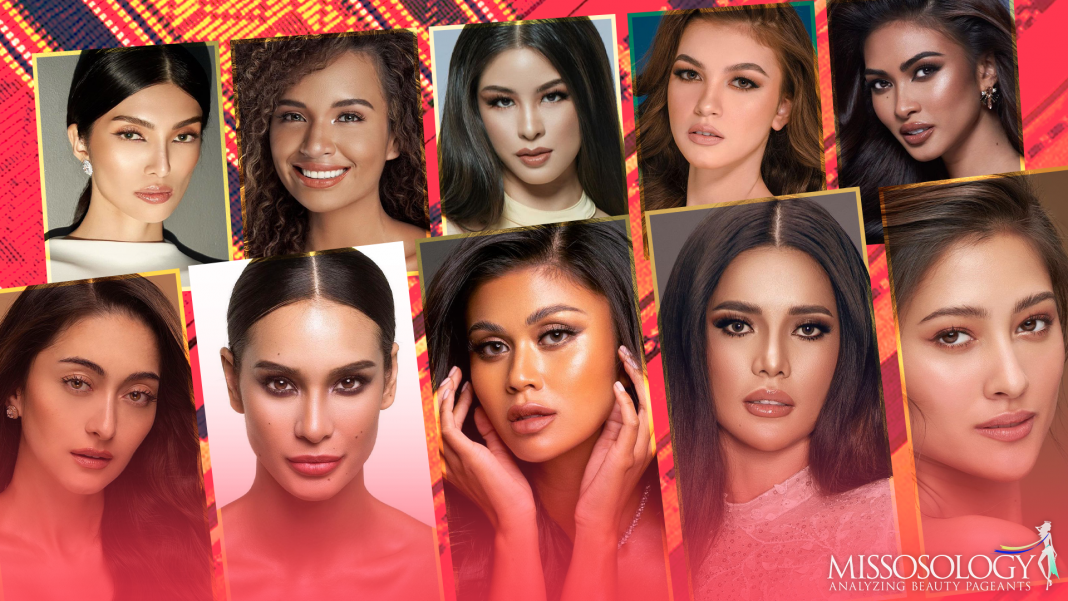 Pageant enthusiasts in the Philippines and across the world are eagerly awaiting who among this year's delegates will represent powerhouse Philippines at the 70th Miss Universe in Israel in December. Despite the changes in the dates of the pre-pageant activities and a to-be-announced new date for the finals night, the excitement continues to build up.
Aside from the virtual challenges that the ladies faced in the previous months, the past week in the pageant bubble has given us a clearer view of the competition. Seeing the girls side-by-side each other, posting OOTDs and sponsored contents on their social media accounts gave us a better look as to who among them poses the universal charisma, beauty, and wit.
All these considered, we have seen another shake-up in our Second Hot Picks.
Banking on her veteran smarts, Taguig's Katrina Dimaranan zooms to the top of our learderboard. Her previous experiences in Bb Pilipinas 2013 and Miss Supranational 2018 surely came in handy as Katrina was every inch a pro since arriving at the bubble.
Not far behind is Cavite's Victoria Velasquez Vincent who continues to impress with her unassuming beauty. We all know she has the gift of gab and the classy beauty, but Victoria over the past days has been showing she is also a relatable queen and very much Filipino despite growing up in New Zealand.
In third place is Maureen Christa Wroblewitz of Pangasinan, who we consider as one of the most beautiful faces of the competition. Some might say she is too reserved for a pageants, but knowing she already conquered a competition before, we expect Maureen to surprise us all come finals.
Now occupying a spot in the Top 5 is Cebu Province's Steffi Rose Aberasturi. As one of the most talked about delegates in the competition, it's no surprise she is bringing a lot of media mileage for the pageant. But aside from that, it can't be denied that Steffi is one of the most polished candidates in this edition.
Rounding up our Top 5 for now is the exquisite Izabella Jasmine Umali of Manila. She is hands down our top pick for the best arrival look. While we weren't completely sold on her interview challenge performance, we know she is working on improving in this aspect. With that stunningly beautiful face and overflowing charisma, Jasmine is surely one of the girls to beat this year.
Other crown contenders who are also in our radar are Cebu City's Beatrice Luigi Gomez, who seems very consistent and she has an infectious smile; Angeles City's Mirjan Hipolito, who is very promising and always dressed to perfection; and Laguna's Leren Mae Bautista, who is another veteran that we cannot just easily ignore especially her amazing stage presence.
Check out the full list below:
1 Taguig | Katrina Dimaranan
2 Cavite | Victoria Velasquez Vincent
3 Pangasinan | Maureen Christa Wroblewitz
4 Cebu Province | Steffi Rose Aberasturi
5 Manila | Izabella Jasmine Umali
6 Cebu City | Beatrice Luigi Gomez
7 Angeles City | Mirjan Hipolito
8 Laguna | Leren Mae Bautista
9 Masbate | Kirsten Danielle Delavin
10 Misamis Oriental | Chella Grace Falconer
11 Aklan | Christelle Abello
12 San Juan City | Rousanne Marie Bernos
13 Davao del Sur | Jedidah Hefervez Korinihona
14 Iloilo City | Kheshapornam Ramachandran
15 Mandaluyong | Maria Corazon Abalos
16 Albay | Janela Joy Cuaton
17 Isabela | Jan Louise Abejero
18 Parañaque | Maria Ingrid Teresita Santamaria
19 Marinduque | Simone Nadine Bornilla
20 Pasig | Princess Kristha Singh