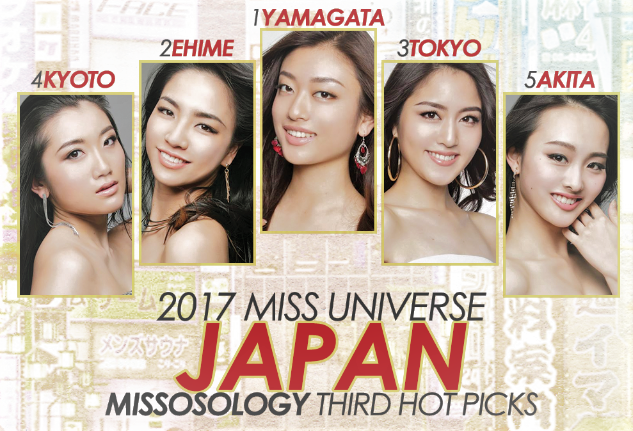 3rd Hot Picks Miss Universe Japan 2017
Chinzanso Hotel in Tokyo is now home to 46 of Japan's most desirable women as one of them will soon be crowned as the country's delegate to this year's Miss Universe competition.  With barely two weeks to go before the finals, all of the delegates undergo intensive training and rehearsals in preparation for the big night on July 4th.  Now that the tension is starting to heat up, let's get to know the 16 delegates whom we believe have the shot to win the crown.
1. YAMAGATA (Kaori Kōyama)
2. EHIME (Kanako Fukuoka)
3. TOKYO (Ayaka Koshiba)
4. KYOTO (Yukako Wakisaka)
5. AKITA (Tomoka Konno)
6. KANAGAWA (Erina Shirahama)
7. HYOGO (Akari Maeda)
8. FUKUOKA  (Nana Furushou)
9. CHIBA (Momoko Abe)
10. OKINAWA (Erea Taira)
11. NIIGATA (Haruka Komagata)
12. TOKUSHIMA (Rina Miyoshi)
13. SHIMANE (Sayaka Fujimoto)
14. NAGANO (Natsuki Konishi)
15. FUKUI (Mayuka Takai)
16. HOKKAIDO (Shihori Matsui)
Day two after the arrival of all delegates in Tokyo, we believe that Yamagata's Kaori Kōyama is the one to beat at this year's competition.  MUJ needs to realize that the current trend in IMG is to look for a woman of substance.  Take a look at their winners at Miss USA for the past two years, and how they ignored the likes of Lauren York (Miss Nevada) at this year's competition, and even Venezuela's Mariam Habach during last January's 65th Miss Universe contest.  With Kaori's intelligence, foreign language proficiency, and the ability to effectively relay her opinion on world issues (she is a international politics major at Waseda University), she may be Japan's brightest hope for a Top 5 spot without the need of a controversial story.
Meanwhile, Ehime's Kanako Fukuoka is gaining grounds and is currently in second place.   In fact, this aspiring medical practitioner is leading the official online voting (MUJ insists that it does not have any effect on the judging) which simply means that she has legions of fans rooting for her nationwide.  Her catwalk skills seems good enough, too.  Since 2013, the island of Shikoku – Kagawa, Tokushima, Ehime and Kochi – has earned a slot in the MUJ Top 5, save for 2014.  If Kanako makes it to the Top 5, it will be Ehime's second time.  Only Tokushima has never made into the first cut of MUJ since the current pageant format was implemented in 2013.
 Ayaka Koshiba of Tokyo, who was our 2nd Hot Picks leader, dropped to third place.  Looks like Ayaka is really struggling to earn the approval of MUJ as she is way behind in terms of catwalk, speaking skills and overall standing during the pre-training camp.  However, she is carrying the "Tokyo" sash so she is still in an advantageous position to be favored by the judges come finals night.  Since 2014, Tokyo has consistently made it to the first cut, and even had a back-to-back Top 5 finish in 2014 and 2015.
Following next at fourth place is Yukako Wakisaka, who is representing Kyoto.  The old capital of Japan has been successful in the MUJ-sanctioned Mister Japan contest – having won the title twice since 2013 – but at Miss Universe Japan, they still have to produce a Top 5 placer.  There is something about Yukako that we appreciate.  She is harworking, patient and willing to learn to better herself up.  Miss Universe Japan 2012 Ayako Hara, who acted as her mentor at Miss Universe Kyoto 2017, has done a wonderful job!  We believe, though,  that she needs to be more consistent with her poses, and does not need to enforce an artificial fierce look (like in the photo below).  She looks better when she is more natural and sweet looking.
And rounding up our Top 5 is Miss Akita, Tomoka Konno.  Tomoka is a mystery.  Yes, she is very popular in Missosology because of her gorgeous face and youthful vibe.  However, we barely know anything about her, and that is a massive failure in terms of promoting herself to the public.  If someone wants to become Miss Universe, self-promotion is essential because not everyone has the luxury to dig into your closet , and to find a story worth sharing.  Needless to say, Tomoka's gorgeous face won't be good enough to make her a great Miss Universe delegate.  In Japan, she may do well as a kawaii idol or whatnot, but we had already seen a lot of her type succeeding at AKB 48 or even the old-time fave Morning Musume.  So Tomoka, you have a very strong fan base at Missosology, so better step up your game and be more visible.
So far, that is are our Top 5.  Kanagawa, Hyogo and Fukuoka are slowly catching up. Chiba and Okinawa are still holding on to be part of our Top 10, while Niigata and Tokushima are in the 11th and 12th position. We are glad to have Shimane back on the list while newcomers from Nagano, Fukui and Hokkaido are now part of our hot picks for the very first time. We will try to find ways on how these girls will intermingle with each other via their social media accounts, and evaluate them based on visibility, quality of their posts and ability to interact with their fans.
Despite the fact that the MUJ finals is fast approaching, fans from all over the world are at loss about the contestants.  Many are complaining why there is no single site where the names and photos of all the delegates can be easily available.  Even the publicized photos on MUJ's official Facebook account have no names of the delegates, which made us think that these girls are being treated like maguro who are being sold in Tsukiji market.  Pictures are pictures, but without their respective names, we feel that it makes the ladies look no different than animals.
Furthermore, with a system where the girls are locked up in a hotel for their so-called "beauty camp" and with no public viewing, Miss Universe Japan still needs to learn a lot from the Philippines, Thailand and even Indonesia.  These Southeast Asian nations have already surpassed Japan's performance in recent years, thanks to the fans who have been actively involved in promoting their national brand.  Needless to say, these countries also have strong presence at Missosology, which shows how serious they are when it comes to supporting their queens.  Miss Universe Japan is a sought after title in this wonderful country, so we hope to see positive changes to happen, and make the contest more appealing to the masses.
So, what do you think of our third hot picks?  Tell us if there is someone you may want to add  or delete from this list and we will be very glad to research on them.  See you on our next hot picks!
第3回  ホットピック
2017 ミス・ ユニバース・ ジャパン
1.  山形 (神山かおり)
2. 愛媛 (福岡 佳奈子)
3. 東京 (小柴 綾香)
4. 京都 (脇坂 友佳子)
5. 秋田 (今野 知佳)
6. 神奈川 (白濱 絵里奈)
7. 兵庫 (前田 明里)
8. 福岡(古庄 奈々)
9.千葉 (阿部 桃子)
10. 沖縄 (平良 エレア)
11. 新潟 (駒形 悠)
12. 徳島(三好 利奈 )
13. 島根 (藤元 さやか)
14. 長野(小西 夏生)
15. 福井(高井 麻由果)
16. 北海道(松井詩)