Photos & Review by Pawee Ventura [@misspawee]
The 4th edition of the Miss Supranational pageant unfolds! As the competition gets tough and the battle intensifies in searching for the most deserving lady for the coveted title of Miss Supranational 2023, aspirants hailing from all continents were officially introduced during the pageant's Opening Ceremony. During the event, Missosology panelists carefully reviewed their on-stage performance and named the 30 beauties who glowed & made good first impressions.
Miss USA Rylee Spinks – Coming out of nowhere, this statuesque beauty looks like a winner from head to toe. She floated onstage with her impressive midnight-green gown.
Miss GIBRALTAR Michelle Lopez Desoisa – Talk about pizzazz & queenly vibes! Another pleasant surprise of the night, she could be a game-changer in the competition.
Miss INDIA Pragnya Ayyagari – On a league of her own, she wore that fully-sequined golden sari with so much elan. Her smile shone the brightest, it lit up the entire venue. She has an uncanny resemblance to Sushmita Sen, iconic Miss Universe from her country.
Miss PERU Valeria Flórez – Charming, fresh, angelic & full of spark! We tell you, this is a tough pageant yet she's proving that she's a force to reckon with!
Miss PHILIPPINES Pauline Amelinckx – Carries the weight of her sash with aplomb, she's exactly what you may expect from a Filipina: superb charisma! She also slayed her opening statement last night.
Miss COLOMBIA Valentina Mora – That blue gown fitted her like true royalty. Stage presence is her name. She has a great chance to make it all the way to the top!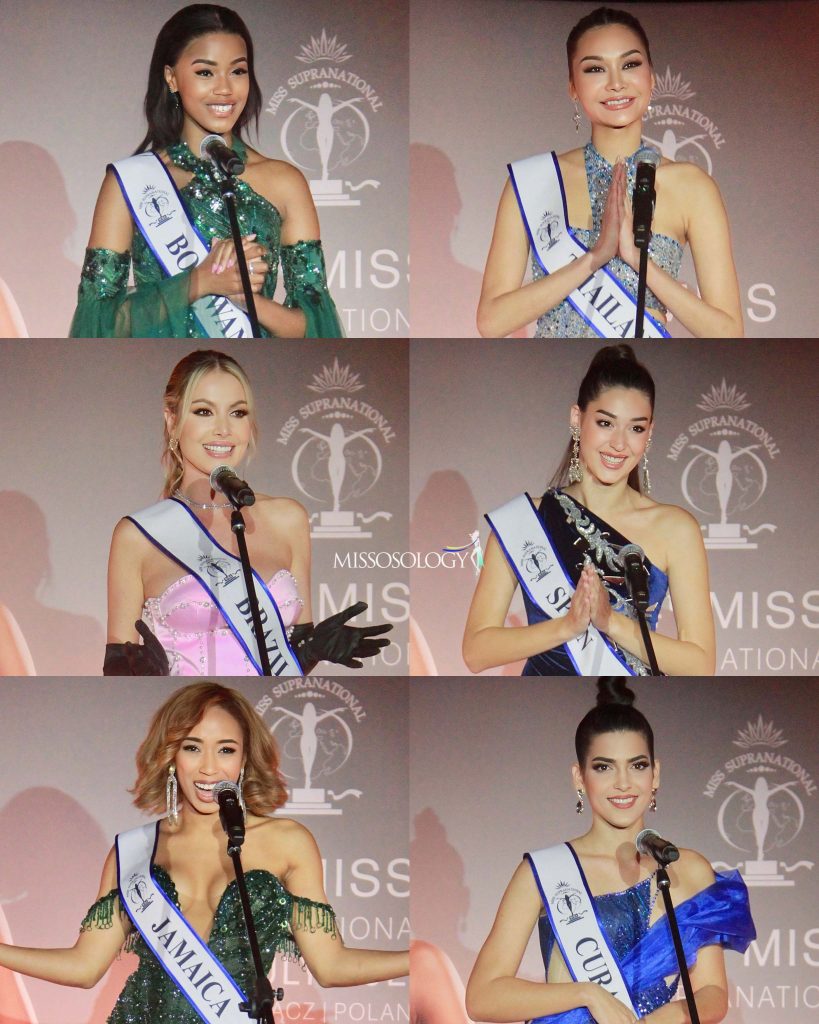 Miss BOTSWANA Dabilo Moses – Energetic, fun and not your conventional beauty queen, she was a surefire hit!
Miss THAILAND Patraporn Wang – Talk about fierce & doing everything right! This pageant veteran won Miss Intercontinental in Germany way back 2014. Keep in mind, Europeans are fond of her exotic type of beauty. We'll see…
Miss BRAZIL Sancler Frantz – This vixen in pink drew the inevitable comparison of looking like a hollywood star!
Miss SPAIN Lola Wilson – The youngest contestant this year is very statuesque and is built like a supermodel. THAT FACE!
Miss JAMAICA Thalia Malcolm – Her gown had it all: sparkles and a plunging neckline that were absolutely gorgeous. She was a literal fire emoji that night!
Miss CURAÇAO Andreina Pereira – Took everyone's breath away with her mesmerizing cerulean gown and engaging aura.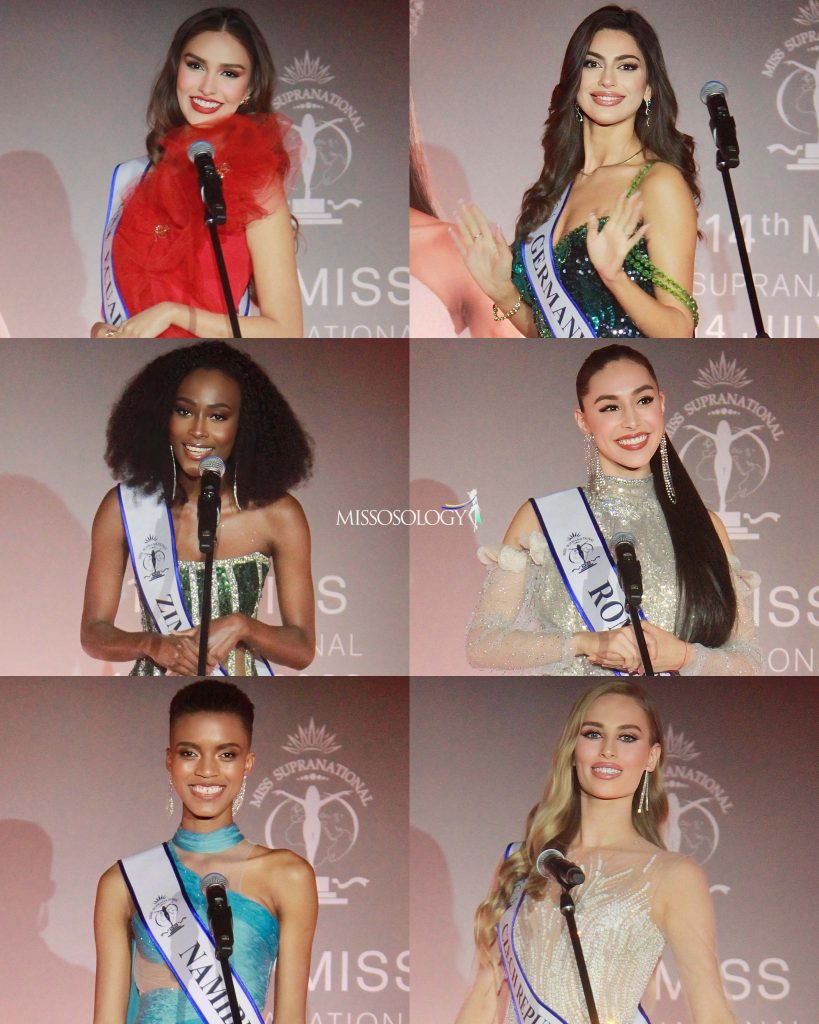 Miss ECUADOR Andrea Aguilera – Would go on to cement her status as a front-runner in the competition. Her classy number attracted plenty of attention.
Miss GERMANY Maria Ignat – Unquestionably flawless during her presentation, impressing everyone with her stunning face and magnetic smile.
Miss ZIMBABWE Sakhile Dube – Did her homework and looked ethereal on stage.
Miss ROMANIA Ioana-Izabela Hotăran – Exuded elegance and subdued yet likable confidence, her choice of gown was commendable.
Miss NAMIBIA Romiley Hoffmann – We must of course mention this queen with her outstanding showing last night.
Miss CZECH REPUBLIC Marie Jedličková – She topped the best-dressed lists with an elegant display of her fully-sequined white number.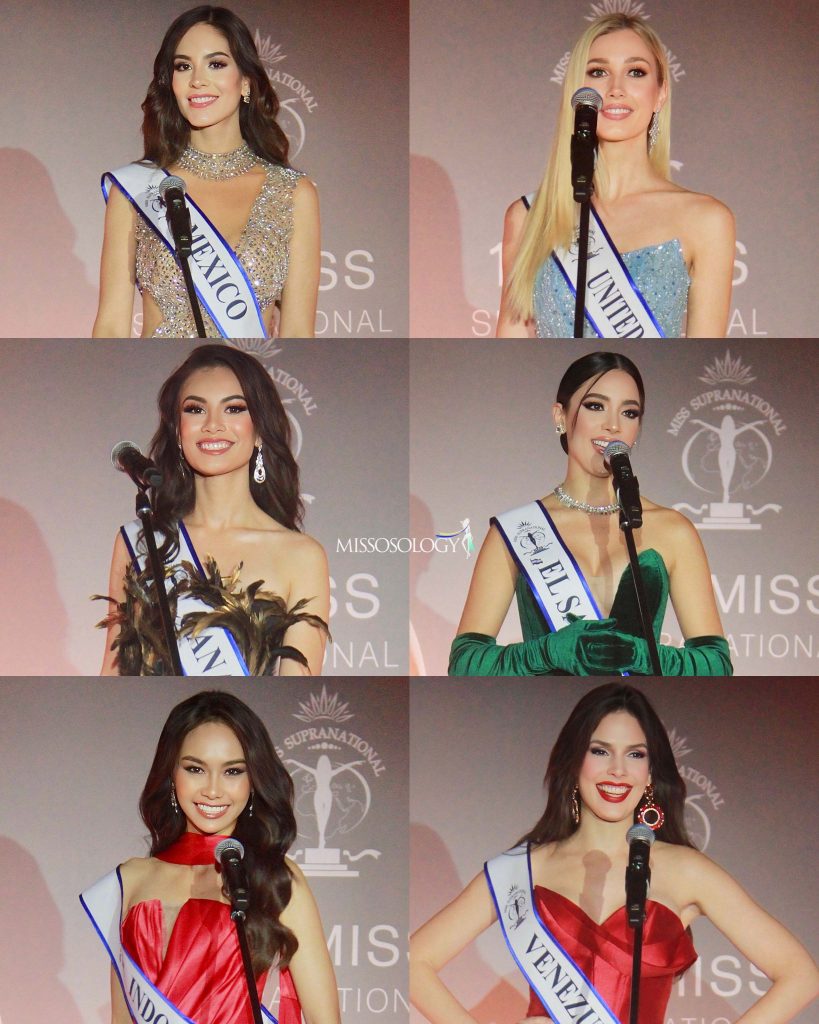 Miss MEXICO Vanessa Lopez – Took a smashing approach with her carefully-arranged fully-beaded show-stopper gown.
Miss CANADA Alexa Marie Grant – Sophisticated, she looked like a princess with the way she carried herself. Delivered one of the best speeches of the night.
Miss UNITED KINGDOM Emma Rose Collingridge – That sky-blue beaded gown complemented this blonde's alabaster skin. She's really a strong contender this year.
Miss EL SALVADOR Luciana Martínez – A surprise of the night who have inspired positive rave reactions.
Miss INDONESIA Yasinta Aurellia – Truly wowed everyone with her impeccable packaging.
Miss VENEZUELA Selene Delgado – One of the best appearances of the event, her innate poise and light certainly make her a threat.
Miss DOMINICAN REPUBLIC Crystal Matos – Receiving glowing praise from many pageant experts who followed last night's event.
Miss CAMEROON Kevine Ghomba – Appeared like a hurricane, she came to slay the competition!
Miss POLAND Aleksandra Klepaczka – A real-life doll, her presence is just undeniable.
Miss PUERTO RICO Camille Fabery – Aced this round with attitude, sophistication and power, all at the right measure.
Miss KOREA Juhyeon Roh – A super star in the making! She sashayed with radiance and oomph onstage.
Miss SOUTH AFRICA Ayanda Thabethe – She certainly did not disappoint and gave an impression that she has what it takes to continue the successful streak of her country at Miss Supranational.