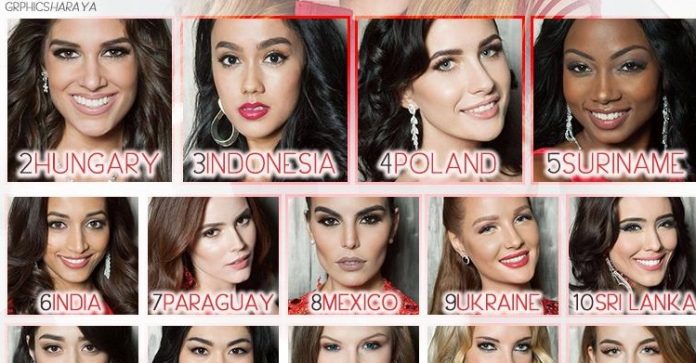 After three weeks of sightseeing, rehearsals and experiencing local Polish and Slovakian cultures, the eighth edition of Miss Supranational will finally come to an end.  With 71 delegates from all over the world competing for the top crown, only one will emerge as the winner and will inherit the crown from Stephania Stegman, the reigning queen from Paraguay.  Missosology correspondents were invited to cover the pageant for the second time since 2014, and together with the opinion of our resident pageant analysts and web administrators, we have come up with the following final hot picks.
THE GIRLS TO BEAT!
There is no doubt that Venezuela has finally brought their A-game for this year's edition.  Valeria Alejandra Vespoli Figueroa, the 2015 Miss Monagas winner and a finalist at Miss Venezuela 2015 won by Mariam Habach (who will represent Venezuela at Miss Universe 2016) is definitely the one to beat at this year's pageant.  Giving the crown to Venezuela will certainly give certain hope to a country that is suffering from the worst of its economic crisis. But Valeria has shown real professionalism and genuine passion to win this crown.  She has been a consistent favorite, not only by fans, but also by sponsors who always ask for her presence.  What is their to lose when you meet such a stunning young woman who came from the greatest pageant factory in the world – VENEZUELA!
In second place is Korinna Kocsis, the former Miss Earth Hungary 2009 who was appointed as Miss Supranational Hungary 2016 when no Miss Supranational Hungary pageant was held for this year.  This beautiful Hungarian is famous among pageant fans.  Who could have forgotten that scene when she gave up the Miss Intercontinental Hungary 2013 title live on TV?  She even took the microphone and said that she did not want to accept a minor title when she was already a national queen who represented her country in a major pageant!  But now, having outgrown that experience and has grown more maturely, Korinna has transformed even more beautifully and she might as well become the first major titleholder for HUNGARY, ever!
In third place, whom many are expecting to continue the Top 3 winning streak of  Puteri Indonesia's stunning class of 2016, is Intan Aletrino.  Growing up in the Netherlands, Intan may have felt more at ease with the harsh winter of eastern Europe, but her exotic beauty is hard to ignore amidst the snow and the cold weather.  Intan is very much confident in her own skin.  Her natural curly hair has made her a standout, as opposed to most Asian girls who have straight black hair.  Intan is also very intelligent, a good conversationalist, just like most of her fellow Puteri queens, and is armed with a strong support from her constituents back in Indonesia.  But, will it be more of a blast if Intan totally wins it for INDONESIA?
Up next at fourth position is the host delegate, Ewa Bozena Mielnicka, who was Miss Polski 2014 and Miss International Poland 2015.  She has come really strong at the last leg of this competition with a massive support coming from the local Polish fans, as evidenced by the sudden increase of her votes in the Missosology sanctioned People's Choice poll.  This tall, elegant and humble queen is a gem.  She is very soft-spoken, and has an endearing personality.  If Poland wins for the second time, it won't be met by protests by intelligent pageant fans.  So POLAND, be ready for a national treat if Ewa win!
And rounding up our Top 5 is the ebony beauty from Suriname, Jaleesa Pigot, who has been gaining a lot of fans from around the world due to her unique beauty, great fashion sense, and uh la la, that enviable skin tone!!!  She is indeed a black barbie!!!  If Jaleesa plays her cards well at the finals, and performs like real stage diva, she might become the first black Miss Supranational winner, which is going to be historical!  In 2014, Maggaly Nguema from Gabon was a major favorite to win the crown, and could have been the first black winner, but looks like Jaleesa is poised to make history in the name of SURINAME!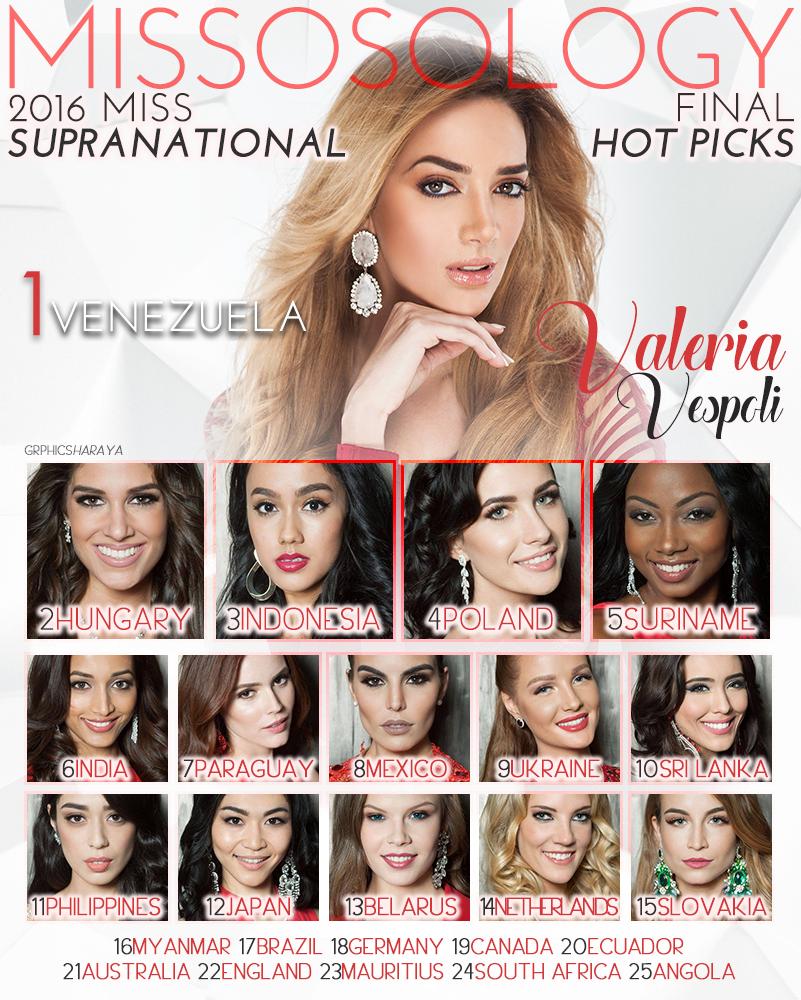 COMPLETING THE TOP TEN
Aside from our Top 5, here are the girls whom we think have a good shot to win the crown or place as a runner-up.
In sixth place is Srinidhi Ramesh Shetty of India.  What we like about Srinidhi is her charming and infectious smile that can easily melt your heart.  Although not as outstanding as Asha Bhat, we might be surprised on what this stunning young Indian can do on stage that we have not seen yet, so watch out for her!
Paraguay's Viviana Florentin is the crown-defender, and may be in a difficult situation because it is probably too soon to get a back-to-back win for this eight-year-old pageant, but Viviana is not just your typical beautiful and sexy Latina.  She is a woman of substance, and is said to be very smart and charismatic.
In eighth place is the Cynthia Alejandra de la Vega Oates of Mexico.  Although she was an early favorite, Cynthia is still considered as one of the girls who can win the title with her beauty, poise and great stage presence.   But, she better learn to relax and show some happy look on stage as she tends to look "fierce" most of the time, and forgets to smile.
Miss Ukraine, Anastasiya Lenna, is what a lot of pageant fans would describe as the "Face of the Pageant".  She registers well on camera, never had a bad angle, and is angelic looking.  This extremely photogenic young woman was a Miss Grand International 2015 semifinalist, and has improved a lot since her last pageant.
Ornella Mariam Jayasere Gunesekere of Sri Lanka, who, just like Anastasiya, also came from the Miss Grand International class of 2015, completes our Top Ten.  What we really like about "Nelly" is her serene beauty and wonderful personality.  She was a huge favorite at last year's MGI, but failed to enter the Top 5 despite delivering a great speech.  This time, we hope to see her finish higher than her Miss Grand placement, which we usually see happening at Miss Supranational.
THE SILENT KILLERS (11th to 15th spot)
Never underestimate these five girls whom we have placed in the 11th to 15th spot because they have potentials to score a dramatic "victory from behind" and take the crown away from the front runners.
11th.  Miss Philippines.  Joanna Eden was a dark horse at Bb. Pilipinas 2016, where she emerged as the Best in Swimsuit winner, and eventually wont the title that has brought her to Poland. This youthful Filipina, who grew up in Australia, has a body to die for!  Joanna's unique beauty is one of her best assets, and she is really fun to be with.
12th.  Miss Japan.  Risa Nagashima was a surprise winner at the inaugural Miss Supranational Japan pageant, which has attracted national attention due to its world class production.  In Poland, she is loved by her fellow delegates due to her positive aura and energy level.  Watch out for her outstanding national costume!
13th.  Miss Belarus.  Never underestimae Polina Pimahina, who is from the beautiful country of Belarus, the only country aside from Poland to have hosted the Miss Supranational final night.  Belarus never runs out of beautiful women, and Polina has the Eurasian look that can be marketable in most parts of the world!
14th.  Miss Netherlands.  Milenka Janssen may have been ignored in our previous hot picks, but definitely not on this very important one!  Leading to the pageant night, Milenka grew in us as a very determined and passionate young woman, who is willing to work hard to better herself.  She will be wearing an amazing evening gown during the finals, so let's hope she can go even further so we can see it!
15th.  Miss Slovak Republic. As a co-host to this historical edition of Miss Supranational, Lenka Tekeljaková had been a gracious hostess.  Her natural beauty and great stage presence will certainly work on her favor.  It would have been great if Lenka was to perform on home soil, but the pageant night will be held in Poland so we can only hope that her Slovakian fans will drive their way to Krynica-Zdrój to support her.
THE REST OF THE TOP 25
16. Myanmar.  Cute and tall, but lacks the stage energy.  Her saving grace will be her fans who will vote for her unceasingly, and the fact that her organization had invited the reigning queen, Stephania Stegman, and Miss Supranational owner Gerhard von Lipinski during her national pageant.
17. Brazil.  This exotic beauty has the height and elegance that may do well on the ramp.  If this was Miss Earth, she might easily zoom her way to the Top 4, because Brazilian beauty is highly favored there, but not necessarily at Miss Supranational.
18. Germany.  This German beauty with a Filipino blood was runner-up at the Miss Universe Germany 2015 pageant.  A year later, she is given the chance to represent Deutschland at Miss Supranational!
19. Canada.  Canada actually held a decent Miss Supranational Canada pageant held this year, thanks to the good performance of Siera Berchell who placed as 1st Runner-up last year.  This year's delegate is a good follow-up for Siera.
20. Ecuador.  A heavy favorite before the arrival, she just lacked the energy and positive vibes that were essential during the pageant activities.  But her beauty is hard to ignored.  She will place, but hopes are not as high as it was before.
21. Australia.  Australia always sends topnotch stage performers at Miss Supranational, and this delegate is no exception.  In Europe, though, her beauty becomes ordinary, although on stage, she can easily transform into a sexy vixen.
22. England. This blonde delegate actually has a large social media following, so we cannot just simply ignore her.  She has the sex appeal that will surely score well with straight male judging panel, but that's not what it all it takes to become Miss Supranational.
23. Mauritius.  The extremely tall delegate will probably be a huge surprise in the finals.  She always stands out, so, all she needs is to step up her level of performance and be noticed by the judges.
24. South Africa.  Young, sweet, yet very mature for her age, she is actually like a little sister for many delegates, but she has shown how of a great contender she is as the days pass by.
25. Angola.  It will be a disgrace not to see a black African in the semifinals, although we believe that this Angolan delegate deserve a higher placement, we pray that she will build up her self-confidence and show what a performer she can be!
BUBBLING UP: United States, Belgium, Peru, Costa Rica, Argentina, Romania, Czech Republic, Bolivia, Ethiopia, Gibraltar, Malaysia, Turkey