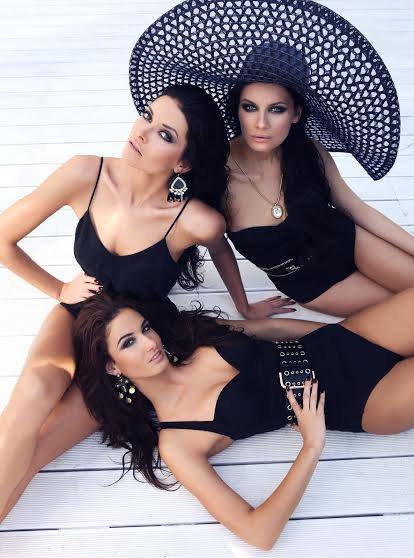 Twelve beautiful finalists of the 19th edition of Miss Slovakia (Miss Slovensko) 2014 are getting closer to their final performance on the final stage.
Miss Slovakia 2014 will be held this Saturday, April, 12th live from the capital city of Bratislava.
Lucia (1), Barbora (7) and Petra (2)
After three months of hard work, it is their time to show their best shot.  Out of the 12 finalists, the best one will represent Slovakia at Miss World Contest while her Runner up will travel to Miss International.
Dominika (6) and Lucia (3)
The audience and fans are also very important.  By sending their text messages they will choose the girl they like the most and she willl become so called "Miss Sympatia".  The money raised from the voting will be donated to the Children's Cardiology Center, the only one in Slovakia.
Michaela (5), Diana (11) and Michaela (12)
However, Miss Slovakia 2014 finalists have already raised funds since they took part on the Charity event and were collecting money for children suffering from oncologic disease.
Zuzana (9), Jana (8), Laura (4) and Simona (10)
Who will become Slovakia´a pride for the 2014? You will find it out this Saturday!
Text by:   Tomas Haberl; 
Photos by: Lukas Kimlicka
 PROFILE PICTURES OF THE FINALISTS
Lucia Semanková
Petra Pochabová
Lucia Uhrinová
Laura Longauerová
Michaela Franková
Dominika Pernišová
Barbora Olejníková
Jana Slačková
Zuzana Hercegová
Simona Lipovská
Diana Kušmíreková
Michaela Nguyenová