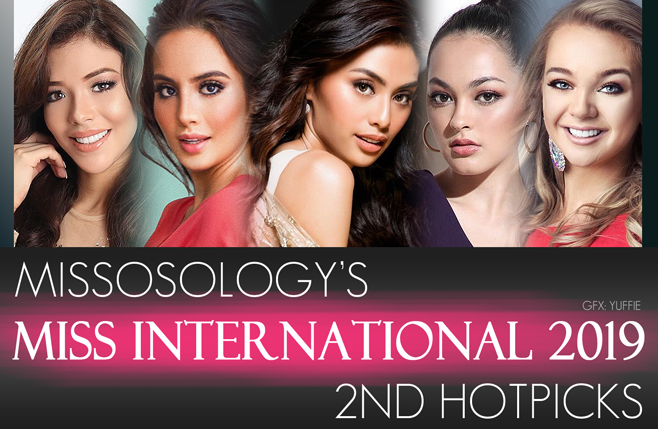 As more and more candidates from across the world are selected and crowned, the Miss International pageant is poised to become one of the most anticipated major international pageant of the year.
Japan is bracing for many events this 2019. The slew of high profile occasions include the crowning of the new emperor, the Rugby World Cup 2019 and the events leading to the 2020 Tokyo Olympics. The Miss International pageant will certainly ride on the tide of worldwide attention being directed to Japan.
Topping our 2nd Hot Picks for Miss International 2019 is Miss Philippines Atty. Bea Patricia Magtanong. Her sash weight is among the heaviest in the pageant that carries a strong punch. She's witty and any form of public speaking engagements will be easy peasy for her. Of course, we should expect that anyone from Philippines should be well prepared to face the Miss International challenge.
In close second is the newly announced Miss Colombia María Alejandra Vengoechea who reminds us of Miss International 2018 Mariem Velazco and Miss International 2015 Edymar Martinez, rolled into one. Her elegance and beauty scream Miss International and she is expected to give a strong performance worthy of the crown.
Last year Miss Indonesia Vania Harlembang broke the so-called "crown curse" after making it to the semis. The "crown course" refers to the phenomenon wherein a country usually fails to be in semis if it won the Miss International crown on the preceding year. Breaking that curse signifies the strength of Indonesia and this year Jolene Marie Rotinsulu is a worthy candidate to carry that strength. Jolene has been a front runner in her national pageant and her wit and beauty will surely have an impact at Miss International 2019.
Another Miss International 2019 that caught the eye of pageant experts is Miss Panama Betzaida Rodriguez. She's elegant and a head turner. Her Latina charm blends well with her sophisticated personality. Surely, Mariem Velazco's presence at the Senorita Panama 2019 finals has made a strong impact for pageant fans to notice Betzaida this early.
A towering figure, Miss United Kingdom Harriotte Lane completes the Top 5 of this Hot Picks. She's not only statuesque and drop dead gorgeous but also a beauty queen with a purpose as she actively pursued various advocacy. The last time Europe has won the Miss International crown was in 2008. This is quite surprising due to the fact that the old continent has consistently sent the largest continental delegation at Miss International.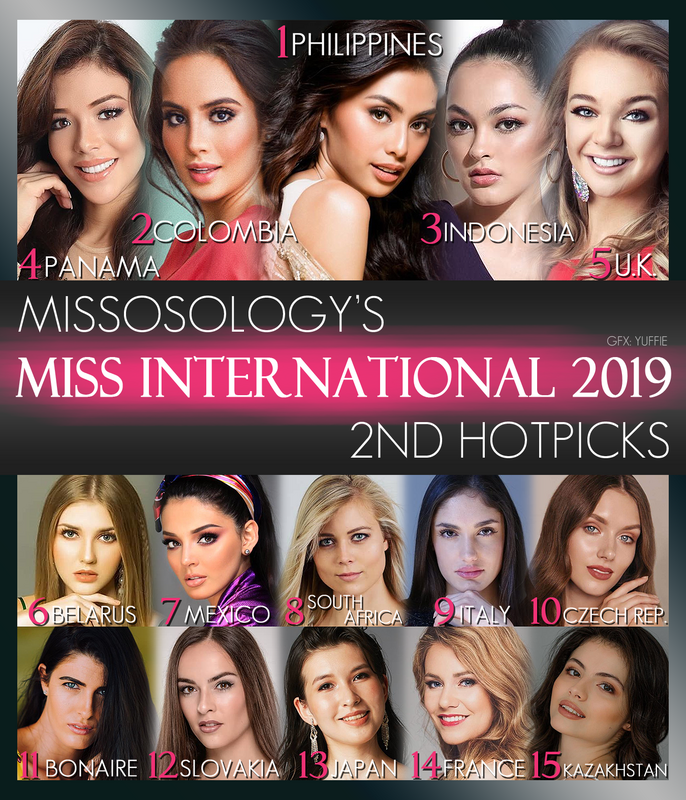 Completing this 2nd Miss International 2019 Hot Picks are:
6. Belarus
7. Mexico
8. South Africa
9. Italy
10. Czech Republic
11. Bonaire
12. Slovakia
13. Japan
14. France
15. Kazakhstan
Among the rest of the Top 15, South Africa's Nicole Middleton, Italy's Francisca Giordano and France's Solene Barbot are the new faces. Watch out for them as they seem to be promising delegates, and all coming from organizations that specifically send the respective top winner to the Miss International pageant.
Graphics by: Yuffie
Text by: Ric Galvez, Missosology Owner