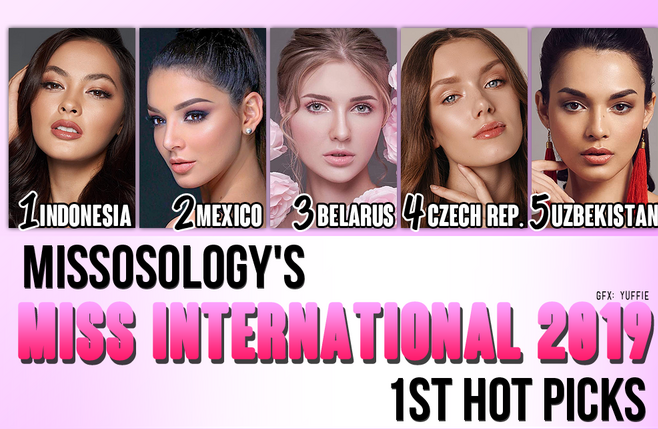 The words "bloodbath in Tokyo" keeps humming in my mind. This may sound gruesome and perverted but to pageant aficionados, it means exciting times ahead. As country after country crowns, elects, selects, and appoints (or whatever), the Miss International 2019 pageant is becoming more intense by the day. November 12 is an eternity from now but the way I look at it, it will be a contest of strong candidates in such an epic proportion such that the words "bloodbath in Tokyo" may fall short.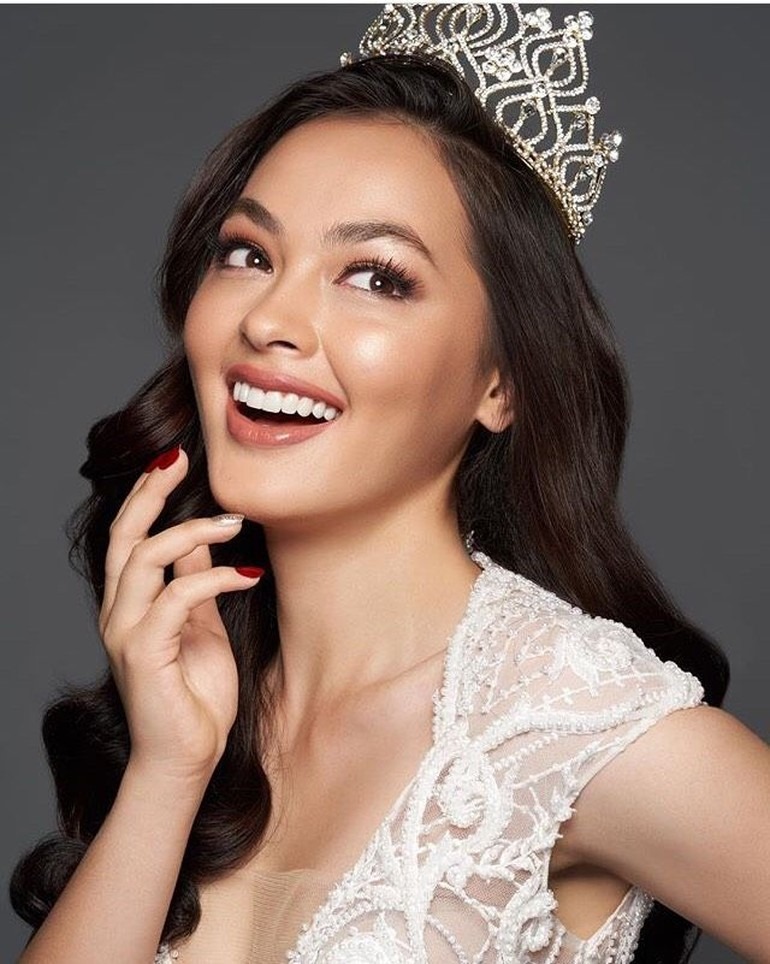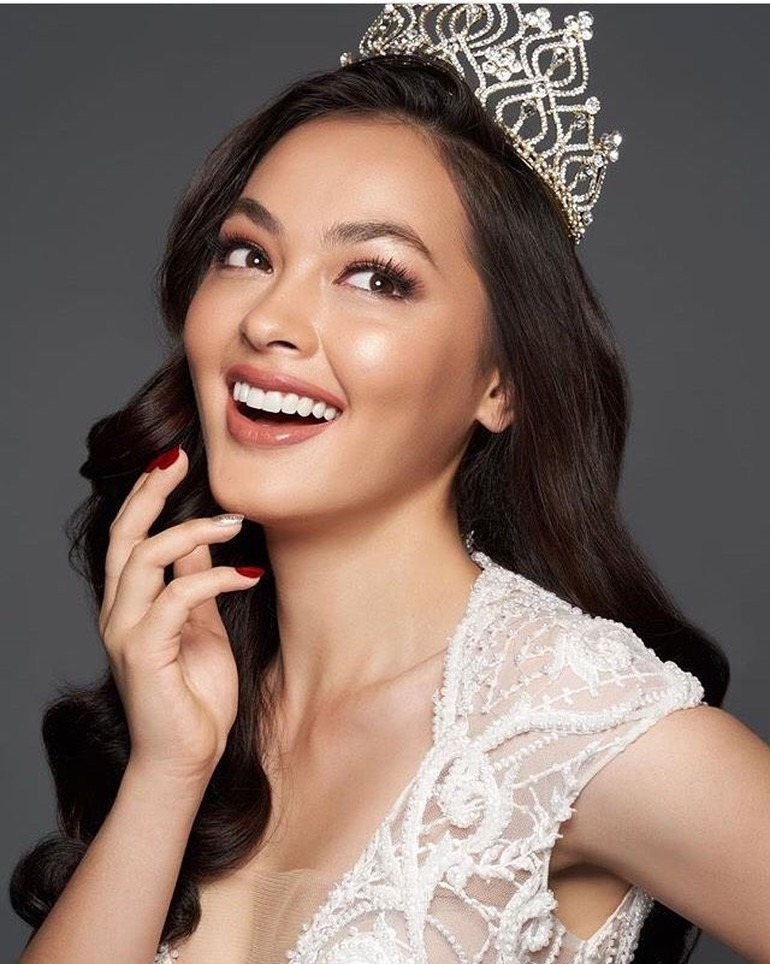 Of course, don't take my word for it. Just look at Indonesia wherein the country will never rest its laurels despite winning the crown in 2017. Miss International Indonesia Jolene Marie Rotinsulu was crowned and tasked to represent her country's renewed thrust to win the crown again. She's half American and her greatest weapon, aside from her overall beauty, would be her speaking skills. It will be an important factor during the crucial moment of Miss International pageant.
Not to be outdone, Mexico is sending Andrea Toscano to Tokyo. While she was unplaced, wrongly in my opinion, during the Miss Universe pageant last year, Andrea could not just be simply brushed aside. She's a strong candidate with queenly aura. This strategy of Mexico echoes the same maneuver done in 2007 and in 2009 and in both instances, the country won the Miss International crown!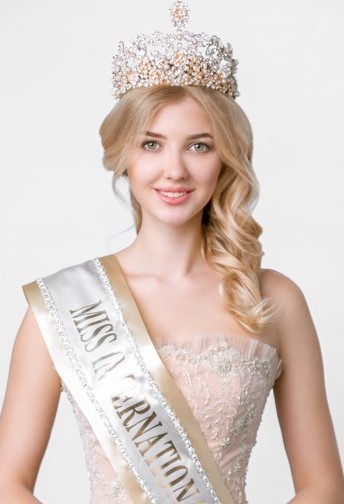 Occupying the third spot in this Hot Picks is Maria Perviy of Belarus. She might be the uber-gorgeous beauty queen that Miss International is looking for. The blonde drop-dead gorgeous European beauty may be carrying a sash that does not carry much weight but she is sure a beauty that can turn heads in Tokyo. Belarus' best placement at Miss International happened 12 years ago, with a 2nd runner-up finish.
Meanwhile, Czech Republic continues its quest to win its first ever Miss International crown and Andrea Prchalová could be the heaven-sent answer. Be mesmerized by her eyes and her aura is dripping with finesse.
Closing the Top 5 is Tamila Xodjayeva of Uzebekistan. Her country will be participating in Miss International for the very first time. She appears to be the perfect choice with her international appeal and a beauty that gained nods among Missosology's beauty experts.
Not to be ignored is Bonaire's Vera Ghazzouli who is poised to give Bonaire a well-deserved attention on their debut at Miss International. And also, be alert with Japan's Tomomi Okada, who is the daughter of former Miss International long-time host, the late Masumi Okada. Costa Rica's Tamara Dal Maso has the modeling appeal that will definitely make heads turn in Japan. Nigeria will be back with the loively Alice Duke, who is not just beautiful on the outside, but also has a beautiful heart. She is busy helping less fortunate children in her native Nigeria. Completing the Top 10 is the recently crowned Alica Ondrášová of Slovakia.
Check out the complete list below and tell us whether "bloodbath in Tokyo" is apropos. And remember, the Philippines, Venezuela, Spain, Colombia, USA and a whole lot of countries are yet to crown or select their winners!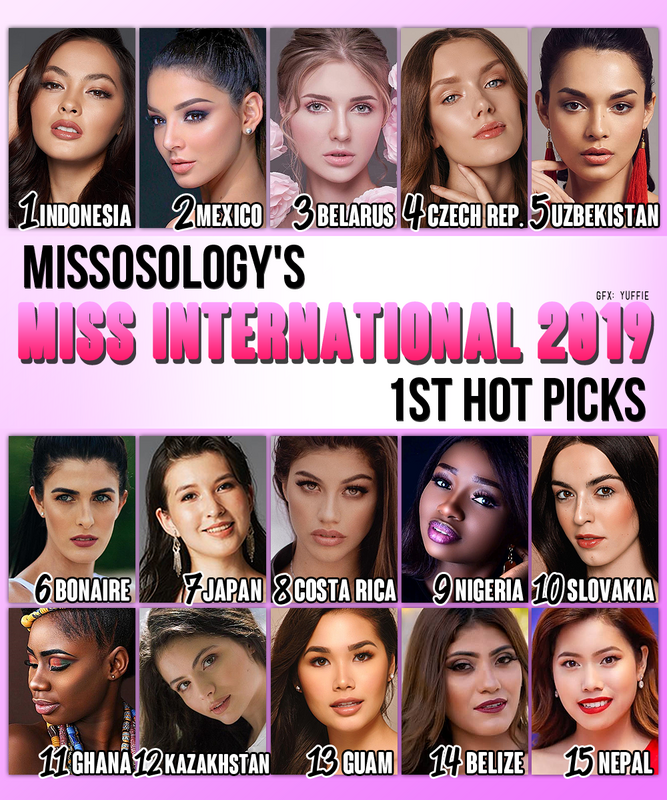 Miss International 2019 1st Hot Picks
Indonesia – Jolene Marie Rotinsulu
Mexico – Andrea Toscano
Belarus – Maria Perviy
Czech Republic – Andrea Prchalová
Uzbekistan – Tamila Xodjayeva
Bonaire – Vera Ghazzouli
Japan – Tomomi Okada
Costa Rica – Tamara Dal Maso
Nigeria – Alice Duke
Slovakia – Alica Ondrášová
Ghana – Princess Gyamfi
Kazakhstan – Dasha Atmaja
Guam – Athena Éva McNinch
Belize – Selena Maria Urias
Nepal – Meera Kakshapati