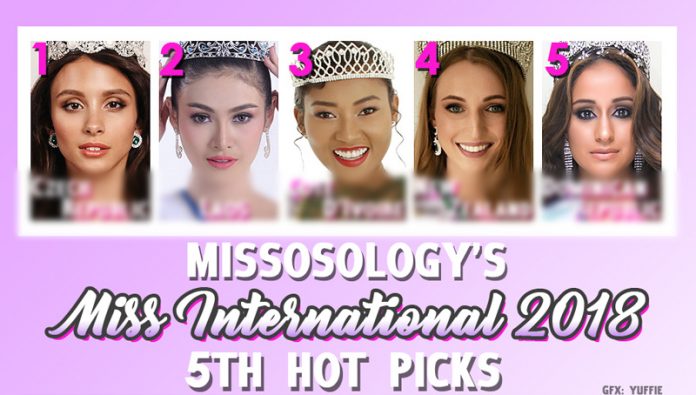 Miss International 2018 is now in full swing and the correspondents of Missosology are covering a lot of ground from talent presentation, school visits, and cultural encounters. After collecting and collating their observations, it seems a new set of ladies are getting a lot of attention.
You can place your bet on Miss Czech Republic Daniela Zálešáková to take the Miss International 2018 crown. The 19 year old European beauty looks like one of those Disney princesses. Perfectly toned body-wise and with a beauty that definitely turned heads, Daniela displayed an unmistakable classy finesse.
Miss Laos Piyamarth Phounpaseuth will come as a surprise to most. Laos surpassing the usual Asian frontrunners? Well, Piyamarth's grace and Asian looks are all big hits among the locals. Hope she can convert her popularity into something meaningful during the finals night.
The African region is also bracing for some shake-up in the ranking. Miss Cote d'Ivoire Jemima Gbato came from nowhere to clinch the third spot. She was bubbly and confident during the presentation show in Niigata and it seems she is winning hearts everyday.
Looking impeccable is Miss New Zealand Natasha Kristina Unkovich. It is very clear that we can only get a strong performance from this Kiwi beauty. Miss Dominican Republic Stéphanie Bustamante is also one of the beauties that upended the pre-arrival Hot Picks. She gave a solid performance in many of the activities in Japan and it looks like her chances in winning the crown is becoming more realistic by the day.
Miss Thailand Keeratiga Jaruratjamon, Miss Mexico Nebai Torres, and Miss Venezuela Mariem Velasco are the usual favorites but they are relegated into ranks 6, 7 and 10 respectively. Don't count them out yet! It is possible that they may be saving their best for the finals stretch.
Miss Philippines Ma. Ahtisa Manalo and Miss South Africa Reabetswe Sechoaro are also showing some strength but not enough to put them as frontrunners. Still, it would be a gross injustice if we will count them out as well.
The competition at Miss International will only get intense as the week progresses. It would be interesting to see if the frontrunners will sustain their lead and new strong beauties will emerge. Meanwhile, here's the complete list of the 5th Hot Picks for Miss International 2018.
1.) Miss Czech Republic Daniela Zálešáková
2.) Miss Laos Piyamarth Phounpaseuth
3.) Miss Cote d'Ivoire Jemima Gbato
4.) Miss New Zealand Natasha Kristina Unkovich
5.) Miss Dominican Republic Stéphanie Bustamante
6.) Miss Thailand Keeratiga Jaruratjamon
7.) Miss Mexico Nebai Torres
8.) Miss Philippines Ma. Ahtisa Manalo
9.) Miss South Africa Reabetswe Sechoaro
10.) Miss Venezuela Mariem Velasco
11.) Miss Romania Bianca Tirsin
12.) Miss Haiti Cassandra Chéry
13.) Miss Poland Marta Pałucka
14.) Miss Zimbabwe Tania Tatenda Aaron
15.) Miss Colombia Anabella Castro Sierra
16.) Miss Korea Yejin Seo
17.) Miss Honduras Valeria Cardon
18.) Miss Netherlands Zoë Amber Niewold
19.) Miss Canada Camila Gonzalez
20.) Miss Panama Shirel Ortiz