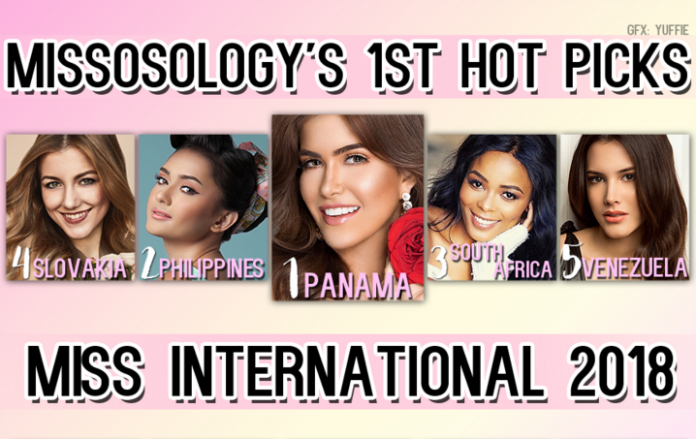 MISS INTERNATIONAL 2018
1st Official Hot Picks
Miss International 2018 wants to expand.  This year, the target number of delegates is 80, which when pushed through, would become the biggest in history.  The MIO team, reportedly, is aggressively searching for new license holders in order to make this happen.
As of the moment, here are the hottest among the confirmed delegates!

Topping our first list is Panama's Shirel Ortiz who is poised to bring back the pearl crown to her country after 20 years.  Shirel competed in the Señorita Panamá 2018 competition, representing Panama Centro.  Her flawless presentation during the finals made her a top favorite for one of the crowns.  There is no doubt that Shirel will also wow the judges in Tokyo as she flies to Japan on October for the 58th Miss International Beauty Pageant. In second place is Maria Ahtisa Manalo of the Philippines.  Considered to possess one of the most beautiful faces to grace the Bb. Pilipinas stage in recent years, the 21-year-old binibini will avenge last year's disappointment when her pageant-loving country failed to place in the semifinals.  At third place is South Africa's own Reabetswe Sechoaro, who was once a heavy favorite at Miss South Africa pageant.  This 24-year-old model had previously won an international modeling competition in Thailand when she was only 18.  Now, she will have the chance to compete in one of the Big5 Pageants, and might just be Africa's first Miss International winner.  Following at fourth place Radka Grendová of Slovakia.  The very charming and statuesque Radka will be a head turner in Japan with her lean frame and blonde hair.  Her stint at Miss Slovensko 2018, where she placed first runner-up, gave us an idea how she could win the hearts of many with her amazing stage presence.  Rounding up our Top 5 is none other than the Venezuela's very own Mariem Velazco.  A top favorite at Miss Venezuela 2017 contest, Mariem is a model from Anzoátegui, and is tall at 177 cm.  Without Osmel's guidance, let's see how Mariem can wow the judges through the new team that runs the Miss Venezuela Organization.
COMPLETE LIST:
1.  PANAMA (Shirel Ortiz)
2. PHILIPPINES (Maria Ahtisa Manalo)
3. SOUTH AFRICA (Reabetswe Sechoaro)
4. SLOVAKIA (Radka Grendová)
5. VENEZUELA (Mariem Velazco)
6. COLOMBIA (Anabella Castro)
7. POLAND (Marta Palucka)
8. BOLIVIA (Maria Elena Antelo)
9. ECUADOR (Michelle Huet)
10. MYANMAR (May Yu Khatar)
11. PARAGUAY (Daisy Lezcano)
12. INDONESIA (Vania Herlambang)
13. HUNGARY (Frida Maczkó)
14. NEPAL (Ronali Amatya)
15. NORTHERN MARIANAS (Celine Concepcion Cabrera)