Miss International 2017 2nd Official Hot Picks
Two more weeks to go and Japan will be showered by a bevy of beauties from around the world as the 57th Miss International Beauty Pageant kicks off in Tokyo.  Some 75 delegates are expected to compete, with a few countries debuting in the annual spectacle.  The challenge of Miss International this year definitely rests on how it will fare in comparison to Miss Earth, which will happen on November 3rd in Manila, and Miss World, which will happen on November 18th in Sanya.  Asian neighbors are competing in terms of hosting the Big 5 pageants, and this will be the first time in history when all of the original Big 4 Pageants are happening on the same month. Miss Universe will be held in Las Vegas on November 26th.
Should Miss International fail to produce a spectacular show on November 14th, it will go down in history as another forgettable event, with nothing to be talked about after the contest.  Usually, their saving grace is the winner, which was the case last year.  With a boring production that made nearly a quarter of the audience leave halfway through the show, the victory of Kylie Verzosa made the pageant worth talking about in social and mainstream media.
Setting aside the production value of the final show, Miss International remains consistent to its mission of promoting international and cultural understanding.  Unlike other pageants, Miss International does not give much pressure to the candidates in terms of rehearsal and early morning wake up calls.  There are occasions when the delegates need to wake up early, but in most of the days, they are given enough free time and sleep to cope up with the daily activities.
So, who gets the top plum in our second hot picks?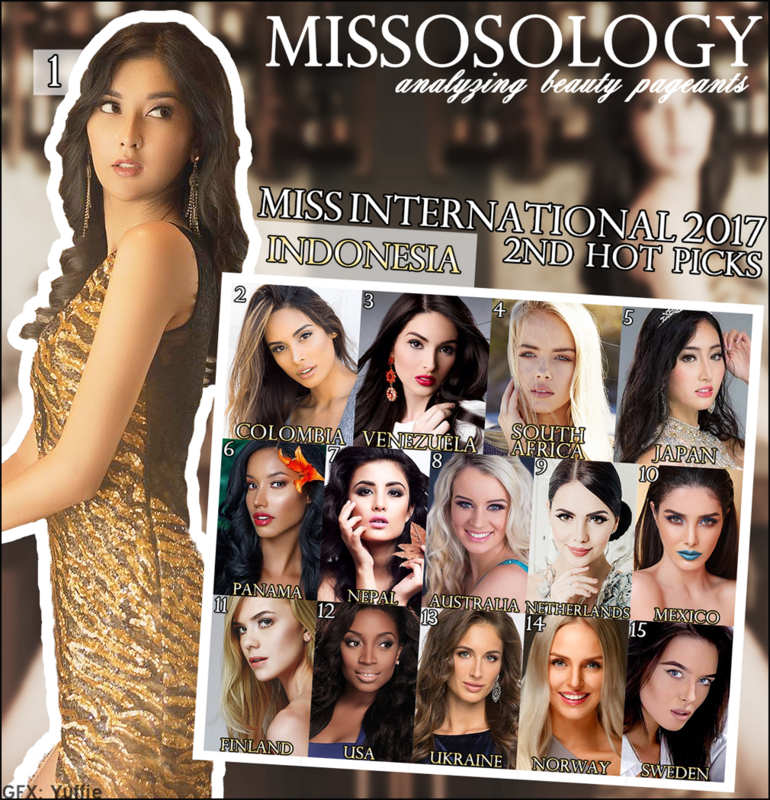 Top 5
Topping our list is none other than Indonesia's Kevin Lilliana.  What's not to like about this lovely lass?  She was third in our previous hot picks, but she zoomed up after seeing great improvements on her.  Seeing her swimsuit video in a secluded beach in Indonesia made us realize that Indonesia has indeed stepped up their game.  Gone are the days when Puteri Indonesia tends to play safe and remain conservative.  Women are very much capable nowadays to be respected and admired even when they show up in swimsuits or in evening gowns.  Pageant fans do not just see what is on the physical, but they support the girl for what she is on the inside.  Kevin's angelic beauty and intelligence will not go unnoticed in Japan, and she will certainly be a heavy favorite for the crown!
Vanessa Pulgarín of Colombia is now confirmed to be the flagbearer of one of the most successful Latin countries in Miss International.  At second place, this glamazon will be a force to reckon with when she arrives in Japan.  Rumor has it that this year's stage will have a long ramp for catwalk.  We believe that this will be the chance for a seasoned catwalk diva like Vanessa to shine!
In third place is Diana Croce of Venezuela.  No one can deny that this young Venezuelan lass was wrongfully ignored at Miss World last year.  Missosology's correspondent Stephen Diaz, who met Osmel Souza in Maryland last year, was dumbfounded when Diana was not even called in the Top 20.  At Miss International, though, it will be a totally different ballgame and we believe that Diana will be not experience an unjust treatment.
Tayla Skye Robinson of South Africa sled to fourth place.  However, she is still the best hope from Africa, which is in need of their first ever win at Miss International.  Tayla has the support of an amazing organization back in her home country.  This marketing graduate was recently seen traveling all over Asia for her modeling stints.  She sealed a deal with Kawasaki Motors, where she will soon be seen in a TV commercial.
At fifth place is the home delegate, Natsuki Tsutsui.  The current Miss International Japan, no doubt, is the most hardworking and visible national winner we have ever met in recent history.  This 23-year-old therapist has been very serious with her job as a beauty queen, which is quite rare in Japan.  She has attended several green campaign events as part of her duties, as well as seminars and talk shows to promote her advocacy.  She was raised in a foster care home, and is active in promoting better services in social care facilities.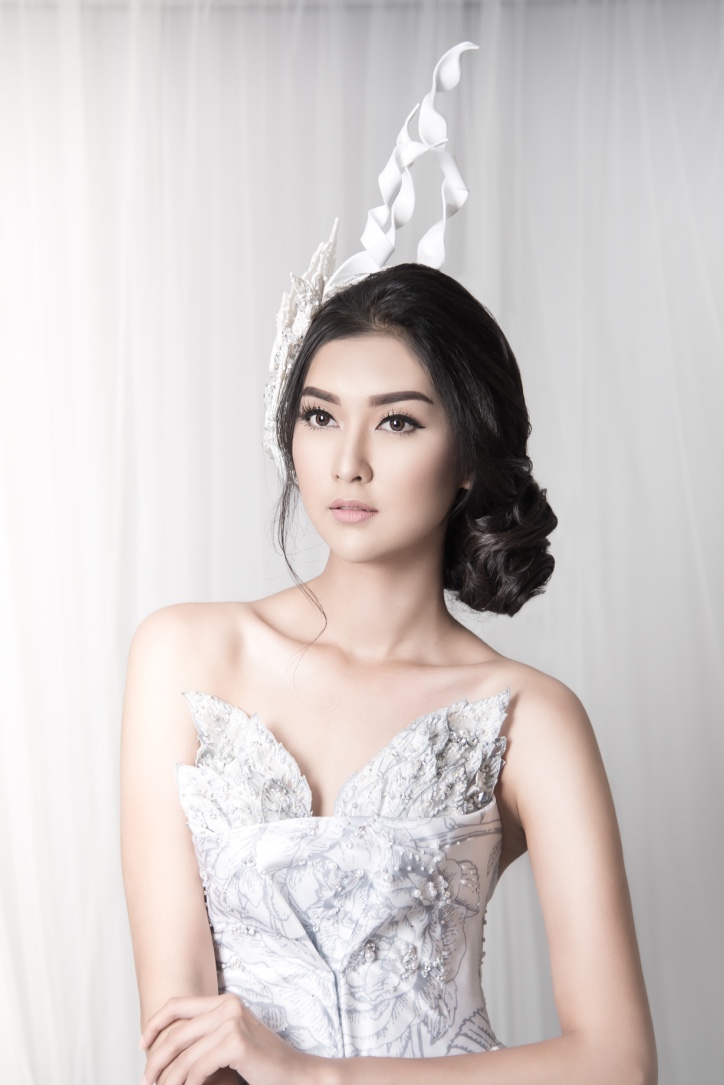 6th to 15th Place
Newly appointed Miss Internacional Panama, Darelys Santos, is a statuesque beauty who will come to Japan as the tallest delegate.  Her presence will be hard to ignore!  A lot of dramas happened prior to Darelys' appointment, but we believe that the new license holder will equip her with much needed preparations.  In seventh place is Niti Shah of Nepal, who has kept her ranking since the previous one.  This popular model has more than 100K followers on Instagram, for a country with only 30 million population.  Nepal is always underrated at Miss International, despite having sent quality delegates.  Some of them are now more successful in their respective career compared to those who even placed and won the international title.  Australia's Amber Dew is in eighth place.  This blonde bombshell can actually outdo her predecessor's placement last year if she knows how to play her cards well.  Her beauty is highly sought in Japan.  Dutch beauty Nathalie Mogbelzada, who graciously hosted Kylie Verzosa in the Netherlands, Belgium and France is in ninth place.  She is the highest ranking European, so far, on this list.  Unfortunately, there is a sad trend in Miss International that kicks out Europeans in the winners' circle.  In 2015 and 2016, no European has made it to the Top 5 despite having some of the most beautiful faces and sincere characters.  Does the current MI system hate Europeans, or are they simply misunderstood after the fiasco that happened in 2015 when the Swedish delegate left the contest with the allegations that the contest cheapens her as a woman?  Meanwhile,  Mexico's Citlaly Higuera is in tenth place.  Mexico has been sending topnotch delegates since 2012, and has been enjoying an unbroken three-year semifinal streak since 2014.  Will this be the year when MI finally acknowledges Mexico and put them on the Top 5, at the very least?
Finland's Pihla Koivuniemi, the 2nd Runner-up at the annual Miss Suomi pageant, will avenge the injustice that their last year's delegate experienced.  Emilia Seppänen was one of the heavy favorites to win last year's crown, but somehow failed to enter the Top 5.  11th placed Pihla, who is another blonde Finnish beauty, has the softer look that MI usually favors.  In 12th position is Shanel James of USA.  With all the negative things happening on American soil right now, we hope to see Shanel bringing some joy to the Americans by becoming the first African-American to win the Miss International title.  Ukraine's newly crowned Miss International delegate, Kseniya Chifa, is at 13th position.  Two Nordic beauties, Vilde Andresen Bø of Norway (14th) and Lina Ljungberg of Sweden (15th) complete or official list.
MISS INTERNATIONAL 2017 2nd Hot Pick
 INDONESIA (Kevin Lilliana)

 COLOMBIA (Vanessa Pulgarin)

 VENEZUELA (Diana Croce)

SOUTH AFRICA (Tayla Skye Robinson)

 JAPAN (Natsuki Tsutsui)

PANAMA (Darelys Santos)

NEPAL (Niti Shah)

AUSTRALIA (Amber Dew)

NETHERLANDS (Nathalie Mogbelzada)

MEXICO (Citlaly Higuera)

FINLAND (Pihla Koivuniemi)

USA (Shanel James)

UKRAINE (Kseniya Chifa)

NORWAY (Vilde Andresen Bø)

SWEDEN (Lina Ljungberg)
There were some newly crowned and appointed queens that just got published in Missosology, but they were not included in the hot picks due to our cut off time.  However, we will be scrutnizing them as we publish our next hot picks, which will be our much awaited PRE-ARRIVAL list!  In the meantime, what do you think of our 2nd Hot Picks?  Post your comments below…