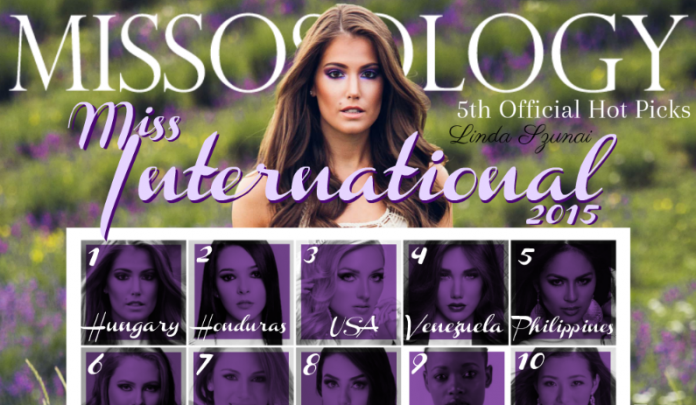 One more week to go and a new Miss International will be crowned. Who is it going to be?
A lot of dramas have been happening since our last hot pick was posted, which simply proves how competitive this year's batch is. One delegate snapped, and surrendered to negative emotions, while the rest of the girls were having the time of their life in Japan!  Who says that joining a pageant is that easy?  It has always been said that if you're not mentally prepared to compete in a pageant, better stay within your comfort zone because years of observation and experience have already proven that pageant girls are also like athletes.  They train hard, and aim for the top spot!
So now, this is just to remind everyone that this hot pick is not a prediction list. It is a list of the most talked about delegates within the Missosology community as well as the locals who have seen the girls up close and personal. Pictures can be deceiving, but those who have seen the girls in flesh and have interacted with them, can certainly distinguish who are those who deserve to be crowned as the new Miss International.
THE LEADER
Topping the list is none other the very demure and beautiful Linda Szunai of Hungary. Her unpretentious behavior and laid back qualities make her really endearing to the Japanese public. She has been featured several times on Japanese TV, but she was never loud and wacky. She was always very candid and shy, which seems to be her real nature, but at the same time, one cannot deny how pretty she is even with the least make up! She can be a perfect model for Panasonic Beauty, which the candidates have been endorsing in social media, and a great ambassador for this pageant which is slowly losing its grounds among European nations.  We believe that it is time to have another European and a new country to win the Miss International crown, and no one can best fulfill that job but the eloquent and elegant Linda.
THE REST OF THE TOP 5
She is being followed by last week'S leader, Jennifer Valle of Honduras, who is still looking strong and definitely a top contender for the crown. This future doctor may have come from a small and impoverished Central American state, but she has made a big name for her country because of her beauty, poise and intelligence. Not to be left behind is USA's Lindsay Becker who is just getting better and better. She always looks poised and presentable, and we believe that her strong communication skill has made her a great person to interact with during social gatherings. Venezuela's Edymar Martinez is always the "talk of the town" simply because she has this commanding presence wherever she goes. Her fans have invaded the Miss International Instagram account, which may be good on one side, but also bad on one side. Remember the fans of Miss Myanmar International 2012, who invaded the social media account and the voting site of MI when the pageant was held in Okinawa? That did not go well with the Japanese organizers because it was just too much, and hopefully Edymar's fans can tame themselves up before it's, you know, "too late"… And round up our Top 5 this week is the very charismatic delegate from the Philippines, Janicel Lubina. This 20-year-old charmer is the "story of the pageant". Trust us when we say that many Japanese media are simply waiting for the Cinderella story to have the expected Cinderella finish, or otherwise, the pageant will remain forgettable to them.
6TH to 10TH PLACE
Brazil is now closing to the Top 5 circle, and is now in sixth place. Some of those who have met Isis are thinking that she would look better with a darker shade of blonde than the one that she is sporting right now, which looks like a hair color of a grandmother. But who can deny her gorgeous face? Many of our pageant experts are actually betting on her to win this pageant, considering that next year the Olympics will be held in her home country, and at the same time, she is a good English speaker! Panasonic will be very happy to have her as a winner!
Ecuador is in seventh place, and among the tall Latinas this year, Daniela definitely has the best personality accompanied with such a beautiful face!
Mexico is on eighth place, and although this is a huge slip on her previous rank, we felt that Lorena should loosen a little bit and not to be too serious. No wonder a small group of zits are slowly growing on her right cheek.
And then, here comes Kenya! Oh Kenya!!! The hair and the overall aura! Spot on! We believe that Kenya came back with a bang this year! Eunice is phenomenal! No one can overlook her beautiful skin tone, enigmatic smile and the giggles that make her magnetic to anyone who has met her personally! So MIO, please, do not let this wonderful black barbie pass unnoticed during the finals! She is a gem!
Japan is now in the Top 10, and she is looking more and more competitive as the days pass by. Arisa has been a great with her job as the host delegate, and tries not to outdo the other contestants despite the fact that deep inside she really wants to stand out. She draws her inner strength from those who continue to believe and support her.
11TH to 15TH PLACE
Mongolia appears for the first time in our hot pick, and this lovely Asian goddess is in 11th place! The daughter of a famous Mongolian actress, and a granddaughter of an even more famous Mongolian actress, Azzayya is a silent killer! Every year, there is always at least one girl who will surprise everyone and cracks the Top 5, and it could be her! Denmark is back on track at 12th place, thanks to her wonderful national costume presentation during last week's charity event. Many pageant experts have noticed Mette's potential once again! Macau is still in the running at 13th place. Ana is definitely the "Miss Personality" this year! Meanwhile New Zealand is still holding on and remains in our hot pick at 14th place. Hayley is slowly losing her steam but she still has many loyal fans who believe in her. Panama completes our list at 15th place. Jhasmeiry is always well-groomed and has some of the best wardrobes in the competition.
Bubbling Up…
Bubbling up is the talented delegate from Vietnam at 16th. Statuesque Poland is in 17th place while Canada is in 18th, propelled by her performance at the Miss International forum. The friendly and bubbly Netherlands is in 19th place, while the angelic beauty from Moldova is in 20th place.
MISS INTERNATIONAL 2015
5th Official Hot Picks
1. HUNGARY (Linda Szunai)
2. HONDURAS (Jennifer Valle)
3. USA (Lindsay Becker)
4. VENEZUELA (Edymar Martinez)
5. PHILIPPINES (Janicel Lubina)
6. BRAZIL (Isis Stocco)
7. ECUADOR (Daniela Armijos)
8. MEXICO (Lorena Sevilla)
9. KENYA (Eunice Onyango)
10. JAPAN (Arisa Nakagawa)
11. MONGOLIA (Azzaya Tsogt-Ochir)
12. DENMARK (Mette Riis Sørensen)
13. MACAU (Ana Choi)
14. NEW ZEALAND (Hayley Rose Coombe)
15. PANAMA (Jhasmeiry Herrera Evans)
Bubbling Up:
16. VIETNAM (Phạm Hồng Thúy Vân)
17. POLAND (Ewa Mielnicka)
18. CANADA (Kathryn Kohut)
19. NETHERLANDS (Rachel Van Der Meulen)
20. MOLDOVA (Anastasia Fotachi)