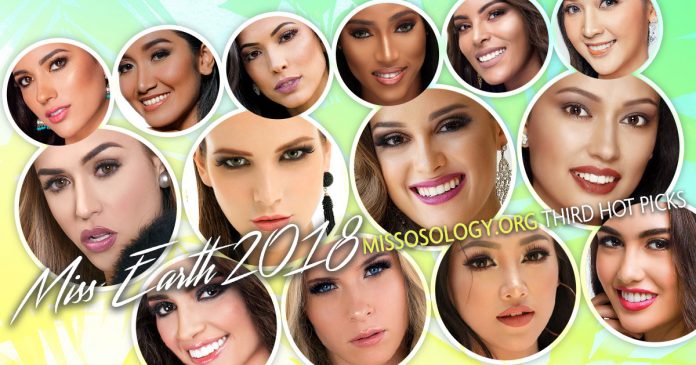 Text and graphics by Drew Francisco
We are just a few days away from crowning the successor of Karen Ibasco, but the Miss Earth 2018 contest remains everyone's ball game.
While the front-runners continue to cement their status in the competition, a few darkhorses are emerging to give them a good fight come November 3.
After what some consider a slow start for Diana Silva of Venezuela, the 21-year-old stunner from the powerhouse nation has started to gain momentum. With two gold medals in swimsuit and resort wear competitions, Diana is in a good position as the pageant enters its final phase. She's Venezuela, after all.
Danijela Burjan of Slovenia is one of the most consistent delegates in this edition. This 22-year-old veterinary science student always gives her A-game in every aspect of the competition. No wonder she already copped three medals in the pre-pageant activities (gold in long gown, bronze in swimsuit, gold in talent).
The most beautiful face in the competition remains in the Top 4 of our Hot Picks. She's down a few positions from the previous list but that doesn't mean Portugal's Telma Madeira has lost her luster. In fact, her medals in national costume and swimsuit competitions are proof that she is one of the forces to reckon with in the competition. With the Miss Earth criteria now giving a heavier weight on beauty of face and poise, expect Telma to finish strong come finals.
Rounding up our Top 4 for now is Priya Sigdel of Nepal. Her only medal so far came from the talent competition, but this 23-year-old social entrepreneur is more than just that. She is well-versed in the pageant's causes so expect her to ace the interview round. Aside from that, she has one of the most powerful eco-videos this year.
Check out the complete list below:

1 Venezuela, Diana Silva
2 Slovenia, Danijela Burjan
3 Portugal, Telma Madeira
4 Nepal, Priya Sigdel
5 Mexico, Melissa Flores
6 Netherlands, Margaretha de Jong
7 Vietnam, Nguyễn Phương Khánh
8 Philippines, Celeste Cortesi
9 Chile, Antonia Figueroa
10 Bosnia and Herzegovina, Nađa Pepić
11 Brazil, Sayonara Veras
12 Nigeria, Maristella Okpala
13 Colombia, Valeria Ayos
14 Thailand, Nirada Chetsadapriyakun
15 Dominican Republic, Gabriela Franceschini
16 Indonesia, Ratu Vashti Annisa
17 Ghana, Belvy Naa Teide Ofori
18 Spain, Carolina Jane
19 India, Nishi Bhardwaj
20 Puerto Rico, Krystal Xamairy