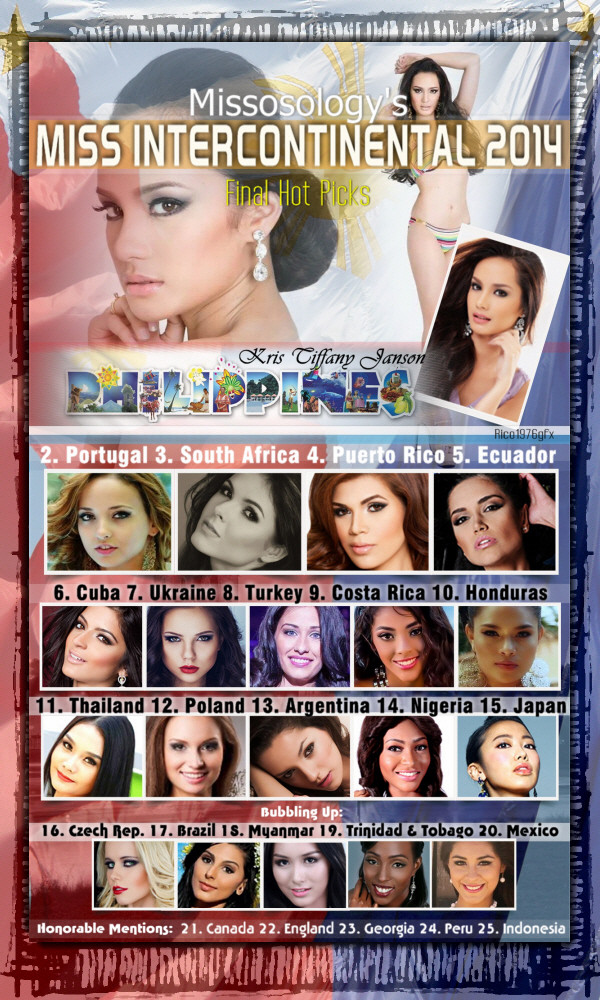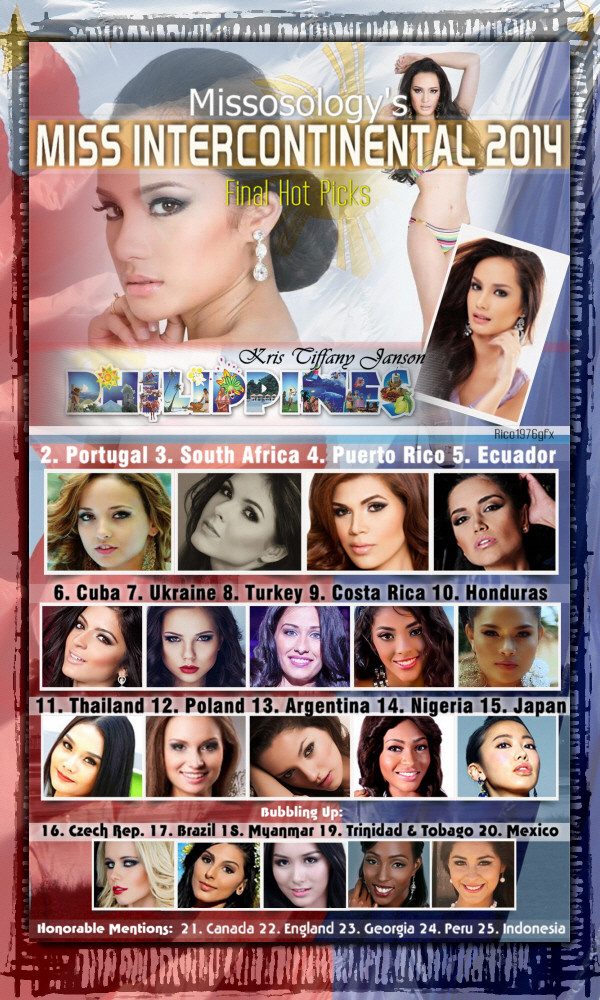 ---
---
MISS INTERNATIONAL 2014
FINAL HOT PICKS
---
---
1. Philippines
2. Portugal
3. South Africa
4. Puerto Rico
5. Ecuador
6. Cuba
7. Ukraine
8. Turkey
9. Costa Rica
10. Honduras
11. Thailand
12. Poland
13. Argentina
14. Nigeria
15. Japan
Bubbling up…
16. Czech Republic
17. Brazil
18. Myanmar
19. Trinidad & Tobago
20. Mexico
Honorable Mention…
21. Canada
22. England
23. Georgia
24. Peru
25. Indonesia
---
So this list isn't about choosing the most beautiful, the most intelligent or the sexiest contestants; it's about choosing the "most complete" plethora of women spanning all 5 continents. Missosology brought you access to their habitat – and it's exactly as surreal as anyone might imagine. We have a record breaking number of Miss Intercontinental aspirants and pageant followers believe this is perhaps the toughest year to predict the outcome of the pageant. Our experts have analyzed all contestants & now we present to you our final picks for the crown.
1. Miss Philippines – Kris Tiffany Janson It's really a close contest but in the end only one deserving lady will claim the first place – and that could be Kris Tiffany. The Filipina beauty pipped 70 other beauties after racking up 28% of all votes cast by our panel. There are a lot of accomplished & highly qualified beauties but there are only few who really make you stand up and take notice. Kris is one of them. She truly exemplifies beauty, intelligence and elegance. She's a real gem of a Filipina woman who could bring home her country's first ever Miss Intercontinental crown. A finance analyst, she's SO together – very composed & articulate.
2. Miss Portugal – Joana Martins She has managed to stay at peak hotness, and for that alone she deserves one of the top spots. She brought heaven on earth just by being always ridiculously beautiful & sophisticated. Joana's engaging personality is the main reason she always manages to place in Top 5 in several other international pageants.
3. Miss South Africa – Donique Leonard Her waist-to-hip ratio is out of this world amazing! Donique also has a light, fun personality and is always smiling. There is no denying her popularity in the competition. And there is definitely no denying her incredible beauty.
4. Miss Puerto Rico – Keysi Marie Vargas Boricuas hit the bull's eye again with Keysi! She is the epitome of a Thunder-goddess. When she makes an appearance, she commands attention and leaves an impression. Her powerful walk and gigantic frame make everyone go nuts.
5. Miss Ecuador – Ena Cordova The show stealer, she maintained the high energy the pageant demands. Aiming to obtain a Master Degree in International, this girl has "Ly Joinaitish" – aura and charisma with a capital C and could go places. She's expressive, sexy, and most of all, hypnotic. Ena absolutely owned the preliminary competition.
6. Miss Cuba – Jeslie Mergal There's just something about her cute presence and perkiness that sets her above the rest, it's like you cant help but smile when you see her. Her most endearing quality is her personality though. She always has a ready smile and a positive attitude. If she makes it to the Top 5, expect Jeslie to win it all with her topnotch communication skills.
7. Miss Ukraine – Daria Buzuk A major sweetheart who wonderfully fits the pageant's bill, she truly exhibits the makings of a star. Her "Snow Angel" look is simply divine and her sizzling strut on the runway is a delight.
8. Miss Turkey – Özge Güneş She's another one who doesn't need to overwork it. She's just got it! She knows exactly how to twist and bend it for maximum effect. Still waiting for that stage personality to blossom though. Her face is a masterpiece. Good work, God.
9. Miss Costa Rica – Raquel Maria Guevara She's almost perfect! More than her amazing exotic look, have you seen her command the stage and camera? The audience loved her preliminary presentation. She moved nicely with the music, her turns into the camera were perfectly timed, and she looked like a goddess on a stick, not to mention breathtakingly gorgeous.
10. Miss Honduras – Sirey Morán This Philatelist is a class act and is one of the most stylish girls in the pageant. She had a moment of evening gown perfection. She looked flawless, moved flawlessly, and expressed herself flawlessly during the preliminaries.
11. Miss Thailand – Phataraporn Wang She did not fail to turn up the heat and live up to the audience's expectations. On and off the court, she is a walking fashion store. She is adored by many in Germany.
12. Miss Poland – Magdalena Michalak She doesn't need to be told. She knows what to do. She's a natural. She's one of the most beautiful, yet remains one of the humblest. And she has an incredible sense of humor — we're in love.
13. Miss Argentina – Nadina Vallina So effortlessly flawless! Her personality burns soooo bright on the stage! Nadina makes it all seem like so much fun! This stunner may be a newbie in the pageant world, but as she sashayed down the catwalk, she proved that she does have what it takes to earn a spot in the finals.
14. Miss Nigeria – Judith Okafor She's probably the African contestant with the best prospects to advance to the finals. Topping off at 5'11", and endowed with deep black eyes, Judith is hard to miss. It's even harder to not be mesmerized by her when you are in her presence. She has a natural elegance that no plastic surgeon in the world can ever duplicate.
15. Miss Japan – Eriko Yoshii. No doubt, her thousand watt smile had something to do with it. With Eriko, her friendly persona will win you over, but her onstage chops is what will convince you that you were right to be won over by her charm. Her plan is to organize the Miss Intercontinental Beauty Pageant in Japan.
Bubbling up…. 
16. Miss Czech Republic – Lenka Josefiova also shone, perfecting her flirtatious walk and working a Leo Almodal gown recently worn by reigning Miss World Megan Young as only a model of her experience knows how.
17. Miss Brazil – Janayna Figueiredo has the extra smarts you need to succeed. She's one of those rare women who can look just as good as a cowgirl as she can as a elitist socialite.
18. Miss Myanmar – Angel Lamung was a MAJOR standout during the preliminaries with a show-stopping gown! She is lively and vibrant and instantly likable. She completely outshined the other girls with her personality.
19. Miss Trinidad & Tobago – Athaliah Samuel blew away spectators with her runway walk and personal style. She seems to have the best balance of sensational looks and great character.
20. Miss Mexico – Estefania Chavez has inherited an eclectic mix of characteristics, giving her a very unique look. She has beauty, class AND talent.
Honorable Mentions…
21. Miss Canada – Delaney Holley just stood out and did not look "forced" or too much just like the others. She's just too hard to ignore with her warmth & smile that could light up any room.
22. England – Laura Gregory's edge is her gift of gab, innate sexiness and cheerful personality.
23. Georgia – Tinatin Jabanasvili has a unique and sultry face. She has a knack (and body) for catching a photographer's attention. She dresses with massive appeal.
24. Peru – Ximena Rubio Figueroa was the BEST surprise of the preliminary night. She managed to catch the eye of the pageant's sponsors.
25. Indonesia – Ilona Cecilia Budiman conveys a warm fun loving personality. She's facially exquisite
Alternates: Scotland, Mauritius, Egypt, Italy, Colombia