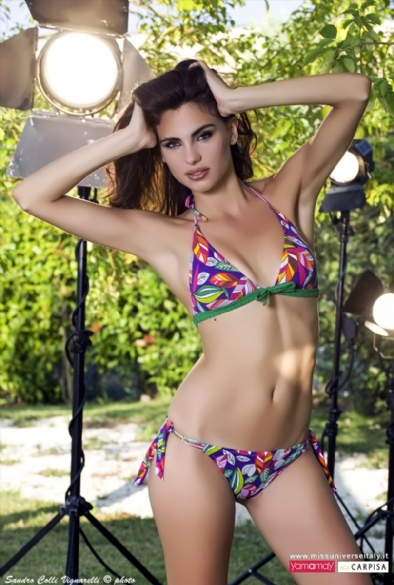 Luna Voce is a hot delegate who can put Italy back into the beauty pageant map. She is stunning babe with a curvaceous body and a beauty that screams sexy. Interestingly, despite being the home of great beauties, Italy is yet to win a Miss Universe crown. Nevertheless, Italian beauties made a lasting mark at the pageant. Who can forget Claudia Ferraris, Denny Mendez, Arianna David and Roberta Capua? Will Luna eventually join these timeless beauties?
1. Who do you think is the sexiest man alive?
Michael Vaughn, because I love his personality in "Alias" and "Never been kissed" and he looks very faithful and serious and sweet. And Hugh Jackman (Wolverine, Kate and Leopold) because I also like his personality in those movies and he is very gallant and elegant and he has a beautiful smile, and I like it very much if a man smiles.
2. Who is your all-time favorite Miss Universe, why?
Oxana Fedorova and Zuleyka Rivera, because they express a lot of elegance and sensuality. But I actually admire also all the other Miss Universes of the last years, because it is not easy at all to become Miss Universe and they're my idols.
3. What is the most difficult thing you did to prepare for the Miss Universe pageant? Why did you do that?
Going to the gym, [laughs]…. No, joking. I actually can't come up with something I found it difficult to prepare myself. Maybe it's sometimes a little bit stressful that you have to do a lot of things suddenly and you have only a short period to prepare yourself. I don't like to be unprepared.
4. What has been the biggest disappointment in your life & how did you deal with it?
Maybe that in life, many people divorce, because when I was younger I always wanted to believe in eternal love (even if I'm not very romantic) and to believe that two people are meant to be together. Probably when I was younger I really thought life was like in the Disney movies.
5. Describe your fashion sense & style.
I love black and white stripes, bows and "diamonds" in clothes. I also like red and bottle green. I like an elegant, classical and businesswoman style. Tight dresses and skirts. Also a little bit sexy, but not that it shows too much skin. I don't follow the fashion trends very much, but I like to design and also to fashion myself as a hobby and I made some evening gowns for beauty pageants myself. One day I will probably create my own brand.  I am also making the designs now for my evening gown at the final night of Miss Universe.
6. What does loving a boyfriend mean to you?
Making his life prettier, happier and more magical.
7. Any beauty secrets that you would like to share the readers of Missosology?
I know a lot, but I often forget to use them, but here are some of the "secrets" I know. When I go to the sea, I always bring flippers with me. My friends always make fun of me, but flippers help a lot to get the upper part of your legs in good shape and also against cellulite.
For the hair it's good to put olive oil in it for about 20 minutes with a warm towel around it, and than take a shower. And it's very good for the body to take alternated warm water-cold water showers to stimulate the circulation, but I don't like this in the winter, brrrr. For the blood circulation and a shiny satin skin it's also good to use a brush with hairs to dry-brush your skin in round circles.
8. Tell us about the most beautiful place in your country.
I love my region Calabria. Because the sea is crystalline transparent and some beaches are very white, just like on the tropical islands. There is almost always nice weather and the people are happy and they always make a lot of jokes. Things are not very expensive in my region and I think it's the poorest region of Italy, but I think we are the richest region for the sea we have and the sunsets and the nature and happiness.
9. Tell us about your mantra or secret to success.
I cannot tell my secret now, but I read a lot of books that help me.
10. When was the last time you cried? Why?
It was 1 month ago when I won Miss Universe Italy, because I was so happy, and I had been very afraid that I wouldn't win, but instead I won! All the photos that the journalists made after my victory, I had my make-up dripping under my eyes.
11. What do you like to do for fun with friends?
I love to just roam around, maybe by car. Or go to the sea or to the restaurant. I like to be active, I don't like just sitting somewhere and talking.
12. Miss Universe Organization now allows transgenders to compete in their pageant system, what's your take on this?
I think they probably already get discriminated a lot in their life and it's not nice, so if they feel that they are a woman and they look like a woman, then I'm very happy for them that they can participate, and I think that Donald Trump made a good decision.
13. What would you say to someone who thinks you're not qualified or pretty enough to represent your country in Miss Universe?
I would first count to 10, to stay calm…. No joking. I would thank him, because it means that even if there were prettier girls than me at the pageant, my determination and motivation is so strong that the judges liked me more and they decided to choose me.
14. What qualities do you feel you have that would make you a great Miss Universe?
I can communicate well. I know 5 languages: French, German, English, Dutch and Italian and I understand also Spanish and Portuguese and I can read Cyrillic. I am very ambitious and professional at work. I am always smiling. I am very creative and I always try to learn. I am very independent and I'm not afraid of travelling alone.