Laksmi Shari De-Neefe Suardana will represent Indonesia at the Miss Universe 2022 pageant later this year. Named as Puteri Indonesia Lingkungan 2022 is Cindy May McGuire. She will represent Indonesia in the upcoming Miss International 2022 pageant which will be held in Tokyo, Japan on December 13. Puteri Indonesia Pariwisata 2022 meanwhile is Adinda Chresheilla. She will compete at the Miss Supranational pageant which will be held in Nowy Sącz, Poland on July 15.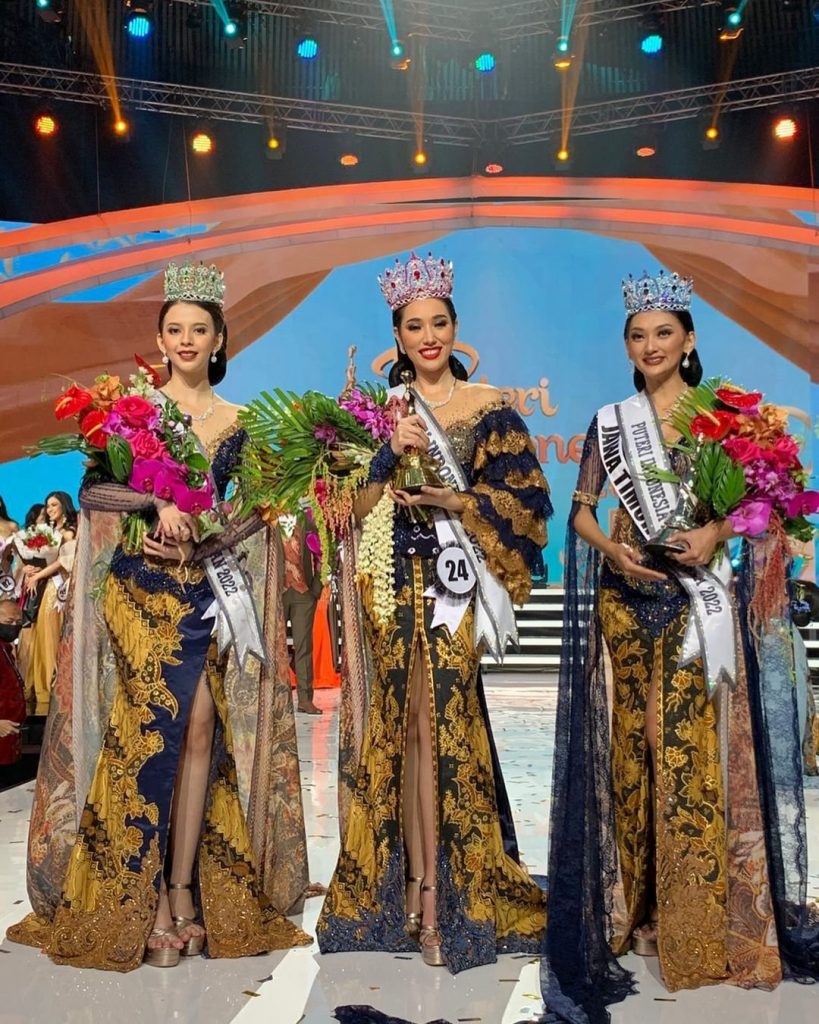 Laksmi Shari De-Neefe Suardana represented Bali at the pageant. She's 26 years old and hails from the Ubod District. She's a commercial model and a fashion designer. She stands 5'10". Laskmi was born to Australian mother and Indonesia father.
Cindy May McGuire represented Jakarta SCR 5 and is 25 years of age. She's an actress, model and a doctor. She is 5'9.5″ tall and is fluent in both Bahasa Indonesia and English.
Adinda Chresheilla is 25 years of age. She is a model and has a degree in Marketing Communication. She studied at the University of Indonesia and Deakin University, Australia.
The pageant was held at Jakarta Convention Center and attended by Miss Universe 2021 Harnaaz Sandhu and Miss International 2019 Sireethorn Leearamwat. Miss Supranational 2021 Chanique Rabe is supposed to attend the finals night but due to conflict of schedule, she was represented by her first runner-up Karla Guilfú Acevedo of Puerto Rico.
A total of 44 contestants from various provinces vied for the three major international crowns. In the first cut, 11 semifinalists were selected. Those who were lucky to be included are:
Jawa Barat, Melanie Theresia Berentz
Jawa Timur, Adinda Chresheilla
DI Yogyakarta, Erina Sofia Gudono
Bali, Laksmi Shari De Neefe Suardana
DKI Jakarta 5, Cindy May McGuire
Sulawesi Selatan 2, Dini Nurfitri Widjaya
Nusa Tenggara Barat, Sheilla Intan Permata
Banten 1, Chrissy Fransisca Olivyana Rugian
Sulawesi Tenggara, Arina Rezkyana Arfa
Sulawesi Barat, Maycela Apriany
DKI Jakarta 3, Nitya Paramita Suwandi.
As the contest progressed, only five finalists were selected by the judges to continue their journey to the crown:
Banten 1 – Chrissy Fransisca Olivyana Rugian
Bali – Laksmi Shari De-Neefe Suardana
Jawa Timur – Adinda Chresheilla
Jakarta SCR 5 – Cindy May McGuire
Jawa Barat – Melanie Theresia Antoinette Berentz
The sixth finalist, Arina Rezkyana Arfa of Sulawesi Tenggara, was voted by the fans.
Indonesia is one of the rising tigers in the world of pageantry. It boasts one major international titleholder – Miss International 2017 Kevin Lilliana. However, Indonesia's position at the Big5 Ranking is heavily affected by the decades-long ban on Indonesians from participating in beauty pageants during the Suharto era. Still, the country managed to climbed from 52nd place in 2017 to 45th in 2021.