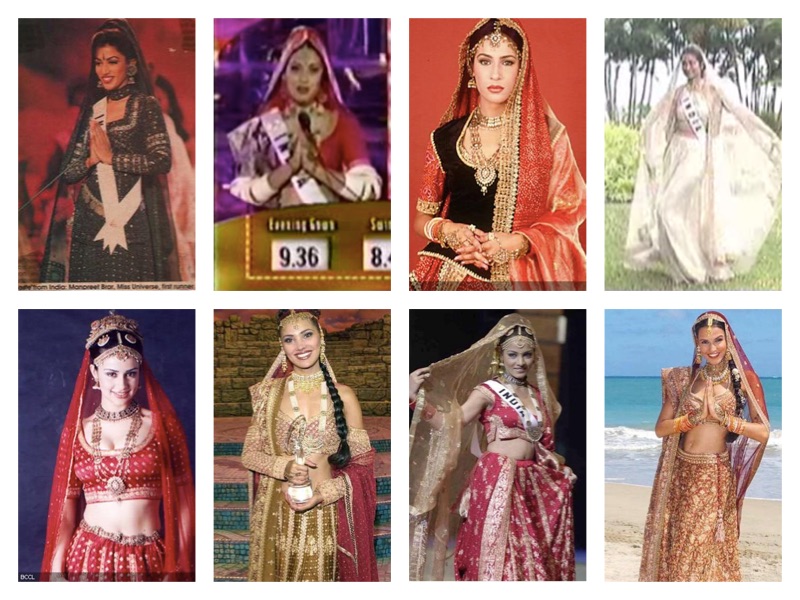 Since India first won its Miss Universe crown in 1994, there is little effort to diversify the national costume used by its contestants. A quick look from the 90s way into 2009, India was stuck in using the traditional lehenga choli. An attempt to deviate from the tradition in 2010, when the franchise was handed to Sushmita Sen from Femina Group, elicited uproar from the public. The blue costume of Ushoshi Sengupta used during the Miss Universe 2010 pageant was designed by Dev R Nil. It drew sharp criticisms and the public urged the organization to reinstate the lehengas.
In 2012, with the Miss Universe franchise still under Sushmita, India did revert to the lehenga. The truth is, there are little incentives for India if it decides to explore other options. Both Sushmita Sen and Lara Dutta won the crown while using lehenga choli as their national costumes. In two of the three instances that it won the Best in National Costume award at Miss Universe, the lehenga choli was used.
Ushoshi Sengupta in her controversial costume
But with the Femina Miss India now running the Miss Universe franchise, there are subtle moves to wean India from its lehenga addiction. In 2013, Manasi Moghe used a costume designed by Jade Monica and Karishma and is entitled Princess of Ladakh. It was not a drastic change but it was a welcome change as the costume pays tributes to the gombas (temples) of the Himalayan region of Ladakh.
In 2014, the Femina Group grew even bolder in initiating out of the box ideas. Designed by Neeta Lulla with accessories by Tejas Jogani, Noyonita Lodh used a costume that is teeming with details and symbolism. The costume is certainly a huge departure from usual lehenga. The benefits? Noyonita's costume was voted as one of the Top 5 Best!
Manasi Moghe's Princess of Ladakh costume
The future of Indian national costumes seems bright with the Femina Group at the helm. There is now a realization within the organization that they can be daring without inciting public uproar and that India is too diverse to be just represented by lehengas all the time. Indeed, it would be interesting to see what India has in store for us on the next edition of Miss Universe.
Noyonita Lodh's national costume which was adjudged as one of the Top 5 best in the competition