Ranking created by Stephen Diaz [@stephen.inventor.diaz] / Graphics by Krizza Enriquez [@kxxenriquez]
Article written by Ric Galvez [@the4ofustraveling]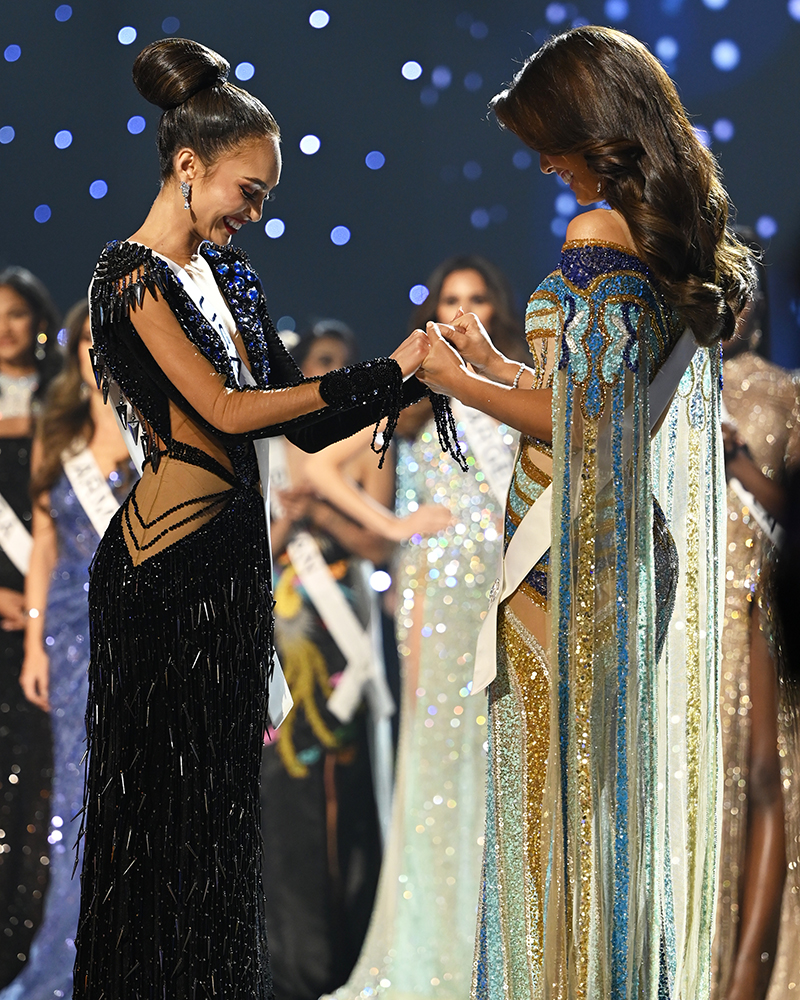 Seeing Miss USA R'booney Gabriel and Miss Venezuela Amanda Dudamel as the last two women standing at the Miss Universe 2022 reminds us that the 71st edition of the pageant was in fact the battle of superpowers. The results, with R'booney winning and Amanda as first runner-up, is somehow a reflection of the current Big5 Ranking. Indeed, United States is still the world's superpower when it comes to beauty pageants with Venezuela in the distant second place.
There are some subtle changes since the Big5 Ranking was updated. For example, prior to the conclusion of the 71st edition of Miss Universe, the gap between 4th placer Brazil to 5th placer Colombia is 202 points. In the current ranking, only 112 points separate them! Based on these numbers, it is very likely that Colombia has the momentum to perform well this year while Brazil will most likely suffer disappointing results.
The current ranking also shows a classic example of how a historically strong nation is being slowly overtaken by a rising country. New Zealand and the Dominican Republic has one Miss Universe crown each yet this 2022, the latter landed as 2nd runner-up while the former failed to even send a contestant. These contrasting trajectories are accurately captured by the Big5 Ranking with the Dominican Republic threatening to dislodge New Zealand from the 28th place!
Another interesting thing to watch is whether Puerto Rico will overtake Mexico. The year 2022 saw Puerto Rico performing well while Mexico missed the cut in 4 of the Big5 Pageants. We should also watch out which country will be hailed as Performer of the Year. Remember, South Africa took that title in 2021 and the country won the Miss Supranational 2022 crown! So, which country do you think performed well in 2022?

| 2017 | 2018 | 2019 | 2020 | 2021 | 2022 | COUNTRY or REGION | TOTAL | Universe | World | International | Earth | Supranational |
| --- | --- | --- | --- | --- | --- | --- | --- | --- | --- | --- | --- | --- |
| 1 | 1 | 1 | 1 | 1 | 1 | U.S.A. | 22286 | 8750 | 6180 | 4740 | 1996 | 620 |
| 2 | 2 | 2 | 2 | 2 | 2 | VENEZUELA | 20131 | 6630 | 4765 | 5320 | 2536 | 880 |
| 4 | 4 | 4 | 4 | 3 | 3 | PHILIPPINES | 14843 | 3890 | 2810 | 4440 | 2788 | 915 |
| 3 | 3 | 3 | 3 | 4 | 4 | BRAZIL | 14484 | 4790 | 3485 | 3620 | 1894 | 695 |
| 5 | 5 | 5 | 5 | 5 | 5 | COLOMBIA | 14372 | 5090 | 2275 | 4670 | 1512 | 825 |
| 7 | 7 | 7 | 7 | 6 | 6 | INDIA | 11847 | 3330 | 3855 | 2580 | 1062 | 1020 |
| 6 | 6 | 6 | 6 | 7 | 7 | AUSTRALIA | 11623 | 3110 | 3865 | 3280 | 958 | 410 |
| 8 | 8 | 8 | 8 | 8 | 8 | SPAIN | 10937 | 2900 | 2360 | 4360 | 1072 | 245 |
| 9 | 9 | 9 | 9 | 9 | 9 | JAPAN | 10655 | 2920 | 1735 | 5000 | 750 | 250 |
| 10 | 10 | 10 | 10 | 10 | 10 | FINLAND | 10340 | 3100 | 2680 | 4190 | 230 | 140 |
| 12 | 11 | 11 | 11 | 11 | 11 | FRANCE | 10262 | 2760 | 4120 | 2540 | 542 | 300 |
| 16 | 14 | 14 | 14 | 13 | 12 | SOUTH AFRICA | 10110 | 3320 | 4610 | 520 | 1100 | 560 |
| 14 | 13 | 12 | 12 | 12 | 13 | MEXICO | 9901 | 3060 | 2810 | 2510 | 916 | 605 |
| 17 | 17 | 15 | 15 | 14 | 14 | PUERTO RICO | 9830 | 3850 | 2140 | 1980 | 850 | 1010 |
| 11 | 12 | 13 | 13 | 15 | 15 | SWEDEN | 9530 | 3900 | 3160 | 1860 | 460 | 150 |
| 15 | 16 | 17 | 17 | 17 | 16 | GERMANY | 8925 | 2950 | 2815 | 2730 | 330 | 100 |
| 13 | 15 | 16 | 16 | 16 | 17 | ISRAEL | 8805 | 2810 | 3495 | 2120 | 350 | 30 |
| 20 | 20 | 18 | 18 | 18 | 18 | THAILAND | 8772 | 2090 | 1410 | 2560 | 1612 | 1100 |
| 18 | 18 | 19 | 19 | 19 | 19 | KOREA | 8106 | 1590 | 1770 | 3310 | 1086 | 350 |
| 19 | 19 | 20 | 20 | 20 | 20 | UNITED KINGDOM | 7915 | 520 | 4885 | 2470 | 40 | 0 |
| 21 | 21 | 21 | 21 | 21 | 21 | NETHERLANDS | 7423 | 2040 | 2250 | 1880 | 928 | 325 |
| 25 | 23 | 22 | 22 | 22 | 22 | POLAND | 7192 | 950 | 1540 | 1950 | 1412 | 1340 |
| 22 | 22 | 23 | 23 | 23 | 23 | CANADA | 6944 | 2890 | 2080 | 1120 | 424 | 430 |
| 23 | 24 | 24 | 24 | 24 | 24 | ARGENTINA | 6571 | 2160 | 2100 | 1820 | 316 | 175 |
| 24 | 25 | 25 | 25 | 25 | 25 | GREECE | 6330 | 2480 | 1910 | 1530 | 210 | 200 |
| 29 | 29 | 29 | 28 | 28 | 26 | PERU | 6287 | 2620 | 1510 | 1020 | 512 | 625 |
| 26 | 26 | 26 | 26 | 26 | 27 | NORWAY | 6235 | 2310 | 1665 | 1840 | 360 | 60 |
| 28 | 28 | 27 | 27 | 27 | 28 | NEW ZEALAND | 6036 | 1170 | 2360 | 2010 | 386 | 110 |
| 30 | 31 | 31 | 31 | 29 | 29 | DOMINICAN REPUBLIC | 5925 | 1900 | 1750 | 1390 | 480 | 405 |
| 33 | 30 | 30 | 30 | 31 | 30 | JAMAICA | 5860 | 1450 | 3805 | 350 | 50 | 205 |
| 27 | 27 | 28 | 29 | 30 | 31 | ITALY | 5727 | 2280 | 1815 | 1090 | 442 | 100 |
| 34 | 34 | 34 | 32 | 32 | 32 | DENMARK | 5560 | 1190 | 2285 | 1230 | 610 | 245 |
| 32 | 32 | 33 | 34 | 34 | 33 | IRELAND | 5512 | 1520 | 2540 | 1220 | 132 | 100 |
| 31 | 33 | 32 | 33 | 33 | 34 | ENGLAND | 5488 | 2540 | 880 | 1430 | 358 | 280 |
| 36 | 36 | 35 | 35 | 35 | 35 | RUSSIA | 5439 | 1080 | 1550 | 1340 | 1194 | 275 |
| 35 | 35 | 36 | 36 | 36 | 36 | AUSTRIA | 5181 | 1210 | 2225 | 1170 | 576 | 0 |
| 38 | 38 | 38 | 39 | 37 | 37 | BELGIUM | 5120 | 1540 | 1320 | 1540 | 420 | 300 |
| 37 | 37 | 37 | 37 | 38 | 38 | ICELAND | 4990 | 1060 | 1640 | 1880 | 20 | 390 |
| 39 | 39 | 39 | 38 | 39 | 39 | PANAMA | 4974 | 1490 | 840 | 1480 | 434 | 730 |
| 43 | 44 | 43 | 43 | 41 | 40 | CZECH REPUBLIC | 4553 | 680 | 770 | 900 | 1348 | 855 |
| 42 | 42 | 42 | 42 | 40 | 41 | CHILE | 4466 | 1860 | 850 | 500 | 1146 | 110 |
| 41 | 41 | 40 | 40 | 42 | 42 | TURKEY | 4306 | 850 | 1445 | 1570 | 176 | 265 |
| 40 | 40 | 41 | 41 | 43 | 43 | SWITZERLAND | 4252 | 1660 | 1320 | 690 | 482 | 100 |
| 44 | 43 | 44 | 44 | 44 | 44 | ECUADOR | 4159 | 990 | 935 | 1060 | 834 | 340 |
| 52 | 50 | 47 | 48 | 45 | 45 | INDONESIA | 4014 | 640 | 1110 | 1100 | 294 | 870 |
| 45 | 45 | 46 | 46 | 47 | 46 | TRINIDAD & TOBAGO | 3845 | 1560 | 1795 | 110 | 160 | 220 |
| 46 | 46 | 45 | 45 | 46 | 47 | CHINA PR | 3821 | 590 | 1520 | 1220 | 386 | 105 |
| 46 | 46 | 48 | 47 | 48 | 48 | COSTA RICA | 3706 | 1090 | 770 | 1140 | 486 | 220 |
| 49 | 49 | 51 | 51 | 49 | 49 | PARAGUAY | 3482 | 1170 | 750 | 640 | 612 | 310 |
| 48 | 47 | 49 | 49 | 50 | 50 | UKRAINE | 3404 | 900 | 760 | 830 | 454 | 460 |
| 65 | 56 | 52 | 52 | 52 | 51 | VIETNAM | 3393 | 430 | 910 | 600 | 718 | 735 |
| 47 | 48 | 50 | 50 | 51 | 52 | BOLIVIA | 3368 | 910 | 880 | 1060 | 318 | 200 |
| 53 | 52 | 54 | 54 | 53 | 53 | MALAYSIA | 3107 | 670 | 1270 | 620 | 312 | 235 |
| 63 | 61 | 58 | 56 | 56 | 54 | PORTUGAL | 2958 | 630 | 700 | 750 | 618 | 260 |
| 51 | 53 | 53 | 53 | 54 | 55 | HONGKONG | 2955 | 1040 | 800 | 970 | 60 | 85 |
| 50 | 51 | 55 | 55 | 55 | 56 | LEBANON | 2862 | 790 | 1120 | 590 | 292 | 70 |
| 54 | 54 | 57 | 57 | 57 | 57 | HONDURAS | 2692 | 600 | 420 | 940 | 462 | 270 |
| 69 | 67 | 66 | 64 | 61 | 57 | NIGERIA | 2692 | 500 | 1200 | 80 | 782 | 130 |
| 57 | 58 | 59 | 59 | 58 | 59 | SRI LANKA | 2650 | 640 | 950 | 790 | 110 | 160 |
| 55 | 57 | 56 | 58 | 58 | 60 | GUAM | 2640 | 730 | 1080 | 540 | 290 | 0 |
| 63 | 64 | 61 | 60 | 60 | 61 | SINGAPORE | 2616 | 810 | 620 | 650 | 406 | 130 |
| 59 | 59 | 60 | 61 | 62 | 62 | SCOTLAND | 2525 | 940 | 825 | 310 | 360 | 90 |
| 61 | 62 | 63 | 62 | 63 | 63 | NICARAGUA | 2510 | 670 | 525 | 1110 | 190 | 15 |
| 62 | 65 | 65 | 66 | 66 | 64 | GUATEMALA | 2428 | 800 | 530 | 580 | 378 | 140 |
| 60 | 63 | 64 | 65 | 65 | 65 | URUGUAY | 2400 | 1230 | 820 | 290 | 40 | 20 |
| 58 | 60 | 62 | 63 | 64 | 65 | YUGOSLAVIA | 2400 | 430 | 1240 | 570 | 160 | 0 |
| 72 | 72 | 70 | 68 | 67 | 67 | KENYA | 2302 | 230 | 1180 | 200 | 452 | 240 |
| 66 | 66 | 67 | 67 | 68 | 68 | CURACAO | 2280 | 1370 | 440 | 380 | 60 | 30 |
| 66 | 68 | 69 | 69 | 69 | 69 | ARUBA | 2090 | 630 | 900 | 530 | 20 | 10 |
| 71 | 70 | 71 | 71 | 73 | 70 | SLOVAKIA | 2030 | 430 | 360 | 470 | 350 | 420 |
| 70 | 71 | 72 | 72 | 70 | 71 | EL SALVADOR | 2020 | 960 | 440 | 280 | 210 | 130 |
| 80 | 78 | 73 | 73 | 72 | 72 | BELARUS | 2018 | 0 | 280 | 450 | 388 | 900 |
| 68 | 69 | 68 | 70 | 71 | 73 | WALES | 1996 | 980 | 540 | 220 | 126 | 130 |
| 78 | 80 | 76 | 76 | 75 | 74 | GHANA | 1879 | 380 | 840 | 130 | 444 | 85 |
| 74 | 75 | 77 | 77 | 74 | 75 | BAHAMAS | 1837 | 700 | 740 | 60 | 182 | 155 |
| 81 | 76 | 78 | 78 | 76 | 76 | ROMANIA | 1835 | 180 | 400 | 220 | 360 | 675 |
| 76 | 74 | 75 | 75 | 77 | 77 | HUNGARY | 1760 | 480 | 600 | 220 | 220 | 240 |
| 73 | 73 | 74 | 74 | 78 | 78 | CHINESE TAIPEI | 1756 | 510 | 500 | 390 | 236 | 120 |
| 90 | 90 | 83 | 83 | 79 | 79 | NAMIBIA | 1756 | 570 | 520 | 110 | 76 | 480 |
| 77 | 79 | 80 | 79 | 80 | 80 | CROATIA | 1640 | 420 | 930 | 30 | 90 | 170 |
| 75 | 77 | 79 | 80 | 81 | 81 | POLYNESIE FRANCAISE | 1597 | 250 | 410 | 490 | 432 | 15 |
| 79 | 81 | 81 | 81 | 82 | 82 | GUYANA | 1596 | 220 | 1200 | 10 | 146 | 20 |
| 88 | 82 | 82 | 82 | 83 | 83 | MAURITIUS | 1515 | 350 | 630 | 100 | 300 | 135 |
| 82 | 83 | 84 | 84 | 85 | 84 | MALTA | 1450 | 420 | 670 | 200 | 100 | 60 |
| 85 | 86 | 85 | 85 | 84 | 85 | MONGOLIA | 1446 | 20 | 540 | 510 | 356 | 20 |
| 86 | 87 | 88 | 88 | 88 | 86 | ZIMBABWE | 1401 | 150 | 855 | 30 | 326 | 40 |
| 84 | 85 | 86 | 86 | 86 | 87 | ANGOLA | 1320 | 590 | 590 | 0 | 110 | 30 |
| 111 | 98 | 93 | 93 | 89 | 88 | NEPAL | 1306 | 150 | 640 | 120 | 346 | 50 |
| 83 | 84 | 87 | 87 | 87 | 89 | CYPRUS | 1286 | 380 | 560 | 190 | 146 | 10 |
| 100 | 100 | 99 | 98 | 96 | 90 | HAITI | 1260 | 710 | 180 | 180 | 80 | 110 |
| 87 | 89 | 89 | 89 | 90 | 91 | HAWAII | 1250 | 370 | 10 | 870 | 0 | 0 |
| 91 | 88 | 89 | 89 | 90 | 92 | EGYPT | 1240 | 270 | 490 | 70 | 380 | 30 |
| 89 | 91 | 91 | 91 | 92 | 93 | GIBRALTAR | 1231 | 90 | 910 | 150 | 36 | 45 |
| 93 | 92 | 92 | 92 | 93 | 94 | KAZAKHSTAN | 1202 | 130 | 730 | 10 | 212 | 120 |
| 92 | 93 | 94 | 94 | 94 | 95 | LUXEMBOURG | 1160 | 270 | 300 | 480 | 40 | 70 |
| 102 | 97 | 98 | 97 | 99 | 96 | SLOVENIA | 1134 | 190 | 270 | 0 | 414 | 260 |
| 95 | 94 | 96 | 96 | 97 | 97 | BOSNIA & HERZEGOVINA | 1132 | 0 | 300 | 0 | 782 | 50 |
| 94 | 95 | 95 | 95 | 95 | 97 | US VIRGIN ISLANDS | 1132 | 320 | 570 | 10 | 92 | 140 |
| 103 | 103 | 103 | 103 | 98 | 99 | NORTHERN IRELAND | 1090 | 0 | 700 | 0 | 310 | 80 |
| 96 | 96 | 97 | 99 | 100 | 100 | TANZANIA | 1066 | 210 | 400 | 60 | 396 | 0 |
| 98 | 101 | 99 | 100 | 101 | 101 | TUNISIA | 1060 | 80 | 380 | 600 | 0 | 0 |
| 105 | 105 | 106 | 107 | 102 | 102 | BOTSWANA | 1030 | 270 | 580 | 0 | 180 | 0 |
| 97 | 98 | 101 | 101 | 103 | 103 | BERMUDA | 1010 | 450 | 550 | 10 | 0 | 0 |
| 106 | 108 | 109 | 110 | 110 | 104 | CUBA | 987 | 360 | 280 | 160 | 162 | 25 |
| 99 | 102 | 102 | 102 | 104 | 105 | LATVIA | 976 | 110 | 270 | 280 | 186 | 130 |
| 117 | 113 | 112 | 104 | 105 | 105 | MYANMAR | 976 | 190 | 70 | 90 | 196 | 430 |
| 108 | 110 | 105 | 106 | 106 | 107 | ALBANIA | 950 | 460 | 180 | 0 | 90 | 220 |
| 117 | 116 | 118 | 117 | 108 | 108 | BELIZE | 920 | 400 | 200 | 30 | 280 | 10 |
| 101 | 103 | 104 | 105 | 107 | 108 | CZECHOSLOVAKIA | 920 | 220 | 250 | 450 | 0 | 0 |
| 104 | 105 | 107 | 108 | 109 | 110 | ESTONIA | 906 | 370 | 250 | 40 | 186 | 60 |
| 110 | 107 | 108 | 109 | 111 | 111 | MARTINIQUE | 850 | 50 | 290 | 30 | 470 | 10 |
| 107 | 109 | 110 | 111 | 112 | 112 | SURINAME | 845 | 310 | 100 | 50 | 40 | 345 |
| 109 | 111 | 111 | 112 | 113 | 113 | CAYMAN ISLANDS | 830 | 350 | 460 | 0 | 20 | 0 |
| 111 | 112 | 113 | 113 | 114 | 114 | GEORGIA | 760 | 150 | 270 | 40 | 250 | 50 |
| 114 | 115 | 115 | 114 | 115 | 115 | BULGARIA | 750 | 290 | 390 | 10 | 30 | 30 |
| 113 | 114 | 114 | 116 | 119 | 116 | ETHIOPIA | 746 | 120 | 240 | 90 | 126 | 170 |
| 120 | 119 | 115 | 114 | 115 | 117 | GUADELOUPE | 730 | 60 | 220 | 230 | 150 | 70 |
| 114 | 116 | 118 | 117 | 118 | 117 | NORTHERN MARIANAS | 730 | 270 | 10 | 410 | 40 | 0 |
| 137 | 131 | 117 | 120 | 117 | 119 | UGANDA | 712 | 0 | 440 | 180 | 92 | 0 |
| 117 | 118 | 121 | 121 | 121 | 120 | SERBIA | 696 | 90 | 180 | 110 | 226 | 90 |
| 122 | 119 | 118 | 117 | 120 | 121 | BARBADOS | 690 | 180 | 490 | 0 | 10 | 10 |
| 120 | 122 | 122 | 121 | 122 | 122 | LIBERIA | 666 | 40 | 500 | 60 | 66 | 0 |
| 116 | 121 | 123 | 123 | 123 | 123 | CONGO, D.R. | 650 | 330 | 150 | 140 | 30 | 0 |
| 127 | 126 | 124 | 124 | 124 | 124 | BRITISH VIRGIN ISLANDS | 640 | 380 | 250 | 0 | 10 | 0 |
| 124 | 123 | 125 | 125 | 125 | 124 | KOSOVO | 640 | 460 | 20 | 0 | 100 | 60 |
| 125 | 125 | 126 | 126 | 126 | 126 | MACAU | 610 | 0 | 260 | 140 | 170 | 40 |
| 122 | 124 | 127 | 126 | 127 | 127 | SERBIA & MONTENEGRO | 590 | 170 | 30 | 130 | 260 | 0 |
| 126 | 127 | 128 | 128 | 128 | 128 | TURKS & CAICOS | 530 | 400 | 80 | 0 | 50 | 0 |
| 133 | 132 | 129 | 129 | 129 | 129 | MOLDOVA | 525 | 0 | 260 | 70 | 50 | 145 |
| 130 | 129 | 130 | 130 | 130 | 130 | ZAMBIA | 520 | 90 | 180 | 50 | 180 | 20 |
| 129 | 129 | 132 | 132 | 132 | 131 | SAINT LUCIA | 500 | 100 | 270 | 0 | 130 | 0 |
| 128 | 128 | 131 | 131 | 131 | 132 | LITHUANIA | 496 | 40 | 180 | 130 | 46 | 100 |
| 134 | 134 | 133 | 133 | 133 | 133 | SOUTH SUDAN | 470 | 0 | 310 | 40 | 60 | 60 |
| 159 | 163 | 162 | 146 | 134 | 134 | COTE D'IVOIRE | 466 | 10 | 280 | 40 | 116 | 20 |
| 131 | 133 | 134 | 134 | 135 | 135 | GABON | 436 | 40 | 40 | 40 | 36 | 280 |
| 132 | 135 | 135 | 135 | 136 | 136 | SEYCHELLES | 430 | 20 | 400 | 10 | 0 | 0 |
| 149 | 148 | 143 | 142 | 138 | 137 | CAMEROON | 410 | 30 | 90 | 30 | 190 | 70 |
| 145 | 140 | 136 | 136 | 137 | 138 | COOK ISLANDS | 406 | 100 | 250 | 20 | 36 | 0 |
| 161 | 155 | 152 | 152 | 150 | 139 | LAOS | 380 | 160 | 30 | 140 | 20 | 30 |
| 136 | 137 | 138 | 138 | 139 | 139 | NORTH MACEDONIA | 380 | 0 | 140 | 160 | 50 | 30 |
| 135 | 136 | 137 | 137 | 139 | 141 | SWAZILAND | 370 | 20 | 350 | 0 | 0 | 0 |
| 141 | 142 | 139 | 139 | 141 | 142 | ANTIGUA & BARBUDA | 340 | 110 | 230 | 0 | 0 | 0 |
| 138 | 137 | 140 | 140 | 141 | 142 | MOROCCO | 340 | 180 | 80 | 60 | 0 | 20 |
| 138 | 137 | 141 | 141 | 143 | 144 | GRENADA | 320 | 10 | 310 | 0 | 0 | 0 |
| 143 | 143 | 143 | 144 | 144 | 145 | SENEGAL | 310 | 30 | 40 | 230 | 10 | 0 |
| 161 | 145 | 146 | 149 | 144 | 146 | MADAGASCAR | 300 | 10 | 130 | 120 | 40 | 0 |
| 150 | 144 | 145 | 145 | 147 | 146 | MONTENEGRO | 300 | 60 | 140 | 0 | 80 | 20 |
| 140 | 141 | 142 | 143 | 144 | 146 | USSR | 300 | 170 | 30 | 100 | 0 | 0 |
| 142 | 152 | 149 | 147 | 149 | 149 | SIERRA LEONE | 276 | 20 | 120 | 20 | 86 | 30 |
| 153 | 151 | 150 | 151 | 148 | 150 | RWANDA | 275 | 0 | 50 | 0 | 40 | 185 |
| 146 | 147 | 146 | 148 | 150 | 151 | FIJI | 250 | 20 | 70 | 120 | 40 | 0 |
| 144 | 145 | 146 | 149 | 150 | 151 | VIRGIN ISLANDS | 250 | 210 | 40 | 0 | 0 | 0 |
| 148 | 150 | 151 | 153 | 153 | 153 | SAMOA | 226 | 100 | 50 | 0 | 76 | 0 |
| 182 | 184 | 184 | 184 | 186 | 154 | CABO VERDE | 220 | 0 | 30 | 160 | 10 | 20 |
| 175 | 163 | 155 | 157 | 156 | 154 | EQUATORIAL GUINEA | 220 | 30 | 80 | 10 | 0 | 100 |
| 155 | 155 | 155 | 156 | 156 | 154 | REUNION | 220 | 100 | 0 | 0 | 110 | 10 |
| 147 | 148 | 152 | 154 | 154 | 154 | RHODESIA & NYASALAND | 220 | 10 | 210 | 0 | 0 | 0 |
| 152 | 153 | 154 | 155 | 155 | 158 | CRIMEA | 216 | 0 | 0 | 0 | 216 | 0 |
| 166 | 160 | 158 | 157 | 158 | 159 | BANGLADESH | 200 | 10 | 170 | 0 | 20 | 0 |
| 150 | 154 | 155 | 157 | 158 | 159 | GAMBIA | 200 | 50 | 90 | 0 | 10 | 50 |
| 182 | 176 | 169 | 165 | 163 | 161 | ARMENIA | 180 | 50 | 40 | 30 | 50 | 10 |
| 154 | 155 | 158 | 160 | 160 | 161 | NEW CALENDONIA | 180 | 10 | 0 | 160 | 10 | 0 |
| 156 | 158 | 158 | 160 | 160 | 161 | PAPUA NEW GUINEA | 180 | 100 | 70 | 0 | 10 | 0 |
| 170 | 162 | 164 | 163 | 164 | 164 | PAKISTAN | 178 | 0 | 0 | 0 | 128 | 50 |
| 182 | 179 | 172 | 170 | 166 | 165 | CAMBODIA | 176 | 50 | 30 | 20 | 66 | 10 |
| 158 | 159 | 161 | 162 | 162 | 165 | TONGA | 176 | 0 | 20 | 0 | 156 | 0 |
| 204 | 204 | 204 | 204 | 204 | 167 | PALESTINE | 170 | 0 | 0 | 0 | 170 | 0 |
| 157 | 160 | 163 | 164 | 165 | 168 | ALASKA | 160 | 160 | 0 | 0 | 0 | 0 |
| 171 | 170 | 169 | 171 | 168 | 168 | KYRGYZSTAN | 160 | 20 | 60 | 30 | 40 | 10 |
| 159 | 165 | 165 | 165 | 167 | 170 | ST. VINVENT & THE GR. | 140 | 80 | 60 | 0 | 0 | 0 |
| 161 | 166 | 166 | 167 | 168 | 171 | BONAIRE | 130 | 90 | 30 | 0 | 10 | 0 |
| 161 | 166 | 166 | 167 | 168 | 171 | ISLE OF MAN | 130 | 0 | 130 | 0 | 0 | 0 |
| 166 | 169 | 171 | 171 | 172 | 171 | LESOTHO | 130 | 10 | 110 | 0 | 0 | 10 |
| 161 | 167 | 166 | 167 | 168 | 171 | MONTE CARLO | 130 | 0 | 130 | 0 | 0 | 0 |
| 179 | 181 | 181 | 181 | 173 | 175 | GUINEA | 110 | 0 | 100 | 0 | 0 | 10 |
| 166 | 170 | 172 | 173 | 173 | 175 | SAN MARINO | 110 | 0 | 0 | 110 | 0 | 0 |
| 166 | 170 | 172 | 173 | 173 | 175 | ST. KITTS & NEVIS | 110 | 30 | 80 | 0 | 0 | 0 |
| 177 | 176 | 178 | 178 | 181 | 178 | TOGO | 100 | 0 | 0 | 60 | 0 | 40 |
| 171 | 173 | 175 | 175 | 176 | 178 | JORDAN | 100 | 10 | 60 | 30 | 0 | 0 |
| 171 | 173 | 175 | 175 | 176 | 178 | MONTSERRAT | 100 | 0 | 100 | 0 | 0 | 0 |
| 177 | 179 | 180 | 180 | 176 | 178 | SINT MAARTEN | 100 | 60 | 40 | 0 | 0 | 0 |
| ー | ー | ー | ー | 176 | 178 | SOMALIA | 100 | 0 | 100 | 0 | 0 | 0 |
| 171 | 173 | 175 | 175 | 176 | 178 | WESTERN SAMOA | 100 | 0 | 100 | 0 | 0 | 0 |
| 176 | 176 | 178 | 178 | 181 | 184 | JERSEY | 80 | 0 | 80 | 0 | 0 | 0 |
| 182 | 184 | 184 | 184 | 183 | 185 | IRAQ | 70 | 20 | 10 | 0 | 20 | 20 |
| 179 | 181 | 181 | 181 | 183 | 186 | GREENLAND | 60 | 40 | 20 | 0 | 0 | 0 |
| 179 | 181 | 181 | 181 | 183 | 186 | OKINAWA | 60 | 60 | 0 | 0 | 0 | 0 |
| 182 | 184 | 184 | 184 | 186 | 188 | CONGO, REP. OF THE | 50 | 0 | 0 | 30 | 20 | 0 |
| 195 | 190 | 188 | 188 | 186 | 188 | GUINEA-BISSAU | 50 | 0 | 50 | 0 | 0 | 0 |
| 182 | 184 | 184 | 184 | 186 | 188 | ST. BARTHELEMY | 50 | 0 | 50 | 0 | 0 | 0 |
| 188 | 188 | 188 | 188 | 190 | 191 | BRITISH GUIANA | 40 | 0 | 0 | 40 | 0 | 0 |
| 188 | 188 | 188 | 188 | 190 | 191 | MALAWI | 40 | 0 | 40 | 0 | 0 | 0 |
| 195 | 196 | 196 | 191 | 190 | 191 | SYRIA | 40 | 0 | 20 | 0 | 20 | 0 |
| 204 | 204 | 204 | 204 | 204 | 194 | UZBEKISTAN | 30 | 0 | 10 | 20 | 0 | 0 |
| 190 | 190 | 191 | 191 | 193 | 194 | AZERBAIJAN | 30 | 10 | 0 | 0 | 0 | 20 |
| 190 | 190 | 191 | 191 | 193 | 194 | DOMINICA | 30 | 10 | 20 | 0 | 0 | 0 |
| 190 | 190 | 191 | 191 | 193 | 194 | FRENCH GUIANA | 30 | 30 | 0 | 0 | 0 | 0 |
| 190 | 190 | 191 | 191 | 193 | 194 | PALAU | 30 | 0 | 0 | 30 | 0 | 0 |
| 190 | 190 | 191 | 191 | 193 | 194 | SAO TOME & PRINCIPE | 30 | 0 | 10 | 0 | 0 | 20 |
| 195 | 196 | 196 | 197 | 198 | 200 | AFGHANISTAN | 20 | 0 | 0 | 0 | 20 | 0 |
| * | * | * | * | 204 | 200 | BAHRAIN | 20 | 20 | 0 | 0 | 0 | 0 |
| 204 | 204 | 204 | 204 | 204 | 200 | BHUTAN | 20 | 10 | 0 | 0 | 10 | 0 |
| 195 | 196 | 196 | 197 | 198 | 200 | CHAD | 20 | 0 | 10 | 0 | 10 | 0 |
| 195 | 196 | 196 | 197 | 198 | 200 | GUERNSEY | 20 | 0 | 20 | 0 | 0 | 0 |
| * | * | * | * | 204 | 200 | IRAN | 20 | 0 | 0 | 0 | 20 | 0 |
| 195 | 196 | 196 | 197 | 198 | 200 | NIUE ISLAND | 20 | 0 | 0 | 0 | 20 | 0 |
| 195 | 196 | 196 | 197 | 198 | 200 | TIBET | 20 | 0 | 0 | 0 | 20 | 0 |
| 195 | 196 | 196 | 197 | 198 | 200 | TRINIDAD | 20 | 20 | 0 | 0 | 0 | 0 |
| 204 | 204 | 204 | 204 | 204 | 209 | ALGERIA | 10 | 0 | 10 | 0 | 0 | 0 |
| 204 | 204 | 204 | 204 | 204 | 209 | ANDORRA | 10 | 0 | 10 | 0 | 0 | 0 |
| * | * | 204 | 204 | 204 | 209 | BURKINA FASO | 10 | 0 | 0 | 10 | 0 | 0 |
| * | * | * | * | * | 209 | BURUNDI | 10 | 0 | 0 | 0 | 10 | 0 |
| 204 | 204 | 204 | 204 | 204 | 209 | NEW HEBRIDES | 10 | 10 | 0 | 0 | 0 | 0 |
| 204 | 204 | 204 | 204 | 204 | 209 | TANGANYIKA | 10 | 0 | 10 | 0 | 0 | 0 |
| 204 | 204 | 204 | 204 | 204 | 209 | TOKELAO | 10 | 0 | 0 | 0 | 10 | 0 |
| 204 | 204 | 204 | 204 | 204 | 209 | ZANZIBAR | 10 | 0 | 0 | 0 | 10 | 0 |