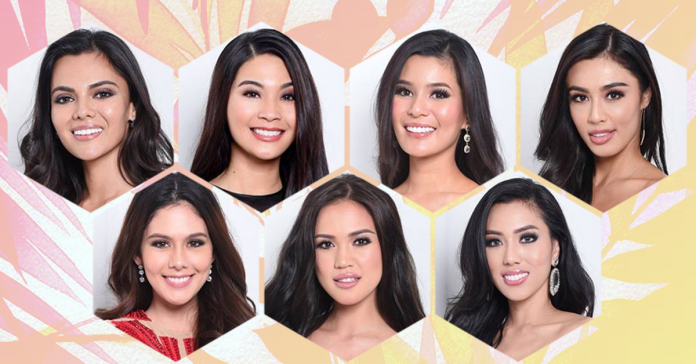 THE PREMIER national pageant in the Philippines is back to crown the country's new representatives to Miss Universe, Miss International and other pageants.
This year's edition is even more exciting with the entry of national titleholders, celebrities and returnees. It is going to be another tough competition come finals on March 18.
Leading Missosology's first hot picks is no less than our Timeless Beauty 2016 winner, Catriona Gray. The former Miss World Philippines is the most anticipated among the candidates this year. After her Top 5 finish at the Miss World 2016 pageant, hopes were high that she would give Bb Pilipinas a try. And her fans' prayers have now been answered.
Catriona fits the bill of current Miss Universe winners: well-spoken, modern, beautiful and most of all, with a purpose-driven agenda. All she needs to do now is improve her physique. Wasting her to some minor, irrelevant pageants would be an injustice!
In second place is the beautiful Karen Gallman. This returning Binibini waited six years for a comeback, and she is in perfect form. She probably is the most facially beautiful candidate in this batch. We definitely see her slaying any competition abroad, but at the moment, we see her excelling at the Miss International pageant.
The daughter of a Miss Universe runner-up is in third place. Aya Abesamis has always been in any pageant fan's wish list ever since she graduated from one of the country's top universities. Her professional modeling experience will be of great advantage. She looks raw at the moment, but knowing she is under the guidance of one of the top beauty camps, Aya will definitely surprise us all come finals.
Former Mutya ng Pilipinas titleholder Eva Patalinhug occupies the fourth spot at the moment. Pageant fans are wary of her noticeable tanned skin, but it doesn't erase the fact that Eva is a legit contender for any of the titles at stake. She has the beauty and experience, after all.
Rounding up our Top 5 for now is the refreshing Sandra Lemonon. The former Miss World Philippines runner-up (to Catriona) is all set to conquer Bb Pilipinas. She needs to improve on her presentation skills but aside from that, her face just screams winner!
Also worth nothing are former PBB housemate Vickie Rushton, volleyball star Michelle Gumabao and doctor Ena Velasco who all look crown-ready since screening. Returning Binibini Jehza Huelar and former Miss Philippines Earth Loren Artajos are also two ladies to watch out for. These girls have already proven their mettle in previous years.
Check out the full list below: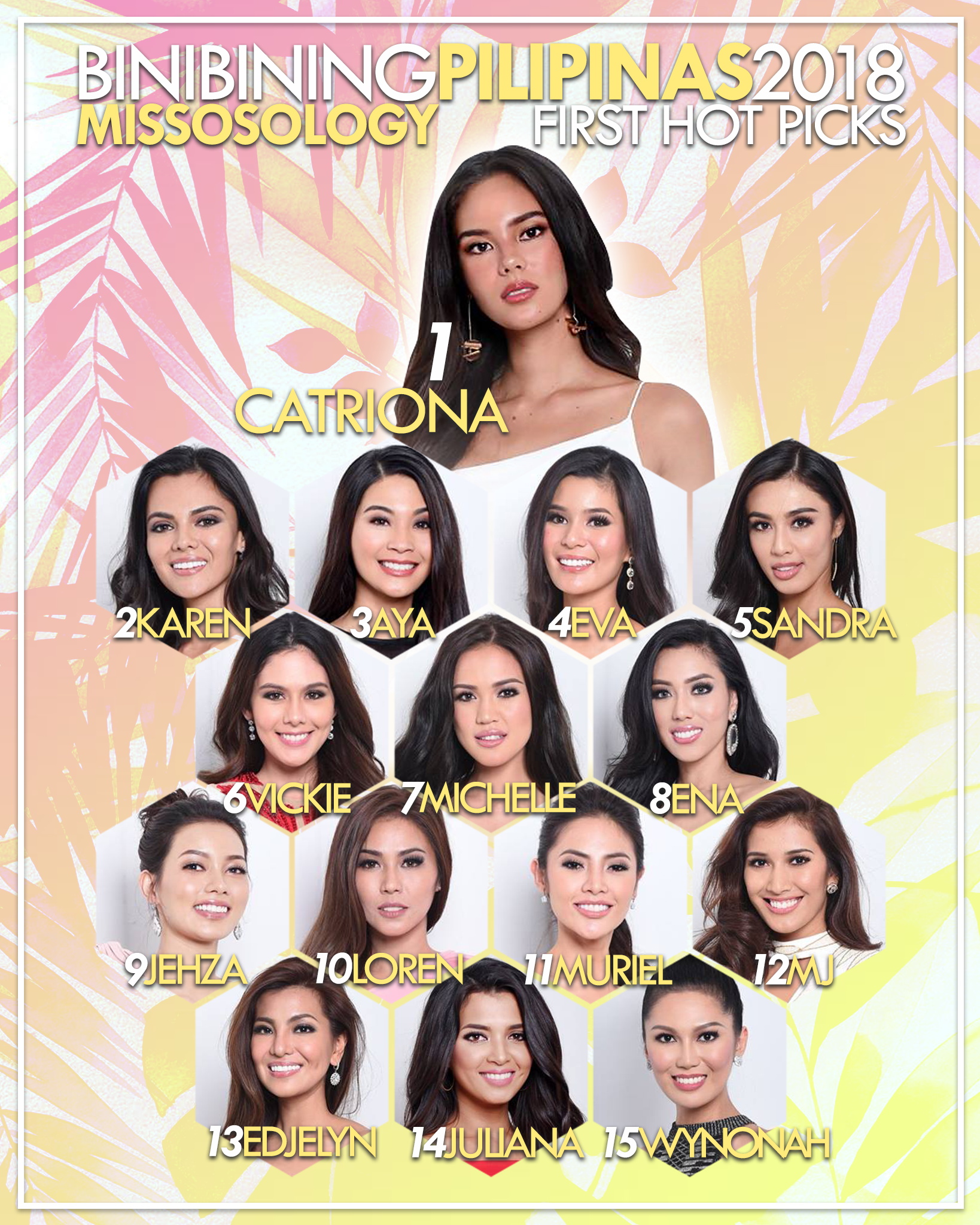 1 #Binibini20 Catriona Gray
2 #Binibini38 Karen Gallman
3 #Binibini11 Aya Abesamis
4 #Binibini32 Eva Patalinjug
5 #Binibini35 Sandra Lemonon
6 #Binibini1 Vickie Marie Milagrosa Rushton
7 #Binibini19 Michelle Gumabao
8 #Binibini23 Ena Velasco
9 #Binibini31 Jehza Huelar
10 #Binibini36 Loren Mar Artajos
11 #Binibini3 Muriel Orais
12 #Binibini34 Mary Joy de Castro
13 #Binibini24 Edjelyn Joy Gamboa
14 #Binibini15 Juliana Kapeundl
15 #Binibini26 Wynonah Buot