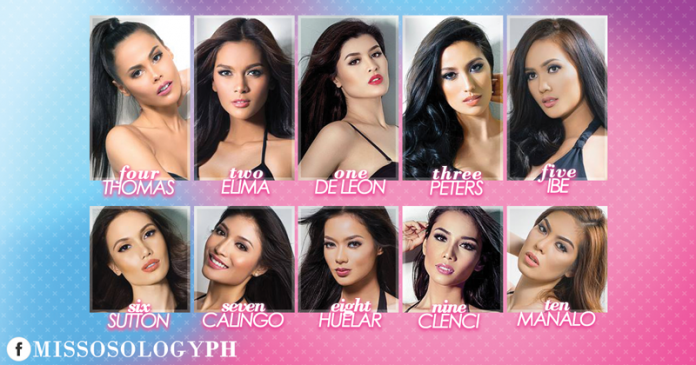 Almost a week to go before the coronation night of Bb Pilipinas 2017 and the competition is just getting more intense.
The candidates are now back to the pageant grind after their much deserved Holy Week break. Later, they will be parading around the Araneta Center for the highly anticipated annual Parade of Beauties.
Some ladies have already fortified their front-runner status in the competition, including the trio of Mariel De Leon, Charmaine Elima and Rachel Peters. No wonder they are leading Missosology's fourth Hot Picks.
These three ladies are no newbies in the national pageant scene. De Leon and Elima were both Top 15 finishers in Bb Pilipinas 2013. Peters, on the other hand, was 4th princess in Miss World Philippines 2014. Mariel has a beautiful face and singing prowess to boost her chances. Charmaine has the overall packaging and strong fan support. Rachel has the best body in the batch that deserves to be seen in the international stage.
Joining them in the Top 5 for now are Chanel Olive Thomas and Nelda Ibe. These two, despite being quite underrated in the competition, have previous pageant experiences. Chanel was 1st runner-up to Angelia Ong in Miss Philippines Earth 2015 while Nelda was 2nd princess in Miss World Philippines 2014.
Check out the complete list below:

1 #Binibini15 Maria Angelica De Leon
2 #Binibini32 Charmaine Elima
3 #Binibini19 Rachel Peters
4 #Binibini22 Chanel Olive Thomas
5 #Binibini18 Nelda Ibe
6 #Binibini13 Sirene Sutton
7 #Binibini2 Arienne Louise Calingo
8 #Binibini10 Jehza Mae Huelar
9 #Binibini39 Elizabeth Clenci
10 #Binibini17 Maria Camille Manalo
11 #Binibini26 Ruffa Nava
12 #Binibini5 Joselle Mariano
13 #Binibini31 Katarina Sonja Rodriguez
14 #Binibini35 Thoreen Halvorsen
15 #Binibini1 Dane Felisse Marasigan
Catch the candidates this afternoon (April 22) for the Parade of Beauties at the Araneta Center in Cubao, Quezon City. Missosology.Org