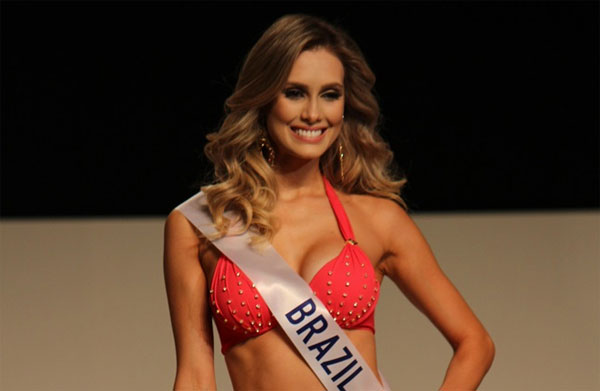 There is absolutely no reason why one should believe that Miss Brazil Isis Stocco will not win the Miss International crown. Her sheer elegance and unmistakable charisma backed-up by her curvaceous body and glamorous face made her a formidable contestant in the competition. But something happened in the last stretch of the competition.
It all started when Isis noticed that some of her personal things were missing. Her roommate is Miss Cuba Heidy Fass. So naturally, Heidy became a suspect. All throughout the incident, Isis remained calm and focused until the day when the finals night nears. Isis gown was ripped and her bikini went missing. That was the third incident for Isis and could be the last straw. Instead she remained diplomatic. The Miss International Organization decided to separate the two roommates.
The gown of Isis for the finals night was supposed to be gold in color and was meant to represent the Iguazu Falls. That's because for her and for the Brazilians in general, the iconic waterfall is as precious as gold. Sadly, part of the gown was ripped off rendering it useless. What was supposed to be a grand celebration of Brazilian natural resource was turned into a non-functional heap of cloth and accessories. The white gown used by Isis during the finals night was borrowed from Miss Paraguay. The same is true with her swimsuit.
While the main suspect of all the mess was Miss Cuba, the other side of the story was that Isis did it herself so as to gain attention and sympathy. It must be noted though that sabotage in beauty pageants is not new. In Miss World 1994, Miss Philippines Caroline Subijano's gown was stolen and she had to wear probably the worst gown ever in the history of Big4 Pageants. In Miss World 2005, Miss Puerto Rico Ingrid Marie Rivera's gown was pepper-sprayed and in Miss Universe 2010, Miss Australia Jesinta Campbell's gown was planted with pins hurting the poor beauty.
Still, Isis managed to be in the Top 10 but should have placed higher if she used that fabulous gold gown. Her borrowed gown from Miss Paraguay was plain and boring. Also, there was that psychological effect that will eventually take its toll. While she was calm and diplomatic, Isis' confidence was definitely rattled. The Miss International competition is already nerve wracking and the last thing that a contestant needs is further worries.
Did the incident prevent Isis from winning? In a way, yes. Imagine losing something personal – and nowadays indispensable – as your mobile phone only to find it out later that someone hid it in the toilet? Yes, that is one of the three incidents that shook the inner confidence of Isis. In winning, confidence is the key. The contestants have to look comfortable and self-assured. This was not the case for Isis. The series of unfortunate events certainly did affect her.