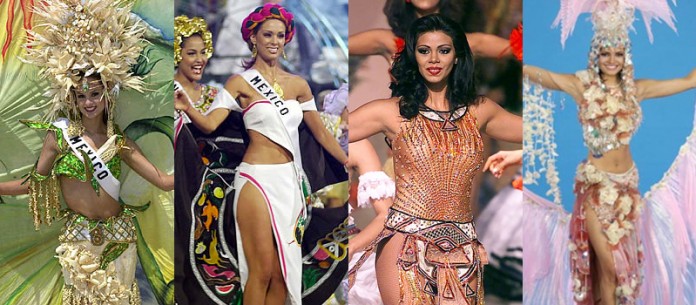 El periodo entre 1999 y 2004 pueden ser considerados como una mini-sequía para México en el certamen Miss Universo. Es el período más largo en el que México ha sallado en clasificar desde que el nuevo certamen, Nuestra Belleza México, nació en 1994 de la mano de Lupita Jones y el grupo mediático Televisa. Lo que sucedió con las reinas mexicanas de ese periodo continúa siendo un misterio hasta el día de hoy, sin embargo una cosa es segura, sus no-clasificaciones no sucedieron porque fuesen malas candidatas o pobremente preparadas.
The years between 1999 and 2004 can be considered as a mini-drought for Mexico at the Miss Universe pageant. It was the longest period that Mexico failed to be in the semis ever since a new pageant was born in 1994 wherein Lupita Jones teamed-up with Televisa. What happened to the Mexican candidates during all those years remains a mystery up to this day. But one thing is for sure, their non-placement was not solely because they were inferior candidates.
En 1999, cuando Silvia Salgado fue llamada al top 10 en Trinidad y Tobago, las esperanzas de que Leticia Murray Acedo, eventualmente se alzara con el plum prize en Chipre se elevaron, Leticia incluso fue la apuesta máxima de Missosology para la corona de Miss Universo 2000.
In 1999, when Silvia Salgado was hailed as one of the Top 10 in Trinidad and Tobago, hopes were up that Letecia Murray Acedo will eventually clinch the plum prize in Cyprus. Letecia was even predicted by Missosology to win the Miss Universe 2000 crown.
Sin embargo, lo que sucedió en cambio fue que aun habiendo ganado dos premios menores (Mejor Traje Típico y el Premio Herbal Essences) falló en clasificar a la semifinal. Se hace hincapié en que en la competencia de traje típico, el 2do y 3er lugar fueron Lara Dutta quien eventualmente ganó la corona y Miss Zimbabue, la señorita Corinne Crewe fue top 10 final. También, en 1999, el premio Herbal Essences fue dado a Miss Filipinas, la hermosa Miriam Quimbao quien fue la primera finalista de Mpule Kwelagobe.
What happened instead was that she won two minor awards – Best National Costume and Clairol Herbal Essences Style Award – but failed to be in the semis. Notice that in the National Costume contest, her runners-up were Miss India Lara Dutta who eventually won the crown and Miss Zimbabwe Corrine Crewe who became one of the Top 10. Also, in 1999, the Clairol Herbal Essences Style Award was given to Miss Philippines Miriam Quimbao who finished as first runner-up.
Con su no-clasificación en el top 10 y habiendo ganado los premios que usualmente se le dan a las front-runners, era más que obvio que había algún tipo de injusticia con Leticia. Nadie pone en tela de juicio que era una candidata muy fuerte pero el por qué galló en clasificar más alto continúa siendo una pregunta sin respuesta.
With her non-placement in Top 10 and having won the awards that are usually given to front-runners, it was quite clear that there was some kind of injustice to Letecia. No one disputed that she was a strong candidate. But how she failed to be a semifinalist remains an unanswered question.
Para la edición de 2001, Lupita Jones recorrió el mundo de la moda en búsqueda de la perfecta reina de belleza. La respuesta cayó en su regazo, literalmente ya que fue en una revista que hojeaba que descubrió a Jacqueline Bracamontes, modelo que atrapara la atención de la decana de los certámenes mexicanos. Lupita se las ingenió para convencer a Bracamontes de que participara en Nuestra Belleza México y el resto es historia.
For the 2001 pageant, Lupita Jones scoured the modelling world for a perfect beauty queen. The answer came into her lap – literally. It was in a magazine right on the lap of Lupita that Jacqueline Bracamontes caught the eye of the doyenne of Mexican pageantry. Lupita managed to convince Jacqueline to join Nuestra Belleza and the rest was history.
¿Cómo le fue a Jacky en Miss Universe 2001? Fue una de las candidatas más aplaudidas y elogiadas durante las preliminares, ella exudaba confianza y un aura real pero lamentablemente se encontraba en territorio hostil. El país sede era Puerto Rico y es un secreto a voces que Mexicanos y Puertorriqueños ven las cosas de un modo diametralmente opuesto.
How did Jacqueline fare at the Miss Universe 2001 pageant? She was actually one of the most applauded delegates during the preliminaries. She exuded a lot of confidence and very queenly well in fact. But she was in a hostile territory. The host country was Puerto Rico and it is an open secret that Mexicans and Puerto Ricans see things rather differently.
Las heridas ocasionadas por la no-clasificación de Jacqueline Bracamontes en Miss Universo 2001 apenas pudieron ser curadas. Apenas el año pasado, Jacqueline afirmó que ahora ella es más famosa que cualquiera de las candidatas de Miss Universo 2001 ya que después de todo, ella es una famosa actriz de telenovelas en México con fans dentro de su país y el sur de Estados Unidos de Norteamérica. Miss Universo 2001 – Denise Quiñones de Puerto Rico respondió al comentario de Jacqueline diciendo que ella tal vez tenía razón pero que ambas brillaban en sus propios mundos.
The wounds brought about by the non-placement of Jacqueline at Miss Universe 2001 actually barely healed. As latest as last year, Jacqueline claimed that she is now the most famous among the candidates of Miss Universe 2001. She is after all, a famous telenovela actress in Mexico with fans as far as southern United States. Miss Universe 2001 Denise Quiñones of Puerto Rico responded to Jacqueline's claim by saying that Jacqueline may be right but they both "shined in their own world".
En 2002, Ericka Cruz portó la banda de México en otra edición de Miss Universo, nuevamente llevada a cabo en Puerto Rico. El reinado de Ericka es histórico ya que es catalogada como la primera Miss México de color. Sabiendo lo que sucedió en la participación de Jacqueline, no hubo mucha presión sobre los hombros de Ericka, sin embargo, representó bien a México pero su no-clasificación selló el hecho de que México nunca ha clasificado a las semifinales en todas las ediciones de Miss Universos llevadas a cabo en suelo boricua lo que podría ser tal vez coincidencia o reflejo de que la relación entre Mexicanos y Puertorriqueños es un tanto ríspida.
In 2002, Ericka Cruz carried the banner of Mexico in another edition of Miss Universe that was held in Puerto Rico. Ericka's reign was historic as she can be called as the first Miss Mexico of color. Knowing what was transpired with the campaign of Jacqueline, not much burden was placed in the shoulders of Ericka. Still, she represented Mexico well but her non-placement sealed the fact that Mexico has never placed in the semis in all editions of Miss Universe that were held in Puerto Rico. Now, whether it was all coincidences or a reflection of Puerto Rican-Mexican rift is yet to be known.
En 2003 no había duda de que Lupita Jones estaba cansada de que se les negara la clasificación aunque enviara candidatas del más alto calibre, la sequía Mexicana se había tornado deprimente y desmotivadora pero Jones no perdió la esperanza y envió a la despampanante Marisol González quien a todas luces era una de las altamente favoritas a nivel mundial.
By 2003, there was no doubt that Lupita Jones could be tired from having her ladies denied placement despite sending top notch candidate. The Mexican drought has became depressing and discouraging. Still, Lupita did not waste any opportunity and sent the stunning Marisol González.
Este año fue el primero en el que Miss Universo decidió que fuese top 15 en vez del tradicional top 10. Técnicamente las posibilidades de que Marisol clasificara se vieron duplicadas, sin embargo ella fue ampliamente ignorada y fue nuevamente otro resultado decepcionante para México.
By all accounts, Marisol was a heavy favorite. The year 2003 was also a year when Miss Universe decided to have a Top 15 instead of the traditional Top 10. Technically, Marisol's chances could have been boosted. Alas, she was largely ignored and it was another disappointing result for Mexico.
La sequía oficialmente finalizó en 2004 cuando Rosalva Luna se convirtió en una de las semifinalistas en Ecuador. Aun así la mini-sequía sigue siendo un misterio hasta hoy, ¿existió alguna injusticia para México en Miss Universo? Tal vez, pero esto sólo demuestra que aunque se envíen candidatas perfectas, las políticas y otras circunstancias entran en juego. Siete años tuvieron que pasar para que México ganara la corona de Miss Universo y fue, como en su primera victoria, en Las Vegas. Desafortunados en Puerto Rico y afortunados en Las Vegas. Tal vez, después de todo, los infortunios de México hayan sido sólo cuestión de suerte.
The drought officially ended in 2004 when Rosalva Luna became one of the semifinalists in Ecuador. Still, the mini-drought was a mystery up to this day. Was there an injustice for Mexico at Miss Universe? Perhaps, but the drought was a realization that despite having strong candidates, political winds and other circumstances can come into play. Seven years later, Mexico won the Miss Universe crown and it was, like in its first victory, held in Las Vegas. Unlucky in Puerto Rico, lucky in Las Vegas. Perhaps Mexico's misfortunes was all just a matter of luck.