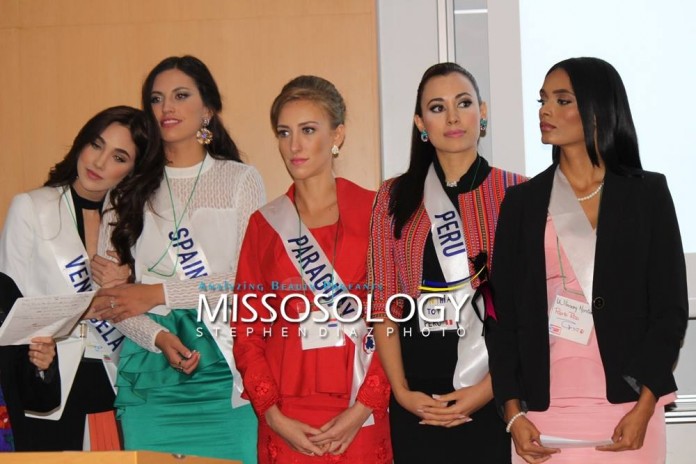 The Miss International Forum 2015
By Stephen I. Diaz
There was a huge twist at this year's Miss International Forum. Instead of giving all the girls equal rounds to deliver their respective speech, only a few were given the opportunity to hold the microphone and prove to the audience that they are more than just beautiful faces and sexy bodies.
So, what exactly happened?
During the MI forum, all the delegates were divided into fifteen groups, and they were grouped together with students from Ochanomizu University and its affiliate high school. This women's university is one of the highly prestigious national universities in Japan, and is the only one that caters to a single gender. The cream of the crop from among the school's student body were assigned to their respective cluster, and discussed about women and their roles in society, as well as the present status of women compared to men in their country.
After nearly two hours of discussions, the Miss International contestants and their Japanese counterparts had to prepare their group presentation, in which they had the option to choose whether to have one speaker for their group, or to have two or more speakers. This is where the confusion arose, because for the first groups to present, they were very concerned about the five-minute allotted time, so they were cautious and played it safe.  One group chose one speaker to report on their behalf.  The general topic was about the status of women in their respective countries, as well as that of Japan.
As the the rest of the groups started to present their report, some of the MI contestants were becoming sneakier and tried to get the spotlight all for themselves, disregarding the presence of other girls within their group, or even ignoring the time keeper. To those girls who were not able to say anything, don't worry. Your composure amidst the situation was highly commendable. Miss International is looking for someone who is not trying to get the attention all for herself. She must be someone who knows how to adjust for others, and quick enough to think how to make such adjustment work, given the limited time and rules.
With that being said, the one who was really good at this was none other than Miss Kenya.
Eunice Onyango was the last in her group to speak, but because of time constraint, she only got less than 30 seconds to say something. But she was very quick to think, and was able to compose the right words at the right time, and managed to finish as soon as the bell rang. To me, that is a mark of intelligence! It's not about how long one was holding the microphone, and how beautiful her words were. The one who would eventually stand out, was the one who got through it, given such a disadvantageous situation. So, points to Eunice for that! After her group presentation, she did not even show any signs of disappointments, and was still all smiles while returning to her seat.
---
Randomly, allow me to mention those contestants who made quite a good impression in their respective group presentation, and I would also give credit to the group members because some or even all of them were not able to hold the microphone due to confusion.
1. Miss Canada was actually the first speaker, and she delivered flawlessly, like a seasoned veteran public speaker. Her group really did a great job of choosing her to represent them, and their message was clearly conveyed to the listeners. Although Canada may be the one who got the spotlight on this one, I would take this opportunity to mention her group mates who were also part of the overall team: Australia, Belarus, Brazil and Moldova.
2. Lebanon's representative, who currently lives in Sydney, Australia is actually a pleasant speaker herself. She and Miss Luxembourg led their group and I was quite impressed especially with Miss Luxembourg because she was good at leading a presentation.
3. The group of Kenya, Nepal, Macau, Zambia and Korea was very impressive. The report was pleasantly informative and it probably helped that this group was the first one where Valerie Hernandez got the chance to speak with while she doing random check of how the girls were doing in the group discussion.
4. Sri Lanka's group also did well, with their very detailed presentation about the different countries represented. I also have to give credit to Miss Portugal who was in charge of the power point presentation, because she really did a great job! The teamwork of this group was visible because they visibly used of each other's strengths to be able to come up with an effective presentation. To the other member, Singapore, Slovakia and Chinese Taipei, you were wonderful!
5. Another impressive speaker was Miss Vietnam. I have to admit that I have never met a Vietnamese delegate at Miss International who is as eloquent as this year's bet. Despite the presence of a native English speaker (Miss United Kingdom), Vietnam became the centerpiece of her group and led the presentation with ease. Just a little reminder though… I personally think that she made her group mates look inferior by taking too much of speaking time. In Japanese ethics, that does not suit quite well.
6. Speaking of native English speaker, here is one girl who did really well during her speech, but was not trying to outdo her group mates. She is none other than Miss USA, who spoke about the American dream. Her speech was short but had an impact.
7. I have to say that the group of Honduras, Nicaragua, Panama and Mexico were the nicest and kindest of all. They let their Japanese counterparts speak first to discuss about the status of women in Japanese society, and then, all four of them spoke about their personal dreams and goals within the last remaining two minutes. This attitude which was "not to put yourself ahead of others", is a quality that befits the Miss International crown. I won't be surprised if one of these four girls will be crowned on November 5th.
8. This year, Venezuela sent a girl who is not only beautiful and friendly, but an excellent English speaker. This is quite rare because I normally met Venezuelan delegates who could not speak English, so with that being said, be prepared for a major Venezuelan come back on the final gala.
9. Another group who did well was Gibraltar, Hungary, Hawaii, Indonesia and Guam. Guam speaks slowly and softly, and she is such a darling. It's like listening to a warmhearted kindergarten teacher. Hungary and Hawaii delivered great speeches and with strong conviction.
10. Another excellent group was that of the Netherlands, Philippines, New Zealand, Malaysia and Norway. However, I have to give the accolades to Miss New Zealand who worked really hard in doing the paper board presentation. Yes, she was the only native English speaker in the group but she made sure that she would not outshine her co-mates. Such a humble young woman!
11. Miss Mauritius led the French-speaking group, and because she was the one who could speak fluent English, she led the presentation and told everyone never to give up. If you know how she struggled when her luggage did not arrive for three or more days in Japan, you would understand why!
12. Miss Tunisia shared her previous experience in Miss World, when another contestant was surprised that her country was actually joining in beauty pageants.  She corrected her by saying that her country gives opportunities for women to compete and be able to do whatever they want to do.
After the Miss International Forum 2015, all the girls were treated for a yakitori party in Tokyo's Otemachi area, at the restaurant called Hibiki.