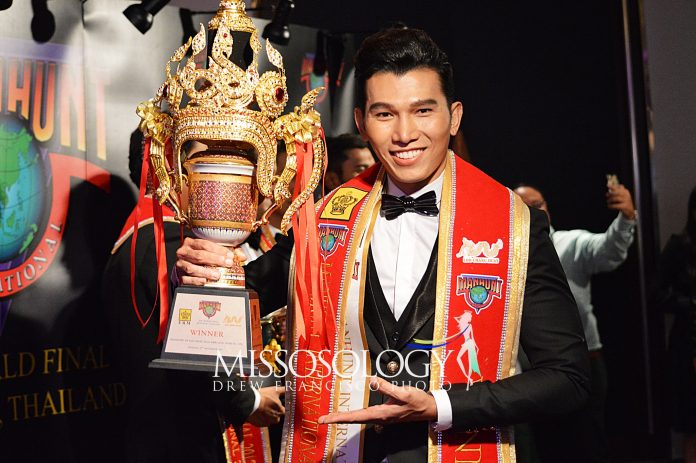 Truong Ngoc Tinh of Vietnam emerged as the winner of the 2017 Manhunt International competition held November 27 at the Siam Pavalai Royal Grand Theatre, Siam Paragon in Bangkok, Thailand.
As correctly predicted by Missosology, the Vietnamese supermodel bested 36 other contestants to become the contest's 18th winner. He received the sash from last year's winner Patrik Sjöö of Sweden. Ngoc also took home the Loo Chang Huat Model and Gentle People Thailand awards. He was also named Mister Internet Popularity, earning him an automatic spot in the Top 16.
Host delegate Kongnat Choeisuwan of Thailand placed first runner-up, while fan favorite Gaetan Osman of Lebanon finished second runner-up. Sri Lanka's Mohamed Wazeem Cammar and Indonesia's Andry Permadi were third and fourth runners-up, respectively.
Check out the full results below:
Winner: Vietnam – Truong Ngoc Tinh
1st runner-up: Thailand – Kongnat Choeisuwan
2nd runner-up: Lebanon – Gaetan Osman
3rd runner-up: Sri Lanka – Mohamed Wazeem Cammar
4th runner-up: Indonesia – Andry Permadi
Rest of the Top 16
Brazil – Cristian Fin
Chinese Taipei – Shen Ying-Bin
Dominican Republic – Mike Jacobi
Macau – Tan Shuai
Malaysia – Gan Kai Han (Mr Friendship)
Mongolia – Battur Batbaatar
Philippines – Daniel Azurin
Poland – Poitr Zyjewski
Singapore – Muhammad Hassanal Bin Ruslan
South Africa – Dylan van Niekerk
Turkey – Uygar Taze
Winners of Special Awards
Best in National Costume: Indonesia – Andry Permadi
Best in National Costume 1st runner-up: Sri Lanka – Mohamed Wazeem Cammar
Best in National Costume 2nd runner-up: Myanmar – Kaung Khant Thu
Mr Physique: Sweden – Pedram Tahmi-Masoleh
Mr Photogenic: Philippines – Daniel Azurin
Mr Personality: Brazil – Cristian Fin
Best Asia Model: Hong Kong – Zhang Jian
Best Africa Model: South Africa – Dylan van Niekerk
Best Oceania Model: Australia – Zaine Pringle
Best Europe Model: Bulgaria – Georgi Valkov
Best Americas Model: Fernando de Noronha – Diego Michel Jacome Batista
Best Runway Model: China – Han Liang
Best Commercial Model: Guam – Samuel Hashimoto
Best Fashion Model: Vietnam – Truong Ngoc Tinh
Text by Ameer Gamama; Photos by Drew Francisco/Missosology