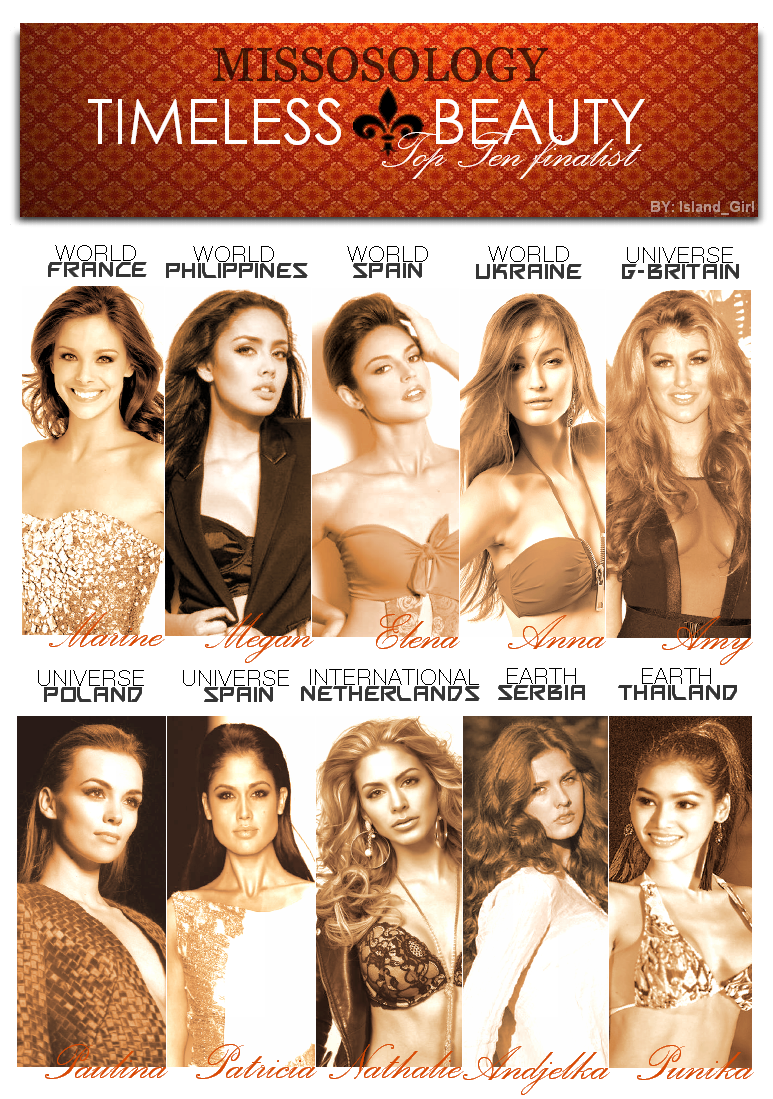 From 20 equally beautiful and charming semifinalists who all came from BIG 4 pageants, our carefully selected board of judges have come up with a very strong TOP 10.
Here they are, in random order:
THE JUDGES:
Miss Universe 1000 B.C.
(Mauritius)
Granny, as she is fondly called, is the ever charismatic Admin of Missosology Forum. Famous for her frank and bold views about beauty and aesthetics, no one can deny that in the Missosology World, she is very powerful and definitely one of the most influential personas in the world of pageantry. When Granny says that a certain girl is a goddess, no one can dispute that! That's how powerful she is.
XAMURAI
(Philippines/Japan)
A Missosology Admin, and probably the only one who is always present in delivering his bold views and unconventional verdict in the BIG 4 Pageants and even national pageants, XAMURAI is known for his coverage in the Japan pageant scene, expecially Miss International. He was the champion of the Missosology Prediction Game Season 1, the quiz master of Missosology Quiz 2013, and the overall producer of Missosology Universe Online Pageant. He was recently judged as the Best Admin for 2013.
Qarlo
(Philippines)
This Pageant Expert was recently awarded as the BEST MEMBER of Missosology for 2013. He was also chosen as the Best Pageant Expert and one of those recognized as the Best Thread Starters of last year. His in depth knowledge of pageant history – as well as views in the pageant scene – is considered to be a treasure that Missosology cannot afford to lose. His threads are always big hits, and are followed by many members. 
Kiddolovesit
(Philippines)
Honest, frank and credible. Kiddolovesit was voted as the Best Pageant Historian for 2013. His contributions in the forum have received numerous awards, and have been honored for being informative, timely and relevant. He partnered with XAMURAI in big hit projects such as Missosology Universe and Missosology Quiz. In fact, he was the brain behind the revival of the Quiz Show, and will continue to do so for this year.
HerbertBrasil
(Brazil)
The very handsome winner of Mister Missosology 2013, and a great performer in the BIG 4 Prediction Game, this Top Model from the land of samba is well-known for his unbiased, honest and and on-the-spot choices and analysis of international and local pageants being featured in the forum.
Miss Understood
(Philippines)
The winner of Missosology Universe 2013, representing Indonesia, this soft-spoken and lovely interior desinger was also the winner of the Missosology Catwalk competition last year. Fierce, and glamorous, it can't be denied that our reigning Missosology Universe queen has a real eye for beauty, well, being a beauty titlist herself.
Rocco
(USA)
Coming from the fashionable West Coast, Rocco is a Pageant Correspondent at the Missosology Forum who has covered the Miss USA and Miss Universe pageants several times. Being surrounded by beautiful people everyday, it's not surprising that he himself is a person with high sense of fashion, and a keen eye for beauty.
Missosology Nepal
(Nepal)
The Missosology Nepal group, so far, is the largest national Missosology Facebook Group, with more than 9000 members to boot. Needless to say that Nepal, as a country, has leaped several ranks up in just a matter of three years in the Big 4 Ranking. With Miss World, being their strongest forte as of the latest, this Himalayan paradise will certainly give us an interesting balance in the judging panel.
Missosology Trinidad & Tobago
(Trinidad & Tobago)
T&T has two Miss Universe winners and one Miss World winner. It boasts a beautiful tropical scenery and great looking people. Missosology T&T is one of the few local Missosology groups with a huge number of followers on Facebook, updating their constituents about the BIG 4 and other international pageants. We certainly thank the Admins of Missosology T&T for supporting Timeless Beauty 2013.
Missosology Japan
(Japan)
Japan has a population of around 120,000,000, and is home of one of the BIG 4 pageants. It is also a very successful country in Miss Universe, boasting two winners. It is a country that loves beauty pageants, but is not just as open as the other nations in showing their passion towards beautiful women. Japan has also sponsored the iconic Mikimoto crown, which was worn by the Miss Universe winners for almost a decade since the turn of the century. Certainly, a Japanese point of view in choosing our Timeless Beauty is a welcome treat, and the Admin of Missosology Japan is here to help us.
| | Rank | BIG 4 DELEGATE | SCORE |
| --- | --- | --- | --- |
| | 1 | Philippines World | 9.879 |
| | 2 | France World | 9.774 |
| | 3 | Spain Universe | 9.713 |
| | 4 | Ukraine World | 9.665 |
| | 5 | Great Britain Universe | 9.663 |
| | 6 | Poland Universe | 9.650 |
| | 7 | Netherlands International | 9.649 |
| | 8 | Thailand Earth | 9.638 |
| | 9 | Spain World | 9.624 |
| | 10 | Serbia Earth | 9.616 |
| | 11 | Ukraine Universe | 9.599 |
| | 12 | Venezuela Universe | 9.589 |
| | 13 | Iceland International | 9.556 |
| | 14 | Puerto Rico Universe | 9.548 |
| | 15 | Venezuela Earth | 9.540 |
| | 16 | United States World | 9.533 |
| | 17 | Brazil World | 9.523 |
| | 18 | Ghana World | 9.501 |
| | 19 | Korea Earth | 9.479 |
| | 20 | Mexico Earth | 9.415 |