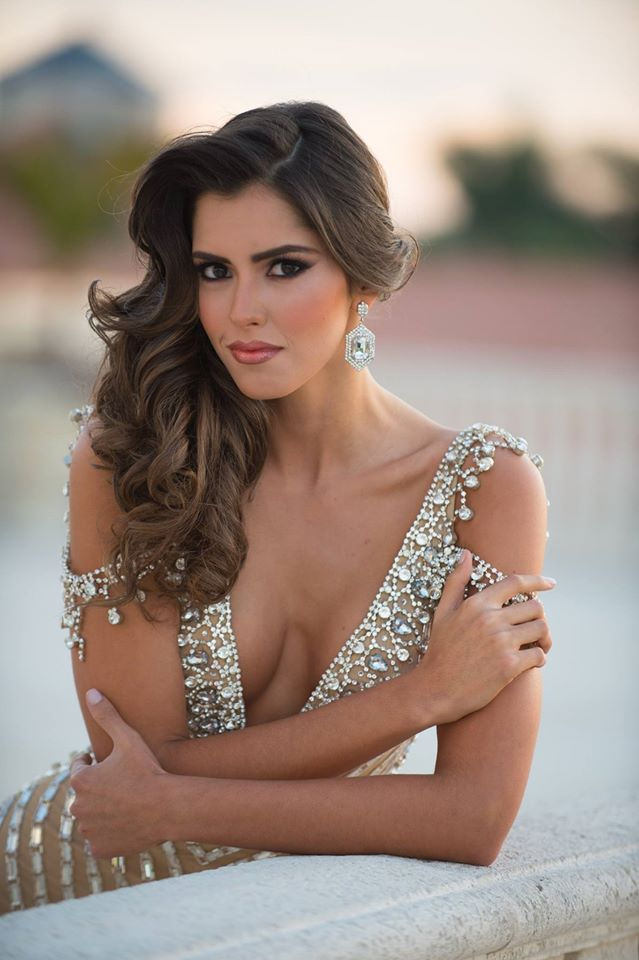 Four judges, all of which are veterans in the field of pageantry, has been chosen by Missosology to select the Timeless Beauty 2014. They selected from a field of 25 which was earlier chosen by a separate panel of judges. The four selected pageant experts who served as judges this year are as follows:
Christine Huang of Taiwan – she is the license holder of Miss Earth in Taiwan and is responsible for organizing several international pageants including Face of Beauty, Miss Bikini Universe, Miss World Peace, among others.
Jannice Davis of United States – based in Florida but originally from Jamaica, she is an entrepreneur, national recruiter, and a financial wellness educator. She was the former franchise holder of Miss Jamaica International and Miss Earth Jamaica.
Tee Laksanavilas of Thailand – is the owner of the popular Thai pageant forum T-Pageant. He is a TV personality in Thailand and is involved in organizing the Miss Universe Thailand contest.
Sone Robertson Palupe of Australia – currently residing in the state of Queensland, Sone is active in training girls for the national pageants Down Under.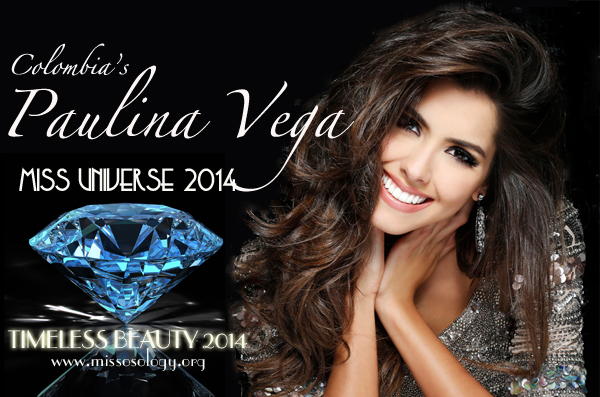 Paulina Vega, Miss Universe 2014, emerged as the winner of the Timeless Beauty 2014 contest. She has been a frontrunner from the very start of the competition as she placed first in the Top 25 selection. She is one of the most talked about beauties in 2014 where she exuded both class and sophistication. A head turner, Paulina is a favorite when she participated at her national contest and it is of little wonder that the pageantry community was one in predicting her eventual triumph at Miss Universe. Paulina is a symbol of strength and of determination. She never allowed pessimism or negativity to seep through in her campaign to bring honor to her nation. Thus, she became responsible for ending the agonizingly long Miss Universe crown drought for her native Colombia where everyone thought that a second win for the country will never happen.
Personality wise, Paulina was a subject of nasty rumors that were proven to be false. Paulina well in fact showed warmth towards those in need and a heartfelt dedication towards the activities and charitable works of the Miss Universe Organization. She became the darling of the American press after wowing them of her great stage presence and a camera-genic beauty. She acts natural and at ease and was seen enjoying her tour of various countries that already included Indonesia and Italy and with more to come.
In her native Colombia, Paulina was already a Timeless Beauty. When the Miss Universe crown was placed on her head she instantly became a legend and a heroine to her country. She gave Colombians a reason to be proud and to hope for more. Now that she is the reigning Miss Universe, her beauty will radiate further. She will be forever remembered as the beauty who turned around the fortunes of her country at Miss Universe. A beauty that triumphed over the odds, a beauty that rejected cynicism in favor of positivism; that's the beauty of Paulina Vega and that makes it truly timeless.
Here's is the complete ranking of the Top 25 based on the scores given by our distinguished panel of judges.
| Rank | Contestant | Huang | Davis | Palupe | Laksanavilas | Average |
| --- | --- | --- | --- | --- | --- | --- |
| 1 | Paulina Vega            | 9.4 | 9.5 | 9.9 | 9.3 | 9.525 |
| 2 | Rolene Strauss          | 9.1 | 9.35 | 9.85 | 9.5 | 9.45 |
| 3 | Yasmin Verheijen        | 9 | 8.6 | 9.7 | 9.45 | 9.1875 |
| 4 | Diana Harkusha          | 9.2 | 8.5 | 9 | 9.8 | 9.125 |
| 5 | Nia Sanchez              | 8.9 | 8.5 | 9.6 | 9.35 | 9.0875 |
| 6 | Kaci Fennell            | 7.9 | 7.9 | 9.9 | 9.85 | 8.8875 |
| 7 | Nonthawan Tongleng      | 8.1 | 7.5 | 9.7 | 9.95 | 8.8125 |
| 8 | Valentina Ferrer        | 8.9 | 7.5 | 9.4 | 9.15 | 8.7375 |
| 9 | Punika Kulsoontornrut    | 8.8 | 7.8 | 9.6 | 8.5 | 8.675 |
| 10 | Camille Cerf            | 8.2 | 7.85 | 9.75 | 8.9 | 8.675 |
| 11 | Migbelis Castellanos    | 7.7 | 8.26 | 9.8 | 8.7 | 8.615 |
| 12 | Noyonita Lodh            | 7.8 | 8.5 | 9.3 | 8.85 | 8.6125 |
| 13 | Desiree Cordero          | 8 | 7.5 | 9.5 | 9.4 | 8.6 |
| 14 | Melissa Gurgel          | 8.7 | 8.25 | 9.1 | 8.1 | 8.5375 |
| 15 | Zuleika Suarez            | 8.8 | 8.4 | 9.15 | 7.8 | 8.5375 |
| 16 | Koyal Rana              | 8.3 | 7.55 | 9 | 9.15 | 8.5 |
| 17 | Valerie Weigmann        | 8.7 | 7.4 | 9.1 | 8.5 | 8.425 |
| 18 | Josselyn Garciglia      | 8.8 | 8.25 | 8.9 | 7.5 | 8.3625 |
| 19 | Flora Coquerel          | 8.7 | 7.9 | 9 | 7.7 | 8.325 |
| 20 | Vianey Vasquez          | 7.9 | 8.35 | 8.8 | 7.75 | 8.2 |
| 21 | Zaira Bas                | 8.4 | 7.51 | 8.9 | 7.8 | 8.1525 |
| 22 | Edina Kulcsar            | 9 | 7.8 | 9.2 | 6.5 | 8.125 |
| 23 | Daniela Alvarez          | 8.7 | 7.8 | 8.9 | 6.5 | 7.975 |
| 24 | Jamie Herrell            | 8.1 | 7.6 | 9.15 | 6.65 | 7.875 |
| 25 | Anastasia Kostenko      | 8.1 | 7.5 | 8.95 | 6 | 7.6375 |