Graphics by Krizza Enriquez [@kxxenrriquez]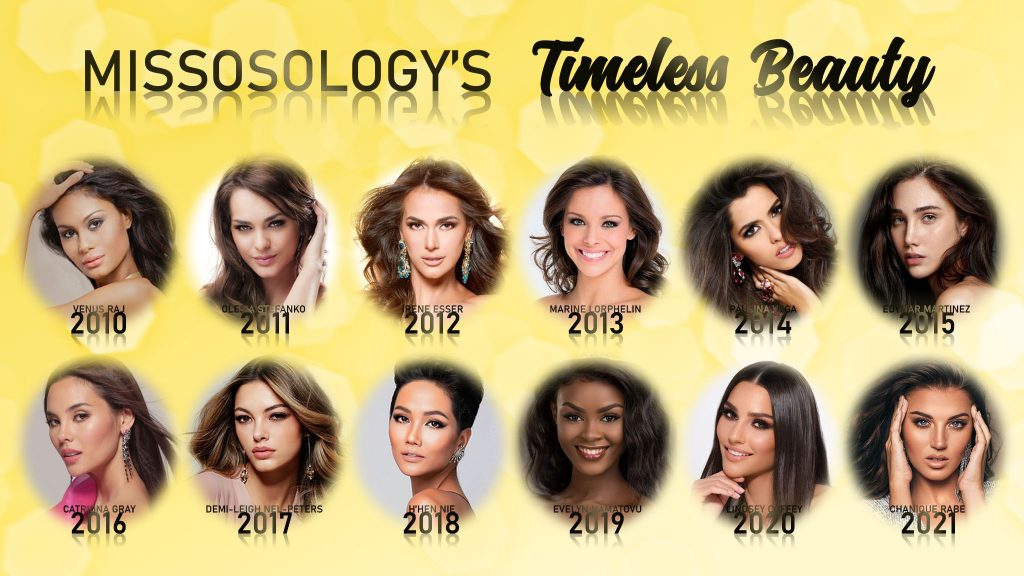 Time truly flies! This is already the 13th edition of Missosology's Timeless Beauty and this is a tradition that we hold dear to our hearts. This year, there are some big changes. The selection has been streamlined to include only the Top 12 for Miss Supranational and Miss Earth, Top 13 for Miss World, Top 15 for Miss International and Top 16 for Miss Universe. Also, the tradition of adding the contestant who was named as "If Only She Were There.." has officially ended.
This streamlining is a direct result of feedback that Missosology has received. Reducing the number of nominees will allow a better balance among the Big5 pageants. For example, having 40 nominees from Miss World against 15 nominees from Miss International would somehow skew the results in favor of the pageant with relatively higher number of nominees. On top of that, large number of nominees can cause "judges' fatigue" wherein some contestants get overlooked.
Due to the pandemic, the pageant calendar became messy. In 2022, we anxiously waited for the announcement that there will be another Miss World pageant in the latter part of the year. Unfortunately, it didn't happen. For the purpose of Big5 Ranking and Timeless Beauty, Missosology considers the 70th Miss World as Miss World 2022. This is in line with Karolina Bielawska's claim that she is in fact the Miss World 2022.
In the next few weeks, please join us as we embark in our quest in finding that ultimate beauty queen whose beauty is something that time can't erase. Meet the nominees below and tell us in the comment box on who do you think should win!