From 145 ladies from the 2019 editions of the Big5 major beauty pageants, the field was narrowed down to 25. And now, we're down to the Final 10 of the Missosology Timeless Beauty 2019.
For the first round of judging, Missosology's core group and global correspondents were tasked to pick the best 25 beauty queens. For the second phase, select members of the Missosology Forum scored each of the Top 25 semifinalists. Their votes, along with the online poll conducted on Missosology's Facebook, Twitter and Instagram accounts determined who moves forward to the final round.
After tabulating the scores, here are the Missosology Timeless Beauty 2019 Top 10 finalists: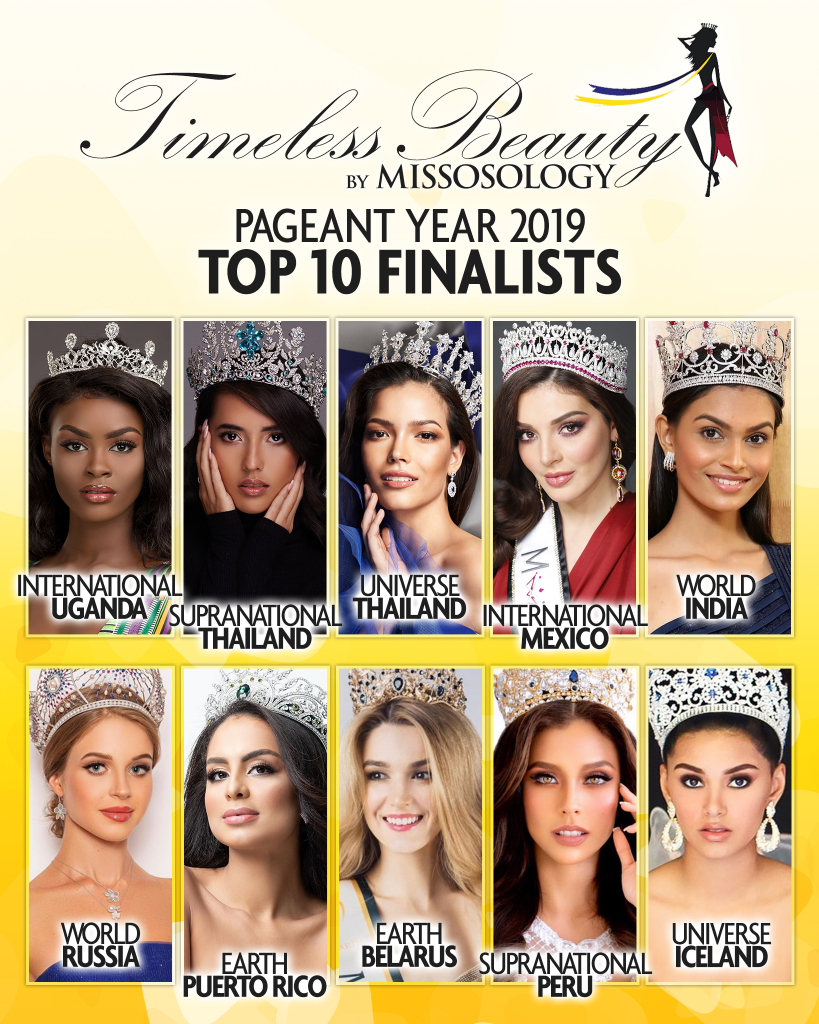 Timeless Beauty 2018 Semifinals Scores
| | | |
| --- | --- | --- |
| Rank | Semi-finalist | Average |
| 1 | International Uganda – Evelyn Namatovu | 4.573 |
| 2 | Supranational Thailand – Anntonia Porsild | 4.491 |
| 3 | Universe Thailand – Paweensuda Drouin | 4.276 |
| 4 | International Mexico – Andrea Toscano | 4.212 |
| 5 | World India – Suman Rao | 4.167 |
| 6 | World Russia – Alina Sanko | 4.115 |
| 7 | Earth Puerto Rico – Nellys Pimentel | 4.114 |
| 8 | Earth Belarus – Alisa Manyonok | 4.061 |
| 9 | Supranational Peru – Janick Maceta | 4.044 |
| 10 | Universe Iceland – Birta Abiba Þórhallsdóttir | 4.039 |
| 11 | Universe Colombia – Gabriela Tafur | 4.012 |
| 12 | Universe Albania – Cindy Marina | 4.011 |
| 13 | Earth USA – Emanii Davis | 4.006 |
| 13 | World Philippines – Michelle Dee | 4.006 |
| 15 | International Cote d'Ivoire – Tara Gueye (IOSWT) | 3.997 |
| 16 | Earth Czech Republic – Klára Vavrušková | 3.955 |
| 17 | Universe Peru – Kelin Rivera | 3.948 |
| 18 | Supranational Namibia – Yana Haenisch | 3.947 |
| 19 | Universe France – Maëva Coucke | 3.906 |
| 20 | International Thailand – Sireethorn Leearamwat | 3.896 |
| 21 | World France – Ophély Mézino | 3.792 |
| 22 | Universe South Africa – Zozibini Tunzi | 3.637 |
| 23 | International Colombia – Alejandra Vengoechea | 3.621 |
| 24 | Earth Portugal – Bruna Silva | 3.607 |
| 25 | World Jamaica – Toni-Ann Singh | 3.448 |
*IOSWT: "If Only She Were There" is an honorary title given by Missosology to a Big5 candidate who in our opinion deserves to be in the semifinals of her respective pageant but failed to make it.
The scores from the semifinals will be back to zero and the Top 10 will be subject to a final round of scoring with a different set of judges independent from Missosology.
The semifinals judges
For the second round of judging (semifinals), select members of the Missosology Forum took the task of judging the remaining Top 25. Their votes, along with the public votes, determined the Top 10.
Alex Sivixay (Ambassador) This international relations student from Laos is passionate about diversity and beauty in pageants.
AlvinSebetero (Pageant Specialist) This Mathematics teacher started loving and following pageants in 2004. He says pageants him boost his self-confidence.
Andydmoray (Predictionist) This English teacher from China started watching pageants in 2003. He is one of Missosology forum's most active participants in prediction games.
Bukita (Ambassador) Working in the customer service field is this pageant fan from Phuket, Thailand.
Cronista (Predictionist) He is one of the forum's best predictionists. He hails from Mexico and is one of the main contributors of Missosology Mexico's official page.
David: God of all Gods (Pageant Expert) This medical doctor from Manila, Philippines volunteers for a non-profit organization in helping pediatric cancer patients. He started following pageants in 2007.
Dede22 (Ambassador) Hails from Egypt, she is one of the most active participants in the Missosology Prediction Games.
Ea'rend¿l (Moderator) Aside from being a big fan of Miss Earth pageant, he is a chemical engineer by profession. He is a strong advocate of environmental protection and sustainability.
G01 (Fashion Expert) A Dubai-based fashion designer, he fell in love with pageants after watching the Miss Universe 1994 edition as a kid.
Handsama (Pageant Apprentice) This environmental activist from the USA started paying attention to pageantry after finding out that there is more to it than just pretty faces.
Islander1 (Pageant Expert) This crossfot enthusiast from Cayman Islands started following pageants in 2012, when Lindsay Japal was Miss Cayman Islands.
Juan Sebastian (Pageant Expert) Born and raised in Bogotá, Colombia, he was sent to Las Vegas for a better education where he graduated from the University of Nevada Las Vegas and currently works as a pharmacist.'
Kristof (Graphic Designer) This salesman from Jamaica is into photography, photo editing and graphic design. His undying fascination with beauty pageants started in the late 90s after witnessing Diana Hayden's crowning moment on TV on that floral throne in Seychelles in 1997.
MariaAndreina (Pageant Expert) Born in Quito, Ecuador, she currently majors in media production.
Ms_melanie (Pageant Specialist) This data analyst from the Philippines is one of the forum's most entertaining members, who is most active during male pageant season. She became a pageant fan when Miss Universe 1994 was held in her country.
Newyork (Missosologist) This Miss Universe super fan is the reigning champion of Missosology Prediction Games 2019.
Pippo93 (Ambassador) This medicine student from Italy discovered his love for pageants at the age of six, but avidly followed pageantry when Claudia Ferraris placed in Miss Universe 2008.
Pulchritude (Ambassador) Representing Lebanon is one of the forum's best predictionists in male pageants. He works in the field of linguistics and translation.
RMadrid (Ambassador) An active member of the Missosology forum since 2011, he has a degree in psychology.
Stoichio (Pageant Expert) It was Miriam Quiambao's 1999 Miss Universe runner-up finish that made this chemical engineer follow pageants religiously.
ThatCanadian (Pageant Expert) He is s a Colombian expatriate in Canada studying to complete his university degree with honours. He credits the Miss Universe 2007 pageant as the beginning of his love story with beauty pageants and has been an avid fan ever since.
Thomas876 (Elite) One of the the most active participants of the Missosology Prediction Games is this pageant fan from France.
Touchedbyanangel (Correspondent) This chef and restaurateur is originally from Bali, Indonesia but currently residing in the USA. He owns an Asiafn fusion restaurant.