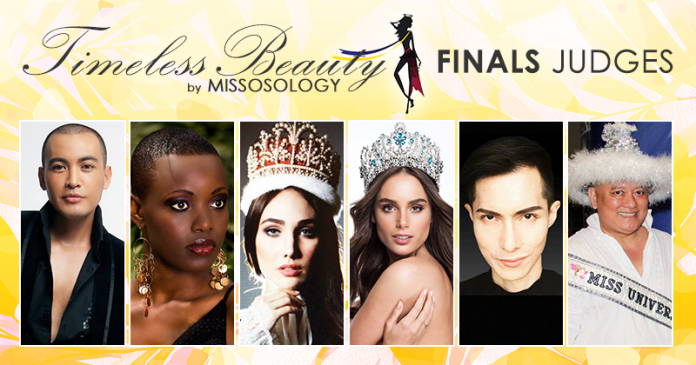 The public voting is now closed and we're now getting close to naming Missosology Timeless Beauty 2016!
But for now, it is time to reveal the esteemed panel of judges who, along with the public votes, will choose the next Timeless Beauty. Their votes (70%) plus the public vote (30%) will determine the winner.
The panel, chosen by Missosology, is composed of a phenomenal African beauty queen, a fabulous pageant expert, a sought-after fashion designer, an owner of a top male pageant, and two Big 5 queens!
Edymar Martinez (Venezuela)
Who else is most qualified to judge than our reigning Timeless Beauty, Edymar Martinez. This Venezuelan model was crowned Miss International in 2015. Throughout her reign she has traveled to a number of countries including Bolivia, Panama and Indonesia. She was the first reigning Miss International to be invited as special guest in Puteri Indonesia. Edymar has become a sought-after celebrity, appearing in various magazines, runways and TV shows.
Stephania Stegman (Paraguay)
This international model and actress from Paraguay was crowned Miss Supranational in 2015. It was during Stephania Stegman's reign that the pageant was included in the Big5 major pageants. She has graced many runways across the globe and was recently seen during the New York Fashion Week as a Latin correspondent.
Eunice Onyango (Kenya)
Eunice Onyango is one of the most successful contestants of Kenya in recent years, placing as second runner-up in Miss International 2015 held in Tokyo, Japan. She did not only defy all odds by becoming the first woman of color from sub-Saharan Africa to ever place in the Top 3 of Miss International, she was also the first to sport an ultra-short hair during the coronation night, which made her crowning quite memorable because her tiara could not be clipped on her hair. She was also a Top 20 finalist in Timeless Beauty 2015.
Alan Sim (Singapore)
Alan Sim is the president of Mister International Organization, which organizes the Mister Singapore and Mister International pageants. With over two decades of experience in the pageant industry, Alan definitely has keen eye for beauty. He was Mister Young Singapore 1996 winner and represented Singapore at the 1997 Mister Young International pageant in Puerto Rico where he finished 1st runner-up.
Kyriaki Chris (USA)
A legitimate pageant expert and a staple in annual Miss Universe pageant finals with his fabulous wardrobes is Kyriaki Chris. Named after Miss Universe 1964 Kiriaki Corinna Tsopei Fields from Athens, Greece, he is a Miss Universe fanatic since conception and one of the original correspondents for Missosology when it was still PBKT. He owns some precious pageant memorabilia such as the 10 card tables at Miss World 2000 in the Millenium Dome with former Miss World names signed.
Leo Almodal (Philippines)
Leo Almodal is one of most talented fashion designers in the Philippines. He has dressed up a number of beauty queens, including ladies from the UK, Japan, Indonesia and the Philippines. He also created the winning gowns of Miss Earth winners Jamie Herrell, Angelia Ong and Katherine Espin. Visit his website (www.almodal.com) or Facebook page (https://www.facebook.com/lionoffashion/?ref=br_rs) to see more of his creations.
Who made it to the Top 5 of Timeless Beauty 2016? Find out soon! Missosology.Org