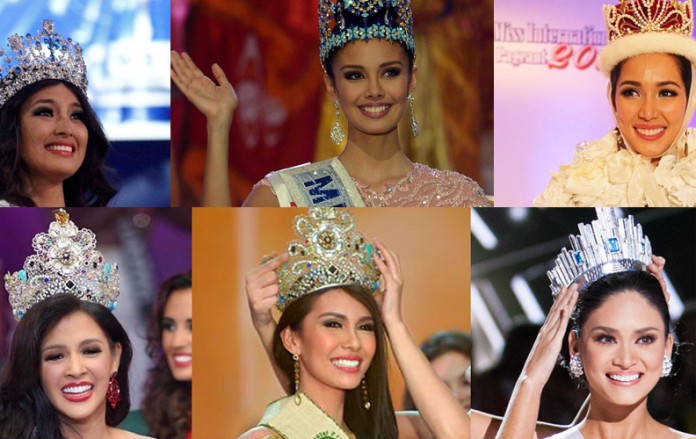 In a span of three years, the Philippines managed to win all the crowns of Big5 Pageants – so far the only country to have it all. Starting in 2013 when Mutya Johana Datul was crowned Miss Supranational (the pageant was not yet considered by Missosology as a major international pageant due to several issues), the Philippines was on fire! Following Mutya's victory in Minsk was a victory that was thought improbable. Megan Young won the country's first ever Miss World crown in Bali! Then to close the 2013 pageant year, Bea Rose Santiago took the country's 5th Miss International crown.
The current generation of Filipinos are perhaps the luckiest as they saw a series of major victories in their lifetime. Filipinos never had this good. By 2015, they already had a back-to-back win at Miss Earth as Jamie Herrell passed her crown to Angelia Ong. And the best and the most anticipated among the titles – a Miss Universe crown thanks to the superb performance of Pia Wurtzbach.
So why is the Philippines keep on winning? Some said a few years back that the reason why Philippines continues to land at Top 5 of Miss Universe was because the then owner Donald Trump was building a tower in Manila. But then if that was the case, why did the Philippines win the crown after Donald Trump sold the pageant to another owner?
Some credited the fans as they are the noisiest online and can be relied upon in case of any online or app-based votings. Well, that might be true but there are other countries with equally passionate fans in many countries such as Thailand, Colombia, Mexico and India.
So what is the secret of the Philippines?
Well it is the same secret that gave India and Venezuela their golden years – hard work. Like the beauty bootcamps of Femina Miss India during the lates 1990s and like the endless pasarella sessions of Osmel Sousa, the Philippines had developed training camps that hone aspiring beauties. Two training camps – Aces and Queens and Kagandahang Flores – have produced results that brought these prestigious titles and crowns to the Philippines.
People can formulate their own conspiracy theories and accuse the pageants as rigged but they are missing the real point. To be victorious in major international pageants nowadays requires a well-trained delegate. The Philippines was struggling before to shine internationally and finally, these start-up trainers were able to step up their game and formally formed camps that eventually produced international winners.
The golden years that the Philippines is enjoying right now is not just pure luck. Rather, it is a combination of pure love, dedication and hard work.