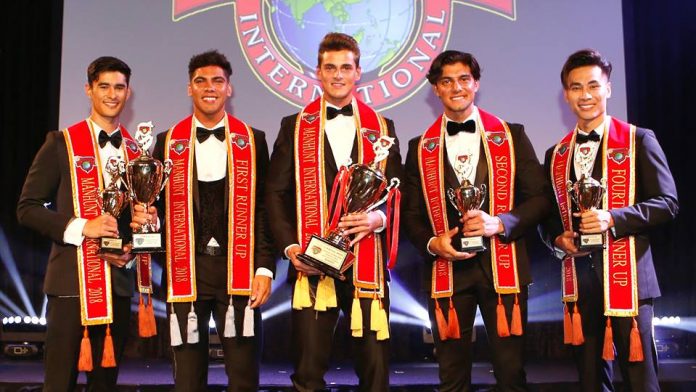 Text by Drew Francisco; Photos from Manhunt International Facebook page
Vicent Llorach of Spain was named the winner of Manhunt International 2018 competition held December 2 in Gold Coast, Australia.
The 23-year-old educator and fashion model made history as the first from his country to win the coveted title. He also bagged the Best Commercial Model special award.
Australia's Dale Maher placed first runner-up, while the Netherlands' Luca Derin was second runner-up. The Philippines' Jeff Langan and Vietnam's Mai Tuan Anh were third and fourth runners-up, respectively.
Indonesia's Ahsan Hariri Koconegoro won the Mr Internet Popularity award, earning him a spot in the Top 16. The rest of the semifinalists were the representatives of Belgium (Mohamed Manouk), Brazil (Jonatas Trevisan Zanette), China (Ryan Xi Chong-Geng), Japan (Yusuke Fujita), Lebanon (Patrick Dahrieh), Nepal (Dhruba Budhathoki), Poland (Patrick Tomaszewski), Puerto Rico (Karlwiz Gutiérrez), Sweden (Mattias Coleman), and the United Kingdom (Jack Anthony Heslewood).
Other special awards went to Karlwiz Gutiérrez of Puerto Rico (Mr Physique), Rattanan Sukubol of Thailand (Mr Photogenic), Atif Nazir Chauhdary of Pakistan (Mr Personality), Jack Anthony Heslewood of the United Kingdom (Best Runway Model), and Jeff Langan, of the Philippines (Best Fashion Model). Missosology.Org