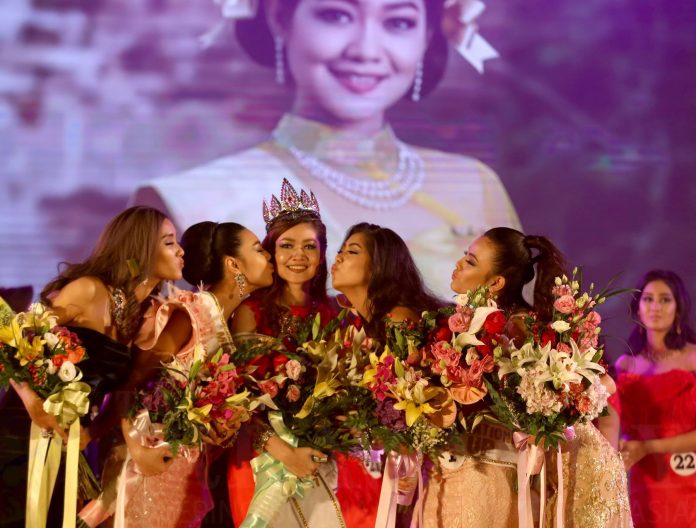 Sao Yoon Wadi Oo, is Miss Myanmar International 2017. The 25 year old beauty was crowned Tuesday night in an event held at Novotel Yangon Hotel.
Htun Palal Yadanar is the first runner-up while Ei Kay Zin Thann is the second runner-up.
Soe Yadanar Htun was named Miss Popularity while May Li Seng Aung was the Miss Congeniality. Moe Thinzar Lwin won the Miss Photogenic award.
Sao Yoon Wadi Oo will represent Myanmar in Miss International 2017 in Japan on Nov. 14.
Miss Myanmar International 2017 ၿပိဳင္ပြဲ
ဧရာ၀တီ
Miss Myanmar International 2017 ေနာက္ဆံုးအဆင့္ျပိဳင္ပြဲကို ရန္ကုန္ၿမိဳ႕ ၊ ျပည္လမ္းရွိ Novotel Hotel တြင္ ၾသဂုတ္လ ၁ ရက္ေန႔ ညေနပိုင္းက်င္းပခဲ့ရာ Winner သရဖူကို ခါးနံပါတ္ ၂၀ အလွမယ္ စ၀္ယြန္း၀တီဦး ကဆြတ္ခူးၿပီး Miss Myanmar International 2017 အျဖစ္ေရြးခ်ယ္ခံရသည္။
အဆိုပါျပိဳင္ပြဲတြင္ 1st Runner Up ဆုကို ခါးနံပါတ္ ၅ အလွမယ္ ထြန္းပုလဲရတနာ၊ 2nd Runnerဆုကို ခါးနံပါတ္ ၁ အလွမယ္အိေကဇင္သန္း၊ Miss Popular ဆုကို ခါးနံပါတ္ ၂၂ အလွမယ္စိုးရတနာထြန္း၊ Miss Congenialityဆုကို ခါးနံပါတ္ ၁၂ အလွမယ္ ေမလိဆန္ေအာင္ ႏွင့္ Miss Photogenicဆုကို ခါးနံပါတ္ ၁၅ အလွမယ္မိုးသူဇာလြင္ တို႔ကအသီးသီးဆြတ္ခူးရရွိခဲ့သည္။
Miss Myanmar International 2017 အလွမယ္ စ၀္ယြန္း၀တီဦး သည္ႏို၀င္ဘာ ၁၄ရက္ေန႔တြင္ ဂ်ပန္ႏိုင္ငံ၌ က်င္းပမည္ျဖစ္ေသာ Miss international ၿပိဳင္ပြဲသို႔ ျမန္မာႏိုင္ငံကိုယ္စားျပဳ သြားေရာက္ယွဥ္ၿပိဳင္ရမည္ျဖစ္သည္။
ဓာတ္ပံု-သက္ထြန္းႏိုင္/ဧရာ၀တီ