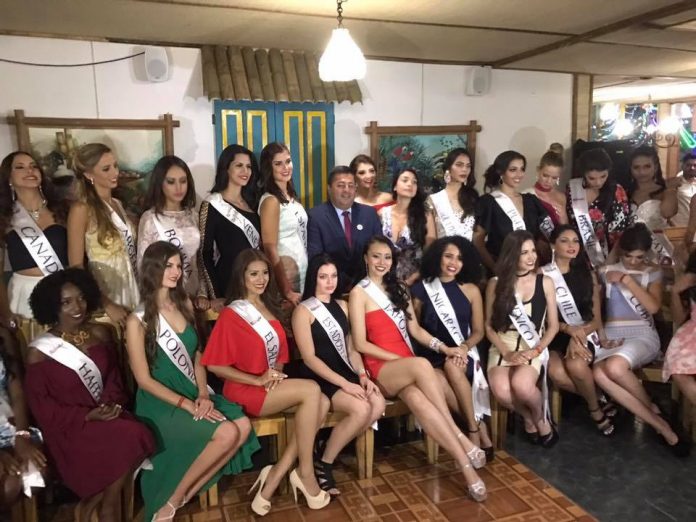 Manizales, Colombia.  Twenty eight (28) lovely candidates from four continents are vying for the title of becoming the 46th Reina Internacional del Cafe, an important international pageant which is currently being held in the premiere coffee-producing region of Caldas, in the City of Manizales.  The well-known coffee cultural landscape region of Manizales – a UNESCO World Heritage Site – is a city that is also famous for its annual Feria de Manizales, the organizer of the annual pageant.  Final gala will be held on January 7th.
MEET THE CONTESTANTS
Reinado Internacional del Café or International Queen of Coffee is a beauty pageant in Colombia that started in 1957 as the Reinado Continental del Café (Continental Queen of Coffee). The pageant was changed to its current name in 1972 when it opened its doors to countries outside the American continent.
The pageant has always been held in Manizales, Colombia, in the month of January during the Feria de Manizales, and is organized by Instituto de Cultura y Turismo de Manizales. It promotes Colombia's numero uno agricultural export – coffee/coffee beans – and also acts as a tourism campaign for the region.
Some notable former contestants of Reinado Internacional del Cafe are (year they competed and respective placement in parenthesis):
– Katherine Espin (Ecuador) who became Miss Earth 2016 winner. (2013 Did Not Place)
– Elizabeth Mosquera (Venezuela) who became Miss International 2010 winner. (2010 4th Runner-up)
– Ilma Julieta Urrutia Chang (Guatemala) who became Miss International 1984 winner. (1982 2nd Runner-up)
– Maria Lucila del Rosario Boggiano Lacca (Peru) who became Mrs. World 1989 winner. (1982 1st Runner-up)
– Jennifer Valle (Honduras) who was Miss International 2015 1st Runner-up. (2013 4th Runner-up)
– Amy Lynne Holbrook (USA) who was Miss International 2004 1st Runner-up. (2004 Did Not Place)
– Melody Mir (Dominican Rep) who was Miss International 2012 3rd Runner-up. (2013 2nd Runner-up)
– Aura Consuelo Zambrano (Venezuela) who was Miss International 2001 1st Runner-up. (2002 2nd Runner-up)
– Alejandra Ochoa (Aruba) who was Miss International 1994 1st Runner-up. (1997 4th Runner-up)
– Marena Bencomo (Venezuela) who was Miss Universe 1997 1st Runner-up. (1997 1st Runner-up)
– Desiree Lowry (Puerto Rico) who was Top 6 in Miss Universe 1995. (1995 3rd Runner-up)
– Alice Panikian (Canada) who was Top 10 in Miss Universe 2006. (2006 winner)
– Silvana Santaella Arellano (Venezuela) who was Miss Earth Air 2007. (2nd Runner-up 2004)