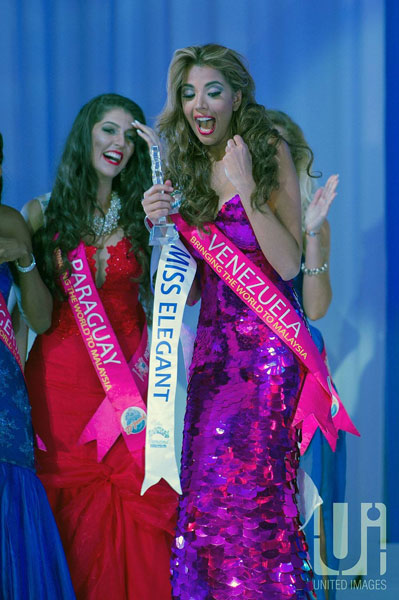 Venezuela gana la edición numero 18 del Miss Tourism International en Kuala Lumpur, Malaysia
Venezuela concluyó el 2014 con buen pie en materia de belleza. La criolla Faddya Ysabel Halaba Troisi fue coronada este 31 de diciembre como "Miss Tourism International 2014" evento que reunió a 59 concursantes de todo el mundo y que se realizó en el Putrajaya International Convention Centre, en Putrajaya, Malasia.
Con el título de Miss Tourism Queen of the Year resultó coronada la Miss Tailandia, Warangkanang Wutthayakorn. Como Miss Tourism Metropolitan International fue ungida Glennifer Dunggay Perido de Filipinas; como Miss Tourism Global International fue elegida Charina Maria Dominique Bartels de Holanda y como Miss Tourism Cosmopolitan International, Sun Weng Kong de China.
Las restantes semifinalistas fueron Katsiaryna Fomina de Bielorussia, Jéssica Gabriela Véliz González de Guatemala, Rashmi Raajput de la India (también Mejor Sonrisa), Victoria Waniko Mafo de Nigeria y Giovanna Estefani Cordeiro Villalba de Paraguay.
La vietnamita Nguyen Dieu Linh fue coronada "Miss SouthEast Asia 2014" y "Miss Amistad" fue Ranjani Rajamanickam de Malasia.
Faddya fue enviada al concurso por la Agencia Juan Carlos Model International de la ciudad de Valencia. Felicidades Faddya!.
Compitieron también:
Florencia Paz Costa de Argentina, Anahit Movsesyan de Armenia, Georgia Gibbs de Australia, Dhenia Covens de Bélgica, Nicole Priscilla Vargas Serrate de Bolivia, Slavica Nogulovic de Bosnia & Herzegovina, Erica Henrique de Brasil, Thorn Sreynai de Camboya, Tetinya Caffet de Canadá, Andrea Rojas Pacheco de Costa Rica, Katerina Kakoushi de Chipre, Lenka Josefiova de la República Checa, Kimmie Noerby Joergenen de Dinamarca, Sarai González Calderón de El Salvador, Helenna Hanni de Estonia, Saara Ahlberg de Finlandia, Ellena Tsiklauri de Georgia, Vada Muller de Alemania, Rebecca Lau Hoi Yee de Hong Kong, Henrietta Szomordukan de Hungría, Syarifah Fajri Maulidiyah de Indonesia, Kazumi Kubota de Japón, Madina Saibulatova de Kazajistán, Anna Wughanga Olila de Kenya, Hyun Hong Ryu de Corea, Zane Dombrovska de Letonia, Vonesa Alijaj de Luxemburgo, Aglaya González Saénz de México, Marta Zaporojan de Moldavia, Khuslen Bold de Mongolia, Thae Htet Maung de Myanmar, Paulina Malulu de Namibia, Makayla Nicole Baker de Nueva Zelanda, Jennifer Lynn Gleichman González de Panamá, Anna Ewa Pabis de Polonia, Alina Zhepko de Portugal, Aculina Sotropa de Rumania, Anzhelika Yakuseva de Rusia, Marina Lazic de Serbia, Sharon Nadine Wee de Singapur, Uddima Madampege de Sri Lanka, Cheng Shan Wen de Taiwán, Patricia Babirye de Uganda, Yulia Adasovskaya de Ucrania, Tara Anne Szczepanski de Estados Unidos, Kalwa Norine Musonda de Zambia y Gamuchirai Kujeke de Zimbabwe.