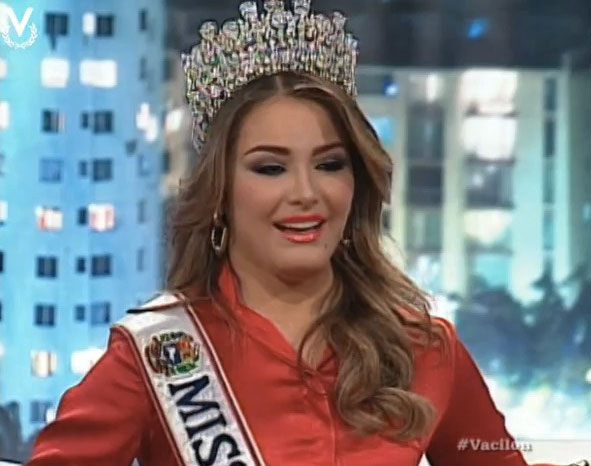 De acuerdo con el portal de Internet de Venezuela Al Día, Miss Universo Venezuela 2013 Migbelis Castellanos no puede competir en Miss Universo.
Un periodista de Venevisión, reveló en su programa que, debido a problemas de peso, Migbelis ya no representará a Venezuela en el Miss Universo 2014 que que se celebrará en 25 de enero en Miami.
El zar de la belleza, Osmel Sousa, "está que echando humo, pues Migbelis sigue pasada de peso y no ha alcanzado las medidas necesarias".
En semanas anteriores, Osmel Sousa y el Miss Venezuela emitieron un comunicado para anunciar el cambio de la Miss Venezuela Tierra 2013 (Stephanie De Zorzi) por la finalista del reciente Miss Venezuela Tierra 2014 (María Alexandra Rodríguez), por el mismo problema: exceso de peso.
According to the Venezuelan internet portal Al Dia, Miss Universe Venezuela 2013 Migbelis Castellanos may not compete at Miss Universe.
A journalist from Venevision, revealed in his program that due to weight issues, Migbelis will no longer represent Venezuela at Miss Universe 2014 which to be held in January 25 in Miami.
Osmel Sousa, the czar of beauty, was reported to be fuming because Migbelis is still overweight and has not reached the desired vital statistics.
Earlier, the contestant of Miss Venezuela for Miss Earth was changed after Stephanie De Zorzi also faced some weight problems.