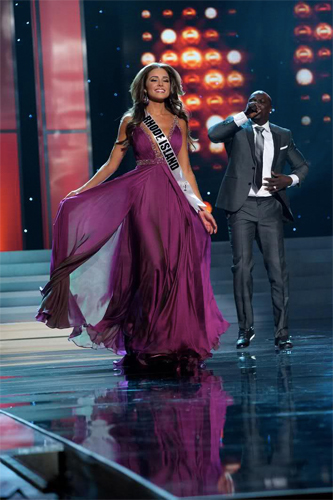 The final look is one of the traditions of Miss USA and is the most critical. This is where the judges make up their mind and the while their impressions of the finalists may be made overnight, the final look is the moment where impressions are either reinforced or changed. But the format is now different from the usual. In 2012, singer Akon spiced it up when he sang America's Most Wanted. Olivia Culpo came out during the final look as fresh, comfortable and, using the oft used phrase of Jennie Mai, looks like she's having fun. No wonder Olivia took the plum prize.

Akon – Americas Most Wanted LIVE in Miss USA 2012 Top 5 by Yony Akonvict from AKON México on Vimeo.
Last year, Erin Brady's queenly demeanor while DJ Pauly D spins Back to Love impressed both the judges and the audience. Meanwhile, Ali Nugent of Texas, looked pretty awkward trying to swing her hips to tune. She, of course, failed to clinch the title despite wearing a Gionni Straccia gown. As it seems, the final look has a great bearing towards the results.

This year, expect for the same format and we can only hope for some lively beat by Maroon 5. Or perhaps the Top 6 can sashay onstage while Demi Lovato does a live rendition of Let it Go. Whatever the song maybe, the Miss USA contestants should know by now that the final look is indeed a break or make point of the Miss USA pageant.