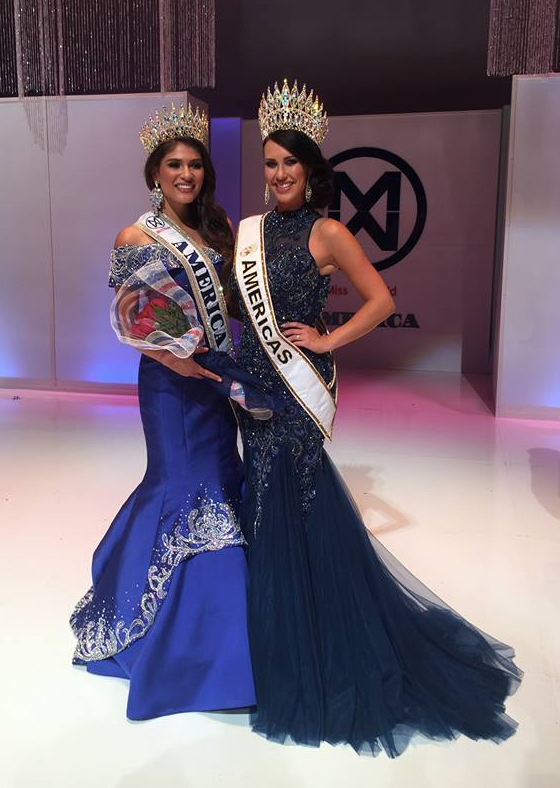 Miss Arizona World Victoria Mendoza is flanked by Miss World 2014 Rolene Strauss and Miss World Americas 2014 Elizabeth Safrit. Victoria won the right to represent the United States at the Miss World 2015 contest
Victoria Mendoza reigned supreme in the just concluded Miss World America contest, a pageant which determines who will represent the United States in the Miss World pageant. All the 50 states including the territory of American Samoa and the District of Columbia were represented in the pageant.
Victoria Mendoza with the last year's winner Elizabeth Safrit
With the reigning Miss World Rolene Strauss in attendance, Miss World 2014 second-princess Elizabeth Safrit relinquished her title to the 19 year old Arizonan beauty who hails from Phoenix. The candidate from Nebraska, Teresa Scanlan, who happens to be a former Miss America, was hailed as the first runner-up. Miss Texas World Rachel White is the second runner-up while Miss Louisiana World Kristy Landers Niedenfuer and Miss Virginia World Arielle Saige Rosmarino are the third and fourth runners-up respectively.
The Top 5 consists of contestants from (from left) Louisiana, Arizona, Virginia, Nebraska and Texas
The Miss World Americas pageant has concentrated much of the its time of Beauty with a Purpose project although the prelims on gowns has also been held. Conspicuously absent is the traditional swimsuit competition. The finals night was held in the nation's capital of Washington D.C.. Miss World 2010 Alexandria Mills hosted the event.
As the new Miss World America, Victoria will now represent the United States in the Miss World pageant. She will soon fly to Sanya, China later this year for the competition.
Top 12
Miss Missouri World Corrin Stellakis
Miss Kansas World Catherine Carmichael
Miss Nebraska World Teresa Scanlan
Miss Delaware World Taylor DeMario
Miss Massachusetts World Maude Gorman
Miss Illinois World Carlyn Bradarich
Miss Texas World Rachel White
Miss Arizona World Victoria Mendoza
Miss Florida World Kailyn Perez
Miss Virginia World Arielle Saige Rosmarino
Miss Maryland World Syanne Centeno
Miss Louisiana World Kristy Landers Niedenfue