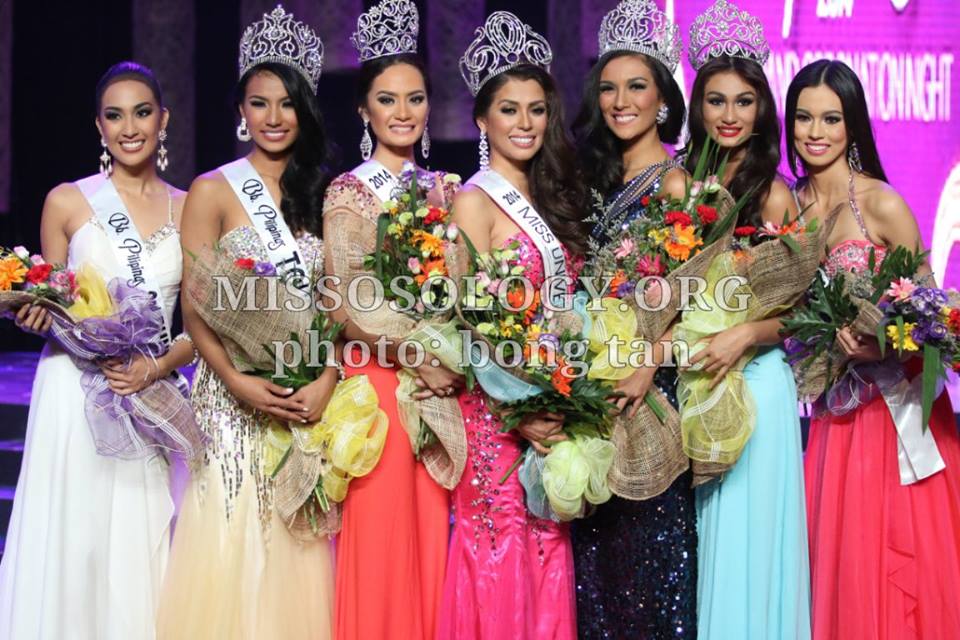 BB. PILIPINAS 2014 COMPLETE RESULT
MISS UNIVERSE PHILIPPINES 2014 – Mary Jean Lastimosa (#25)
BB. PILIPINAS INTERNATIONAL 2014 – Mary Anne Bianca Guidotti (#22)
BB. PILIPINAS INTERCONTINENTAL 2014 – Kris Tiffany Janson (#13)
BB. PILIPINAS SUPRANATIONAL 2014 –   Yvethe Marie Santiago (#35)
BB. PILIPINAS TOURISM 2014 – Parul Shah (#4)
1ST RUNNER-UP –  Laura Victoria Lehmann (#11)
2ND RUNNER-UP – Hannah Ruth Sison (#27)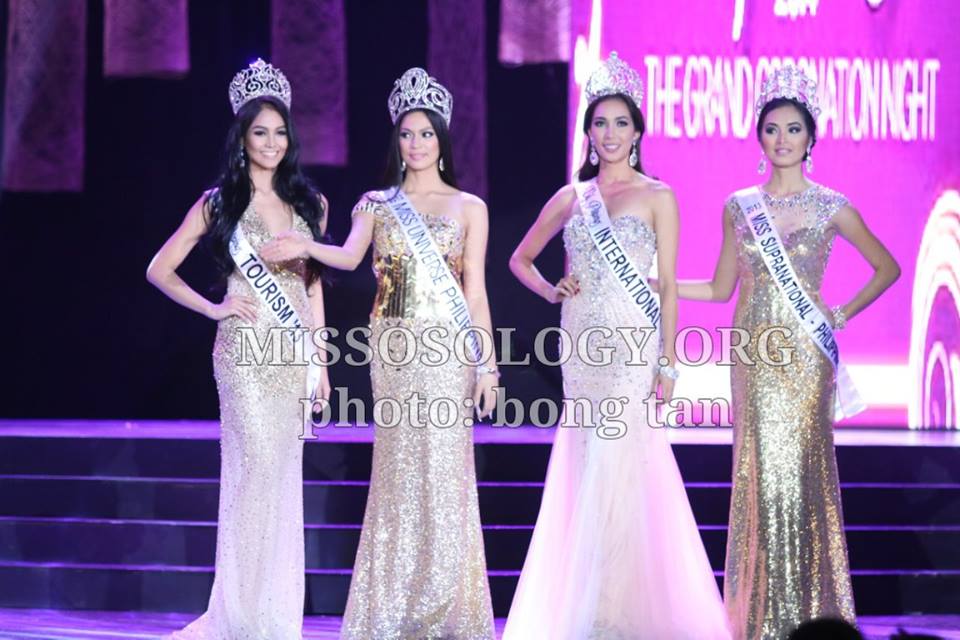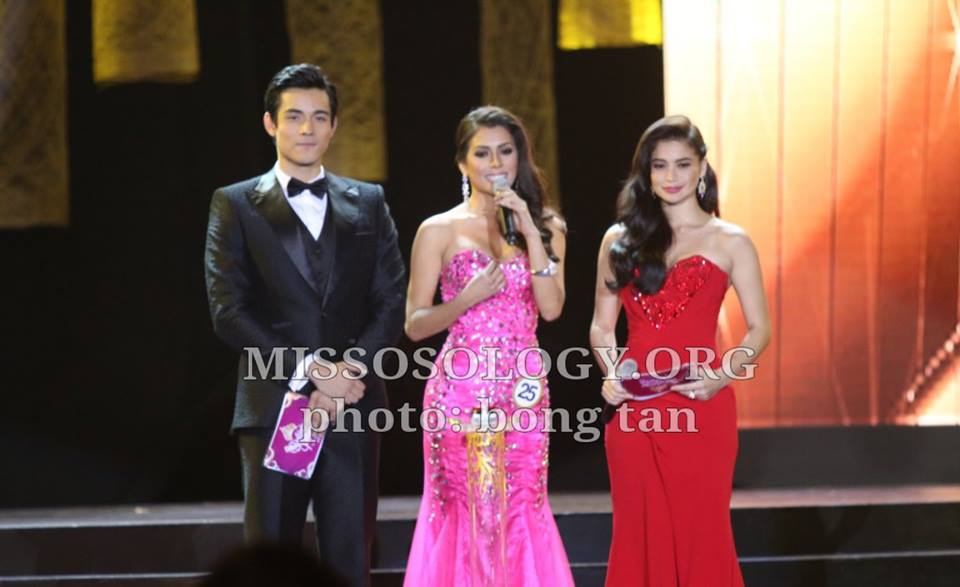 1st Batch of Q&A
Laura Lehman described the city representing her personality.
Julian Flores talked about confidence.
Bianca Guidotti spoke about her own NGO.
Joana Angelica Romero explained that aside from love, all we need is beauty.
Mary Jean Lastimosa got thunderous applause after being asked by Maria Gabriela Isler.  She celebrates the beauty of the woman and mentions the advantages of being a woman.
Pia Wurtzbach was asked about the best lesson a woman can teach the world.
Parul Shah got the sensitive question regarding the Malaysian Airline tragedy.
Nichole Manalo talked about the advantage of a beauty queen in landing a job.
2nd Batch of Q&A
Zahara Soriano explained about Filipino heroism, and mentioned about the Filipino overseas workers.
Yvethe Santaigo said that one quality of the Filipina that made her stand out in Miss Universe is her confidence.
Emma was asked about why the Filipina stood out in 2013 pageant year.
Kenneth Santiago pointed out the importance of shoes.
Kris Tiffany Janson was asked on what she could change if she goes back in time.
Hannah Sison would fall in love outside her religion.
Liezel Ramos talked about her self-confidence.
BB PILIPINAS 2014 UPDATE: TOP 15 FINALISTS!
11 – Laura Lehmann
1 – Julian Aurine Flores
22 – Mary Anne Bianca Guidotti
3 – Joana Angelica Romero
25 – Mary Jean Lastimosa
8 – Pia Wurtzbach
4 – Parul Shah
23 – Nichole Marie Manalo
16 – Zahara Mae Soriano
35 – Yvethe Marie Santiago
14 – Emma Mary Tiglao
20 – Kenneth Santiago
13 –  Kris Tiffany Janson
27 – Hannah Ruth Sison
19 – Mae Liezel Ramos
Emin performing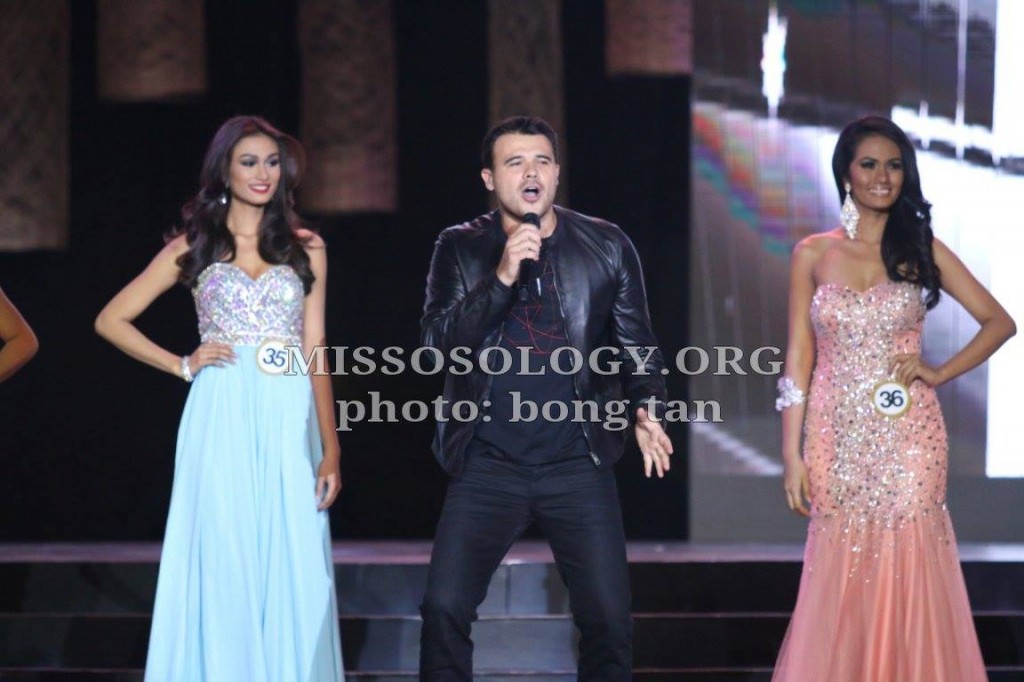 Miss Cream Silk is Yvethe Marie Santiago
Miss Philippine Airlines is Pia Alonzo Wurtzbach
Miss Jag is Pia Alonzo Wurtzbach
Best in Gown is Mary Anne Bianca Guidotti
Best in swimsuit is Mary Jean Lastimosa
Mirror mirror on the wall, who has the shapeliest body of them all?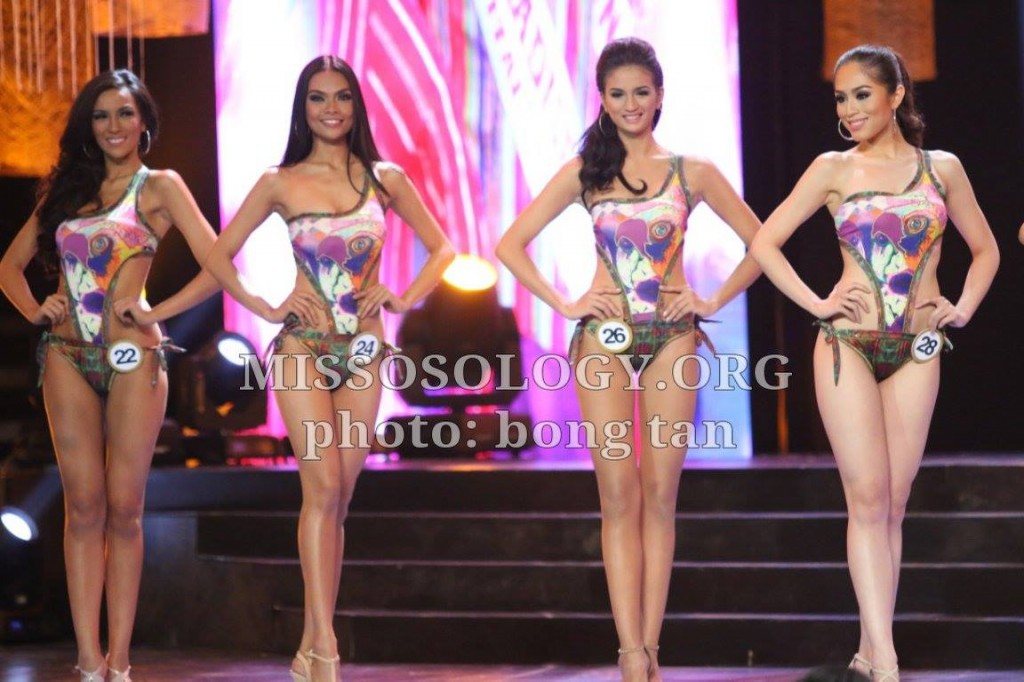 Who do you think stands out?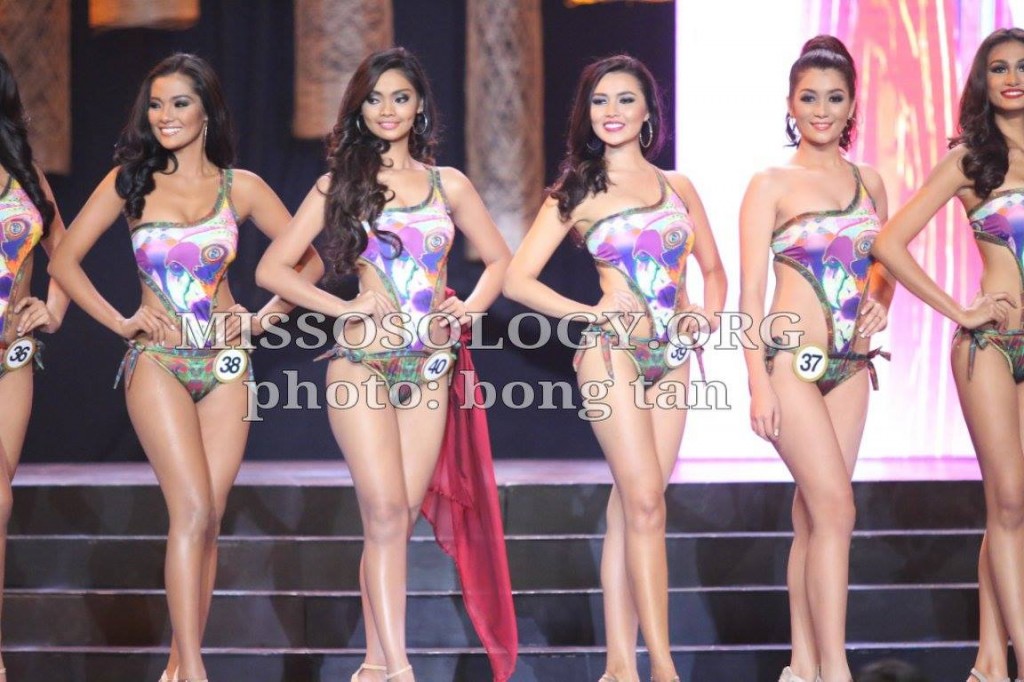 More swimsuit photos
Best in Nat Cos: Kris Tiffany Janson
Best in Talent: Gabrielle Erika Tilokani
Face of BBP / Miss Photogenic: Kris Tiffany Janson
Miss Friendship: Racquel Kabigting
Manila Bulletin Readers Choice: Ladylyn Riva
Binibining AVON: Yvethe Marie Santiago
More opening number photos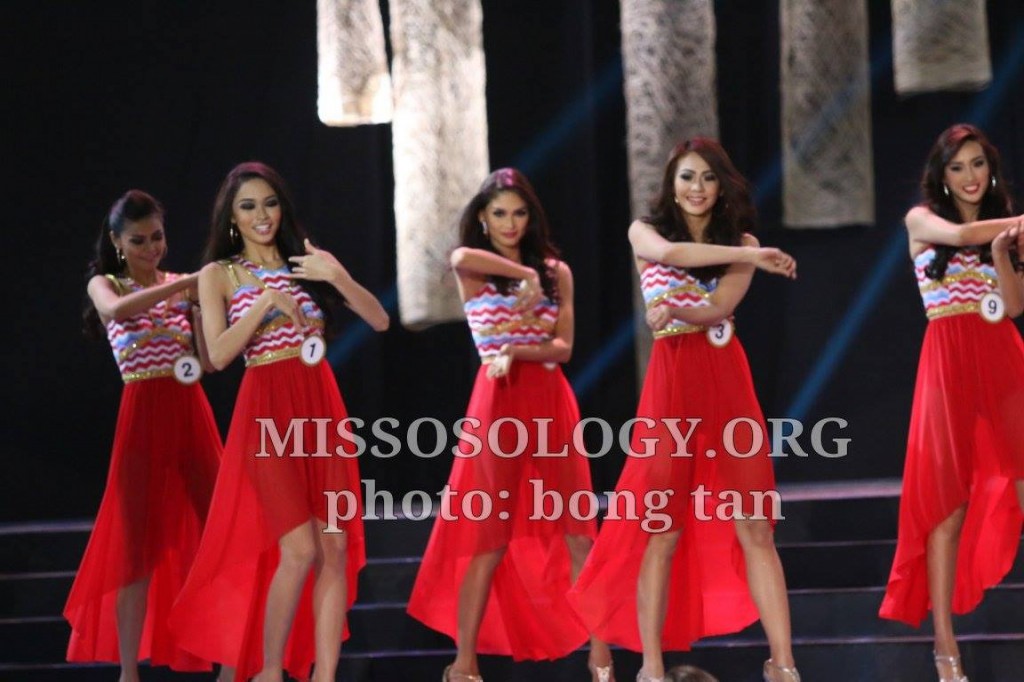 Opening number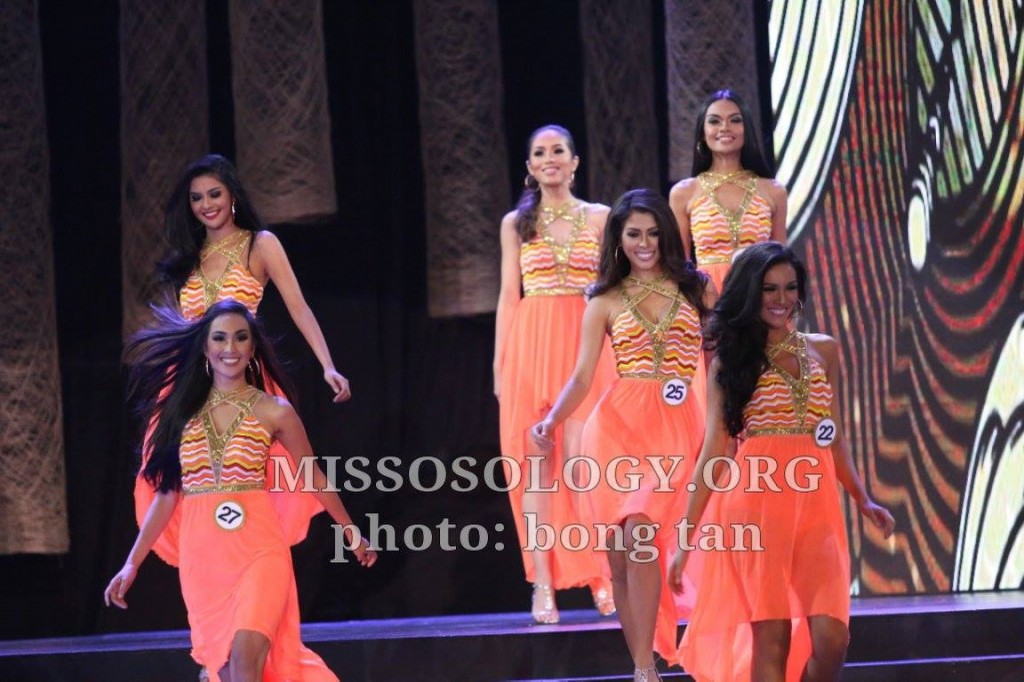 More opening number photos. Can you spot your fave?
Last year's queens with this year's delegates at the opening number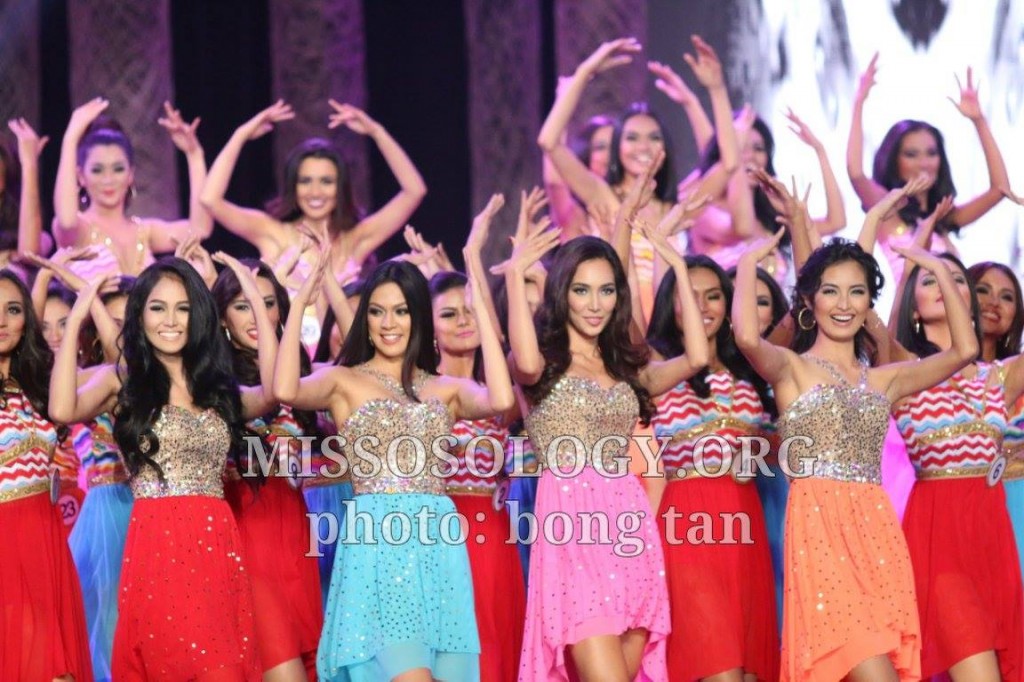 The hosts of the evening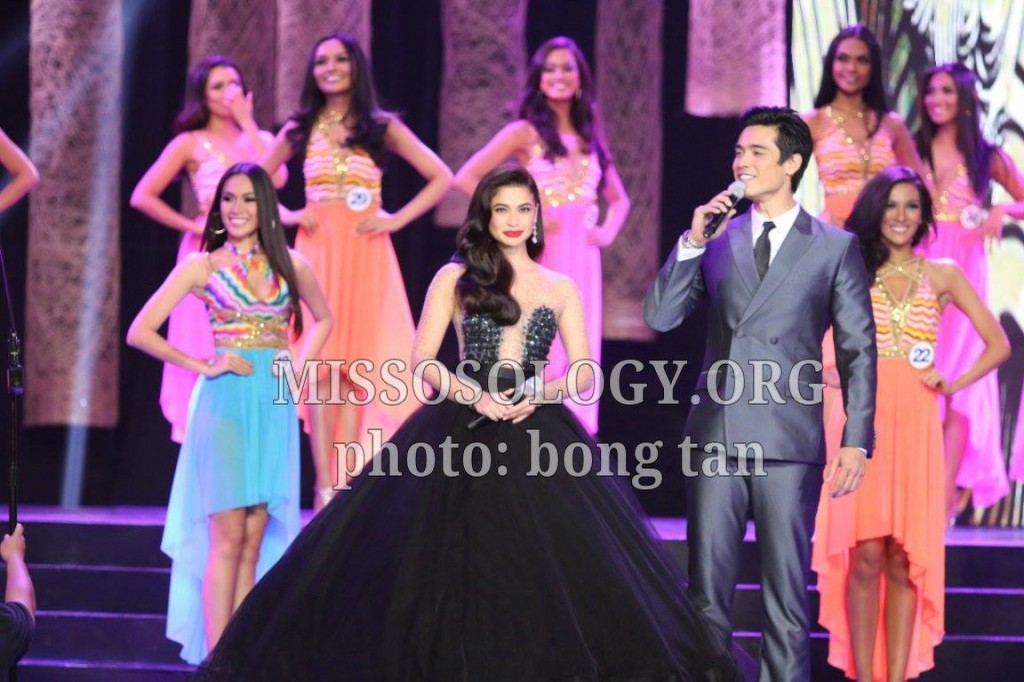 The stage!
Red carpet arrivals