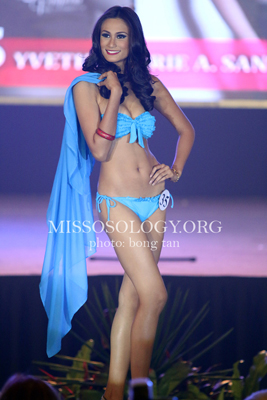 Xamurai is a resident Missosology writer, and a Japan-based beauty expert, pageant historian and a correspondent in international pageants.
Lately, my choices have been a little bit "out of touch" from the actual results. However, Binibini usually saves me from utter humiliation.
Last year, three of the girls in my Top 5 actually ended up in the actual Top 5. They were Ariella Arida, Mutya Datul and Pia Wurtzbach. Both Cindy Miranda and Bea Rose Santiago were in my Top 15. Two years ago in 2012, I got Janine Tugonon, Nichole Schmitz and Ali Forbes in their right position (3 out of 5). While in 2011, I only got Dianne Necio, Isabela Manjon and Shamcey Supsup in my Top 5, with Dianne's correct placement. Another 3 out of 5.
This year, will I get 3 out of 5 again? Or 3 out of 7? Or none at all?
Let's take a look at my traditional FINAL VERDICT!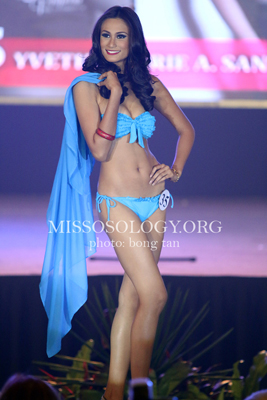 Miss Universe Philippines – Yvethe Marie Santiago
She goes up, she goes down. People love her, people hate her. But no one can deny that together with Hannah Sison and Liezel Ramos, only Yvethe Marie Santiago has the winsome smile that perfectly fits the bill for Miss Universe. The wide mouth is evidently there. The lean body is to die for. And add to that is the fact that she is a Certified Public Accountant! We know that the MUO system loves a girl with a good academic record, especially those coming from the Philippines. They are looking for someone who is "confidently beautiful", which means that a girl must be comfortable in her own skin, determined enough to know what she really wants and tries to get it, and she must be profesionally accomplished. Yvethe will get "it"!
Bb. Pilipinas International – Kris Tiffany Janson
Although Miss International has never allowed a back-to-back win, yet, Kris may just be the one who can break that curse. This beautiful and intelligent Cebuana was already awarded the Best in National Costume special award, and it won't be put into waste. It simply shows that she is an early favorite, and if lady luck is on her side this Sunday, she might get the Universe title away from Yvethe. The final question, if it will matter, may just seal her fate.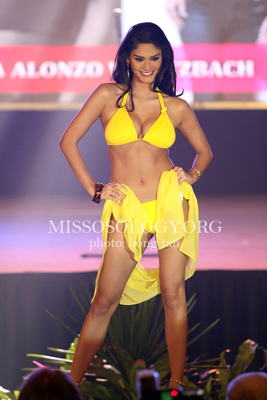 Bb. Pilipinas Intercontinental – Pia Alonzo Wurtzbach
Eversince last year, I have been a fan of Pia. She was Ranked 4 in my list last year, and she's one rank up this year, at 3rd. I don't know if the 3rd placed girl will be sent to Miss Supranational or Miss Intercontinental, but I believe that Pia is best suited for the latter. This German-based pageant will surely welcome this half-German stunner! What I really love about Pia, though, is the fact that she is capitalizing more on her Malay features, which is definitely a good thing. Such exoticity makes a great impact in teh international arena. Pia is also very much eligible for the Universe and International titles, so lets hope that she can impress the judges on Sunday night.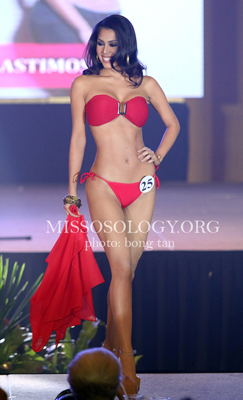 Bb. Pilipinas Supranational – Mary Jean Lastimosa
Third time's a charm, and hopefully, it's going to be a crown for this girl with heaves of loyal fans. After a disappointing finish in 2012, despite claiming two major special awards from corporate spnsors, it's do or die for this 26-year-old charmer from Mindanao. MJ is back under a different handler, and she looks more relaxed this time than in her two previous stints.
Bb. Pilipinas Tourism – Diana Arevalo
Diana had to leave her job in Macau to give Binibini another try. Like MJ, this is also her third try after only placing in the semifinals on her first two attempts. What went wrong in 2009 and 2012? Well, despite her undeniable beauty and stage presence, Diana was styled poorly! We certainly expect that this proud beauty from Mindoro to have learned her lessons, and maybe, it's not just the Tourism crown that she can grab, but one of the four major crowns where she can compete in a more prestigious international pageant.
1st Runner-Up – Emma Mary Tiglao
Emma is young and major head turner. Personally, I would love to see her compete in Miss International, but she can come back next year or two, and who knows, she might as well take the Miss Universe Philippines title. Is it just me, but I find similarities to Marie Ann Umali from this girl! If Emma is blessed to win a crown this year, I will be very delighted because she deserves it.
2nd Runner-Up – Parul Shah
This dusky beauty is actually one of the front runners from her beauty camp. After teh success of Venus Raj in 2010, Parul may just be the perfect choice to have another dark Pinoy represent the country in Miss Universe.
HONORABLE MENTIONS
Racquel Kabigting
Her height is certainly her advantage. If she gets a crown, she will certainly make heads turn for being tall.
Mae Liezel Ramos
Personally, I think that Liezel has some resemblance to the reigning Miss Universe, Molly Isler. That's not a good thing, actually, if she is sent to Miss Universe.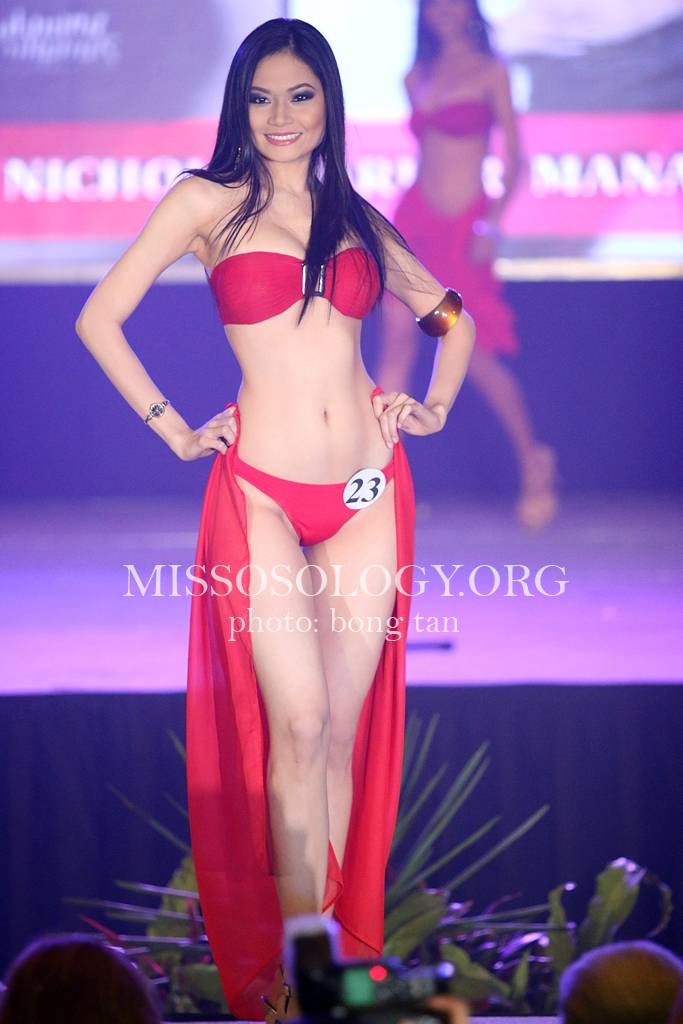 Nichole Manalo
The girl with the right connection is joining this year's pageant after her two elder sisters had accomplished a feat that was never achieved by siblings at Bb. Pilipinas before. Unlike her sisters, Nichole came to compete with a great physique. Her flawless skin is also her asset, so maybe, the International title will be given to her.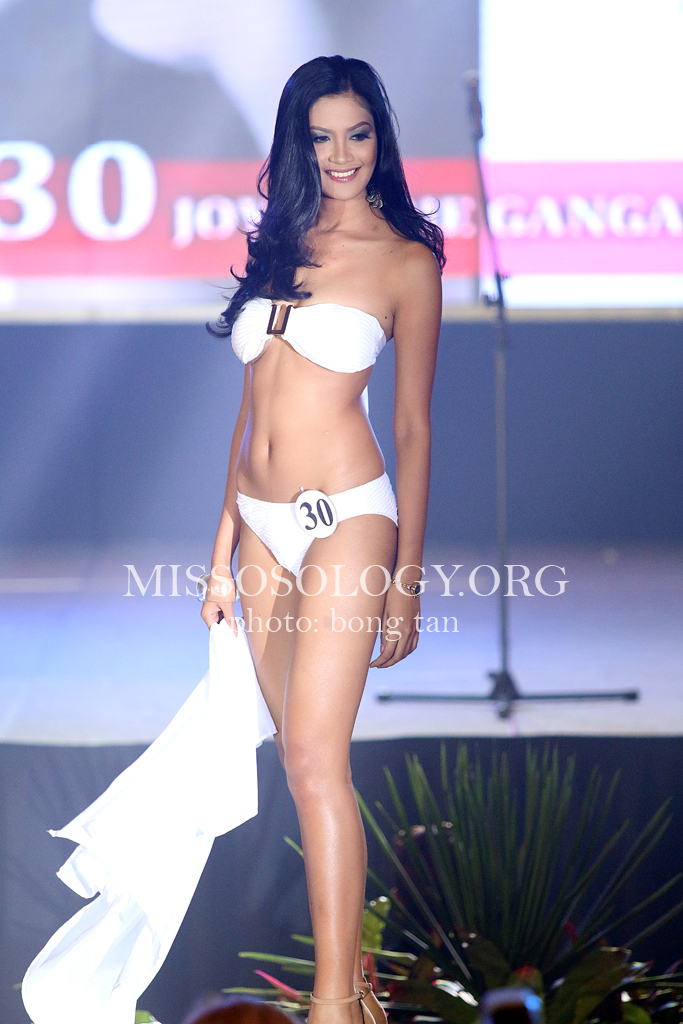 Joy Marie Gangan
This photogenic and telegenic probinsyana will make a pleasant winner, if she grabs one of the crowns. I think she is best suited for Miss Intercontinental for having a classy beauty.
Mary Anne Bianca Guidotti
The girl with an amazing academic credential! She was sexy and confident during the Press Presentation, and if she plays her cards well, a major crown may just fall on her head. She is my fourth choice for MUP, next to Y. Santiago, Wurtzbach and Shah.
Hannah Ruth Sison
She is sexier, and is a much better version of herself this year than last year! Some people may claim that she is plain looking, but I find Hannah to be very pretty, which is comparable to Ariella Arida's. Watch out for her if she gets a crown!
Kimverlyn Suiza
The lass who looks like a swan! Kimverlyn's face is memerizing… on still photos. But when you see her overall body proportion, it is difficult to put her up high. But then, I hope that she proves me wrong. There are ways to make one's shoulders look broader, and I hope that Kim has thought on how to improvise her pose to make her upper body look balanced with the lower part. Beauty-wise, she is definitely in my Top 5!
Joy Antonette Diaz
The niece of Gloria Diaz will place! I heard from those who have met her that she's way way prettier in person than in still pics.
Kenneth Santiago
She has a great body and being the second tallest girl in the competition, it is hard to ignore this Pinay beauty, with her very straight hair. If this was the 1990s, she'll be a runaway winner!