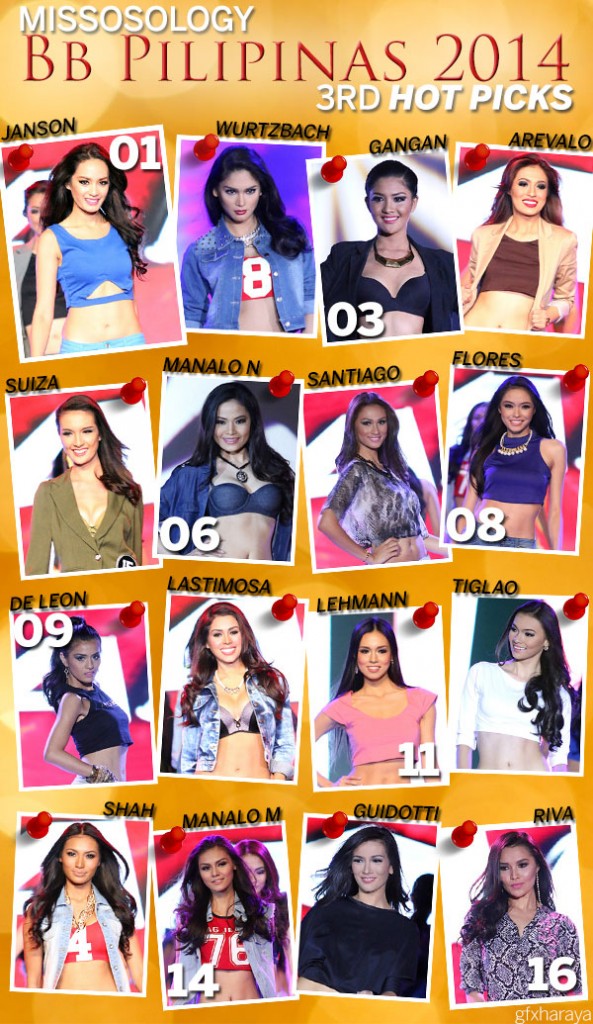 Cebuana beauty Kris Tiffany Janson leads our third official hot picks for Bb Pilipinas 2014. She has one of the most beautiful faces in the competition. Having won local pageants in Cebu surely molded Kris into a strong delegate, add to that a good team (she's under Kagandahang Flores) guiding her. She was stellar during the fashion show. One couldn't also deny this girl is classy without even trying.
Pia Wurtzbach drops a notch to settle for second for this hot picks. The 2013 runner-up is prepared for battle, but she has the tendencies to overdo her performance. Despite this, Pia still remains a major force to reckon with in the competition.
Climbing at third place is Joy Marie Gangan. One of this year's catwalk divas, Joy definitely became a hot favorite after her impressive performance during the Fashion Show. Some are comparing her to the reigning Miss Supranational Mutya Datul, and we surely know why. They both have the unassuming beauty. Darkhorse alert!
Fourth on the list is Binibini third-timer Diana Arevalo. One of the most experienced in the batch, Diana seems to be losing sparkle. But her classy national costume presentation was convincing enough to say Diana is in the game to win the game.
Completing our Top Five for now is crossover beauty Kimverlyn Suiza. She's among the fan favorites, but many are doubting she could take a crown given this year's competitive batch. But the former Miss Philippines Earth runner-up is not taking matters sitting down; in fact she was one of the most impressive girls in the fashion show. Kim is peaking at the right time and who knows, this pretty lady might surprise us all on March 30.
Could they hold on to these spots til the end? We'll find out soon as we reveal our FINAL HOTPICKS & PREDICTION LIST by the end of the week.