There is little doubt now that the Philippines is the rising tiger in the world of pageantry. Having won the Miss World and Miss International crowns last year and also earning the Miss Supranational and Miss Tourism International titles plus landing in the semis of all other major and minor pageants, the Philippines is setting its main prize – Miss Universe.
The Miss Universe pageant remains the most popular beauty pageant in the Philippines although Miss World is slowly threatening that popularity. The victory of Megan Young last year shifted the focus of the Filipinos to Miss World. But Miss Universe remains the ultimate prize that the country is aiming for. And it is something that is quite elusive nowadays. The last Miss Universe winner from the Philippines was in 1973  and she's Margarita Moran. Since then the Philippines experience steady decline in the 80s and well into the 90s, a total drought in the early century but is now making a comeback. Along the way, the country almost snatched the crown – twice.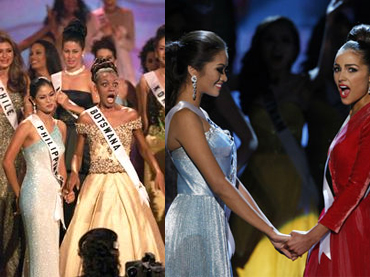 So when will the Philippines win the Miss Universe crown? Probably in the so distant future. The series of Top 5 finish of the Philippines since 2010 is simply Donald Trump keeping the Filipinos on edge. The anticipation and the excitement drives the popularity of Miss Universe further in the Philippines. Giving the country the ultimate prize will dampen the enthusiasm. After all, if the country will snatch the title, would there still be that same level of excitement the following year?
Filipinos should pray that it's not the case. They should hope that it could mean another thing, that is, the successive Top 5 finish means that the crown is on the offing. With Miss World and Miss International recognizing the Filipina beauty, Miss Universe Organization should learn a thing or two. The Philippines gives its winners the best treatment around – more like a royalty. A Filipina Miss Universe next year will cause a lot of celebration and Miss Universe will become even more popular in the Philippines. It will become a win-win situation for both the MUO and the Philippines.