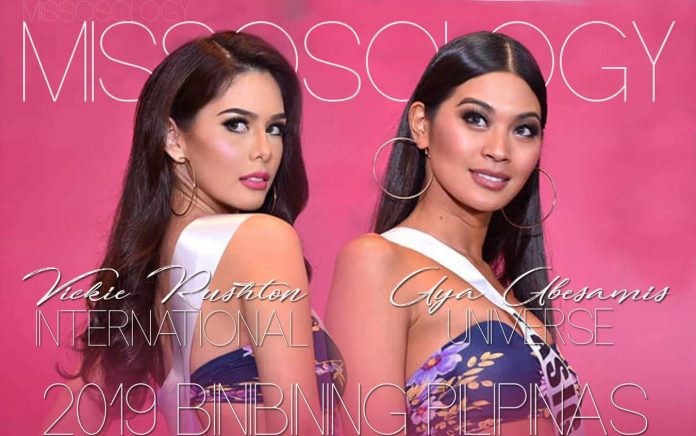 Graphics by Mario Bergantiños
Things are heating up, as the Bb Pilipinas 2019 official candidates participated in various pre-pageant activities leading up to the finals night. With sponsor activities, talent competition, and press presentation events recently held, fans and supporters got the chance to see and know more about this year's batch of candidates. And for the first time, the candidates wore a sash to show which province or city they are representing instead of traditional pinned numbers.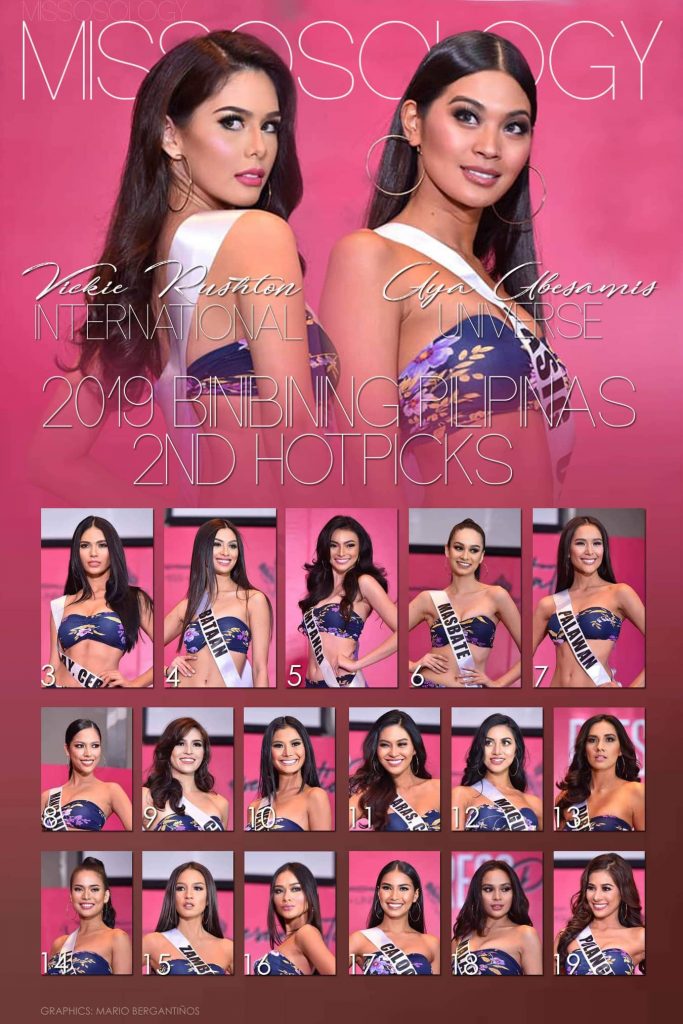 Missosology's panel of beauty experts has come up with its second hot picks for this year's Bb Pilipinas 2019.
On top of the list is Aya Abesamis from Pasig City. She's back with vengeance and showcased one of the best performance and gym toned figure during the press presentation event.
This 27 year old model has a degree in fine arts and advocates the use of creative arts as a tool to help vulnerable members of the society.
"She's rocking the runway, and using arts in a good way, its Pasig City."
At second spot is Vickie Rushton from Negros Occidental. Possessing a beauty that could launch a thousand ships, she's definitely the face of this year's pageant.
This 26 year old candidate is also an actress and is raising awareness for inclusion and acceptance of children with down syndrome.
"This kind-hearted beauty queen, looks gorgeous on the TV screen, its Negros Occidental."
Moving up on the list is Gazini Gannados from Talisay, Cebu. Giving us the Chalita Suansane vibe, she's one of the frontrunners in this year's batch and has outstanding stage presence and projection during the press presentation.
This 23 year old model and dog lover, grew up with her grandparents and advocates in taking care of the elderly.
"Slayin' the stage & catwalk, and also taking her dogs for a walk, its Talisay, Cebu."
Coming in at fourth spot is Patch Magtanong from Bataan. One of the most anticipated candidate this year, she exudes style & beauty, and also has good communication skills.
This 24 year old model and law graduate loves travelling and advocates prisoners rights to humane treatment.
"This adventurous traveller, is also a beauty queen lawyer, its Bataan."
Check out the complete list below.
1. Aya Abesamis
2. Vickie Rushton
3. Gazini Ganados
4. Patch Magtanong
5. Emma Tiglao
6. Hanna Arnold
7. Samantha Bernardo
8. Ilene Devera
9. Samantha Lo
10. Jessarie Dumaguing
11. Denise Omorog
12. Resham Saeed
13. Julia Saubier
14. Leren Bautista
15. April Short
16. Maria Isabela Galeria
17. Joanna Tolledo
18. Jessica Marasigan
19. Shane Tormes