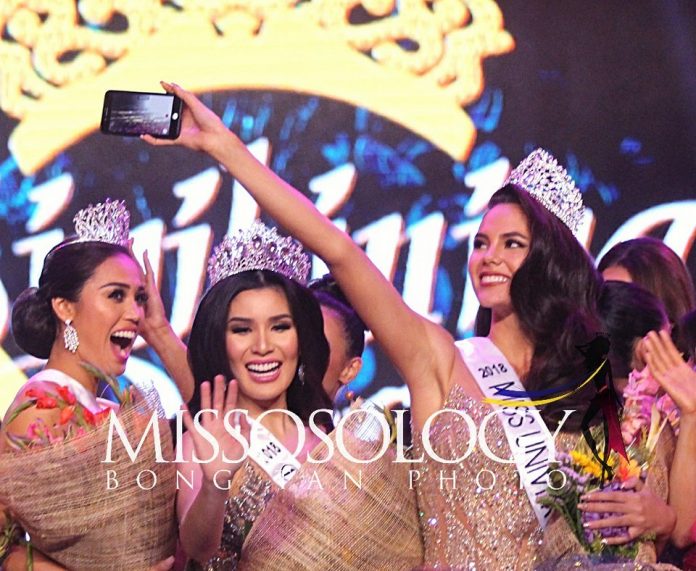 THE ROAD to the Bb Pilipinas 2018 crown finally concluded last March 18 with heavy favorite Catriona Elisa Gray of Albay winning the Miss Universe Philippines 2018 crown.
It did not come as a surprise. It was the first time in many years that Missosology's top pick in a Bb Pilipinas Final Hot Picks managed to win the most coveted crown in the national pageant. The 24-year-old former Miss World Philippines titleholder and Missosology Timeless Beauty 2016 winner was an easy pick among our pool of experts and correspondents.
"Catriona is simply a cut above the rest and BPCI and Stella Araneta should not make the same mistake as Julia Morley in ignoring this super beauty," we wrote in our Final Hot Picks. And true enough, the Miss Universe Philippines crown convincingly landed on her head.
Front-runner
At the start of the show, Catriona already solidified her front-runner status after winning three special awards, including the Pitoy Moreno Best in National Costume. From that point, all eyes were already on her.
Compared to her Miss World Philippines and Miss World stints, Catriona looked more confident and fiercer in Bb Pilipinas. She showed off her sassy but sexy side during the swimsuit competition. In the evening gown round, she sashayed grace and elegance in her shimmering muted gold evening gown by Mak Tumang, perfectly partnered with a custom-made "Three Stars and the Sun" ear cuff by Tessera Jewelry. The over-all look truly made her stand out.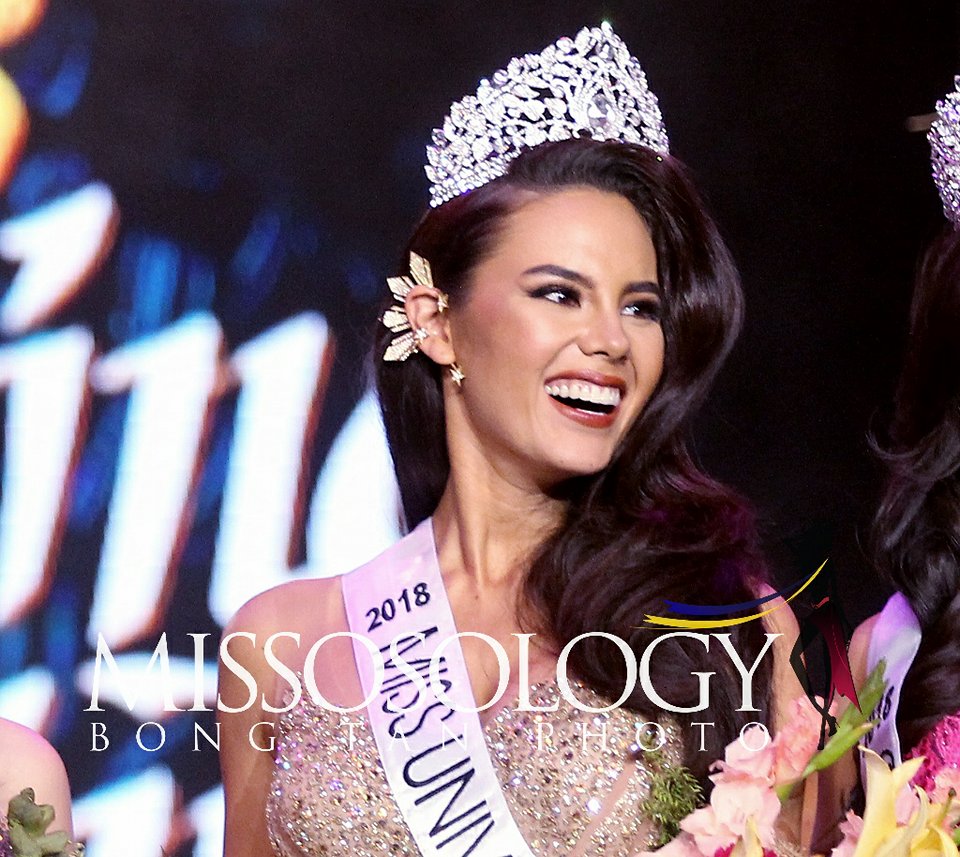 Winning the two most important special awards – Best in Swimsuit and Best in Long Gown – were enough to assure her of a crown. But it was the Q&A round that must have sealed the deal for Catriona.
Asked by US ambassador to the Philippines Sung Kim what her message is to the young women of Marawi, Catriona said: "My answer and my message to the women is to be strong. As women, we're the head of the household and we have amazing influence not only in our families, as mothers, sisters and friends, but also in our community. If we could get the women to stay strong and be that image of strength for the children and the people around them, then once the rebuilding is complete and is underway, the morale of the community will stay strong and high."
It was a heartfelt answer that sounded neither scripted nor pageant patty. She was confident and was every inch a queen in that moment.
Catriona faces immense pressure to surpass her Top 5 finish at Miss World 2016, and to bring the Philippines back in the Top 3 of Miss Universe. But one thing is for sure. If she was able to risk everything and start anew in her Bb Pilipinas journey, her road to the Miss Universe crown will be a cakewalk for her. After all, Catriona fits the template of recent Miss Universe winners: well-spoken, modern, and most of all with a purpose-driven agenda.
Winners, too
Joining Catriona as the new torch-bearers of the Philippines in the Big5 pageants are Ma Ahtisa Manalo (Bb Pilipinas International) and Jehza Mae Huelar (Bb Pilipinas Supranational). The placements of these two women came as pleasant surprises during the finals night, but very well deserved.
Manalo is undeniably one of the most beautiful faces in the competition. But aside from that, she's also a force to reckon with on the catwalk. She was one of the best in the evening gown round, sashaying her fuchsia pink gown. Aside from that, her performance in the Q&A round, despite buckling in the middle of her answer, made her win a convincing one.
"A beauty queen should always respond to criticisms constructively. We beauty queens are public figures and we put ourselves in a position to be judged. But nonetheless, we should always, we should always filter which comments we should accept and what we should not."
With her doll-like features and great stage appeal, we won't be surprised to see Ahtisa win the Philippines' 7th Miss International crown.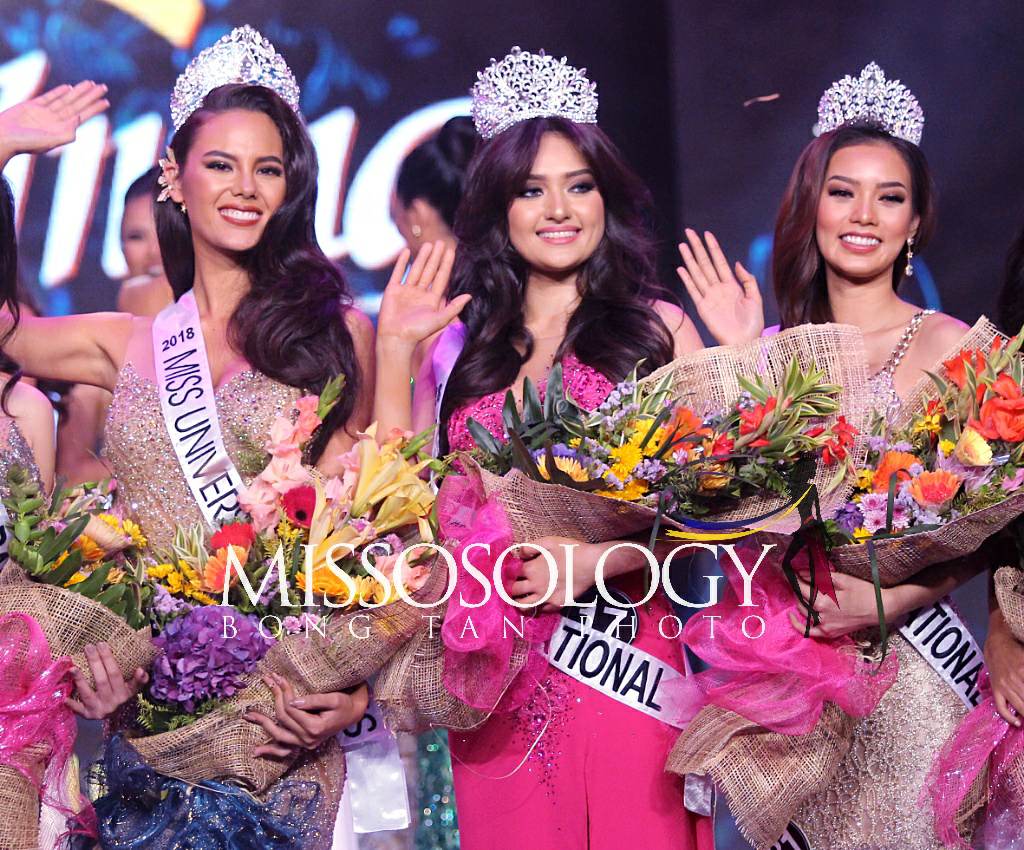 Meanwhile, Jehza finally wins a crown on her third attempt. She looked fresher and on point during the finals. And her Q&A answer, albeit treading the safe zone, was enough to catapult her to the winners circle.
"I think the most important quality a millennial woman have is to have a vision. With her vision, she should have this attitude and perseverance so that she can achieve her goals. And if she's good at vision, she will be able to express herself freely. So I would hope that all the millennials out here would really adhere to our culture and our tradition so that we can inspire others, we can impact people."
As a pageant veteran, Jehza surely knows what to do when she competes in Miss Supranational later this year. With her effortless beauty, she will surely keep the placement streak going for the country.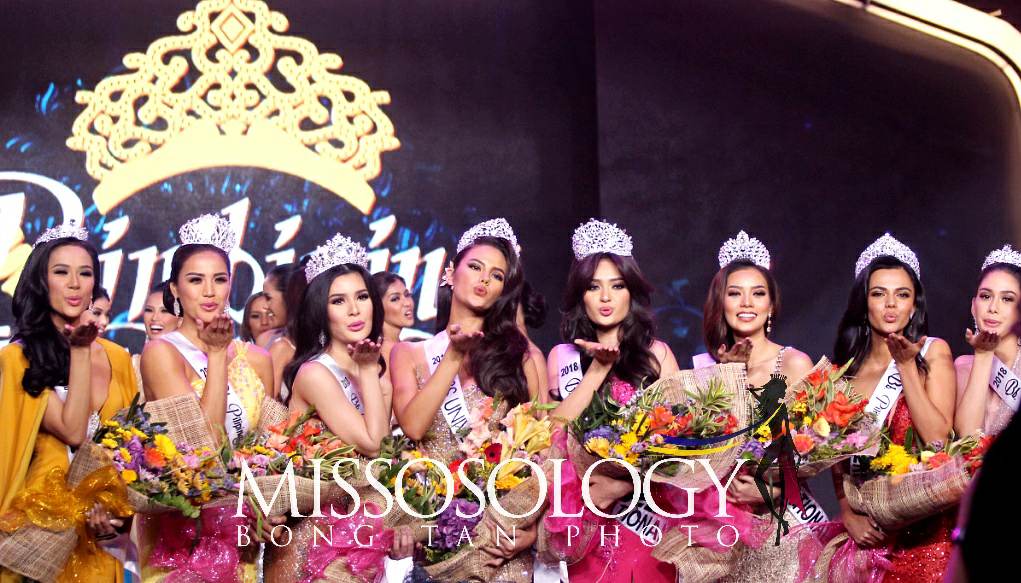 Crowned queens, too
Other winners were Eva Psychee Patalinjug (Bb Pilipinas Grand International), Karen Gallman (Bb Pilipinas Intercontinental), and Michele Gumabao (Bb Pilipinas Globe).
Eva was on the safe zone throughout the competition. However, it was her well-applauded answer (or was it a speech?) during the Q&A round that made her a true contender for the titles at stake. We do feel, though, that she deserves a better placement.  Karen, on the other hand, was breezing through the competition. We thought she could give Catriona a good fight for the MUP crown until she faltered in the Q&A round. Finally, Michele was touted as one of the top contenders. She had a good performance throughout the night, but her Q&A, despite a strong delivery, lacked beef. Her choice of evening gown and styling also did not flatter her.
Surprises and upsets
Vickie Marie Rushton and Samantha Bernardo, meanwhile, finished first and second runners-up, respectively.
Vickie was solid throughout the night and even gave a good answer. Finishing as a runner-up was a total surprise. Samantha was oozing with confidence especially in the Q&A round. We expect both ladies to come back in a year or two.
Rounding up the Top 15 were Muriel Orais, Anjame Magbitang, Wynonah Buot, Juliana Kapeundl, Sandra Lemonon, Aya Abesamis, and Edjelyn Gamboa. The rest of the Top 25 were Kristie Rose Cequeña, Sigrid Grace Flores, Kayesha Chua, Ana Patricia Asturias, Ena Velasco, Trixia Marie Maraña, Agatha Romero, Mary Joy de Castro, Shane Tormes and Patrizia Garcia.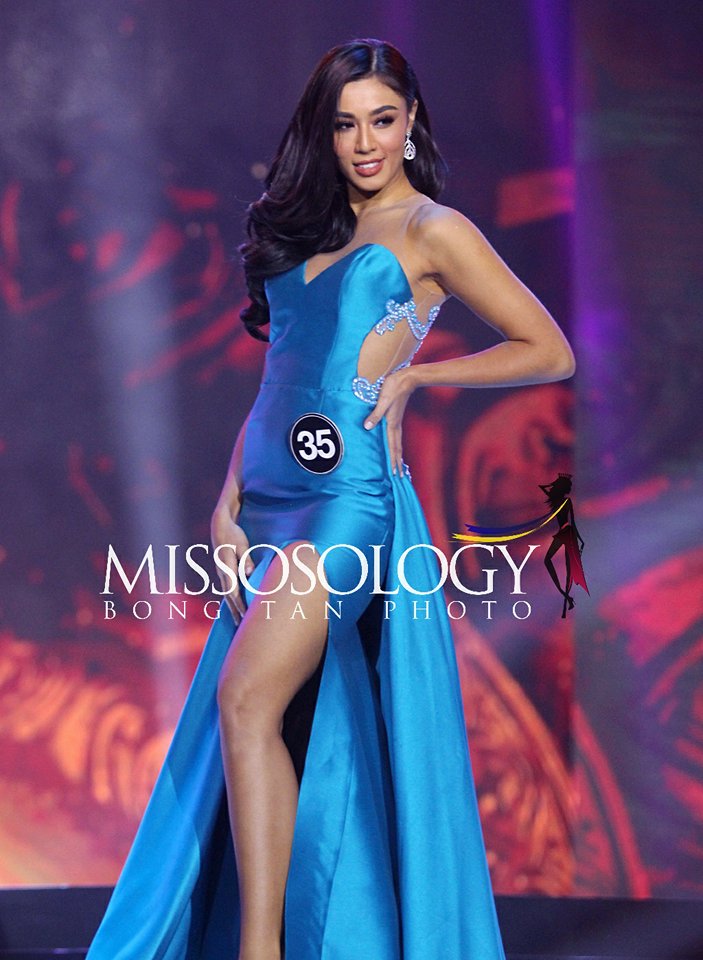 The biggest upset of the night was probably Sandra Lemonon failing to deliver during the all-important Q&A round. Asked about her insights on the Philippine government's "build, build, build" infrastructure program, she said: "The insights of the government's 'Build, Build, Build' program. Actually, I studied so much for this Q&A, but suddenly that's something that I really don't know much about. But, at least I'm here trying to answer a good question." Sandra was breezing through the competition, but choosing to be honest instead of making up an answer didn't work on her favor.
Aya Abesamis not winning a title also came as a surprise. As a daughter of a former Miss Universe Philippines, she was one of the most talked about candidates. Many thought Aya would get a free pass to the winning circle. She was glowing the whole night; however, the judges might have not been convinced by her answer in the Q&A.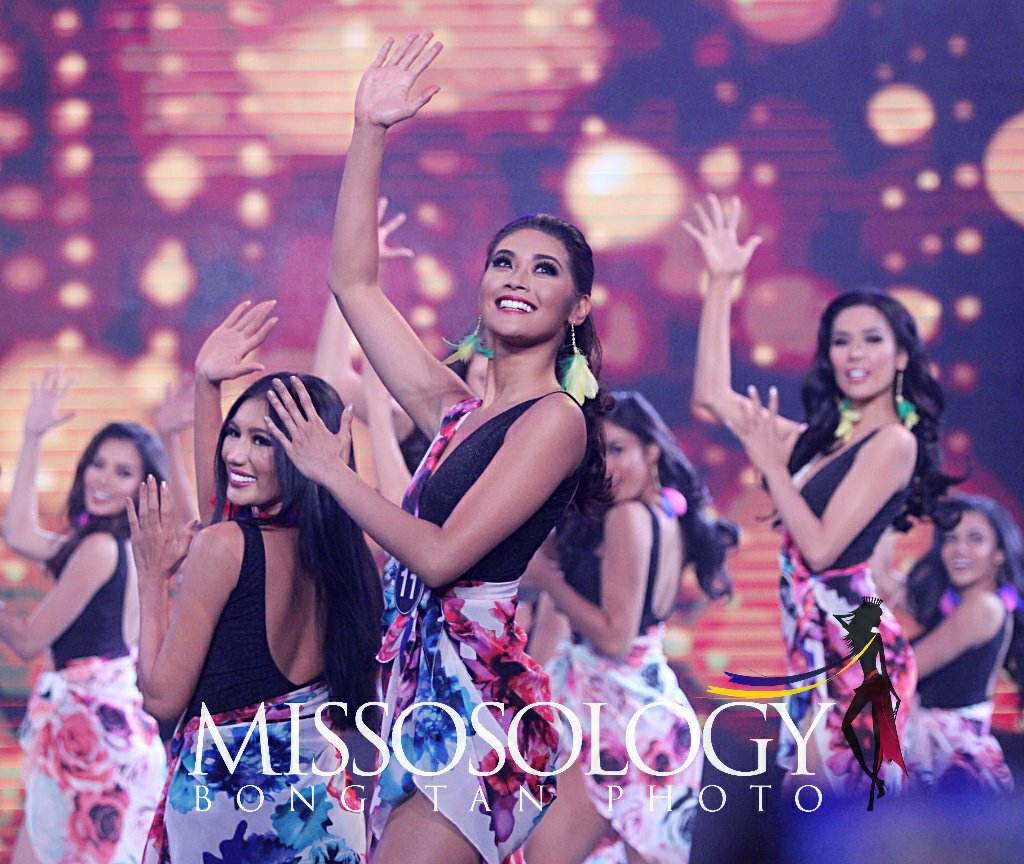 The technical side
Since moving to ABS-CBN in 2011, the Bb Pilipinas finals has seen marked improvement every year. The size of the stage was just right and it was completely utilized. The opening number was enough to bring the Smart Araneta Coliseum crowd on their feet.
The canary yellow swimwear by Domz Ramos looked really good onstage, especially with the organza cover-ups with floral details inspired by the late Philippine fashion czar Pitoy Moreno.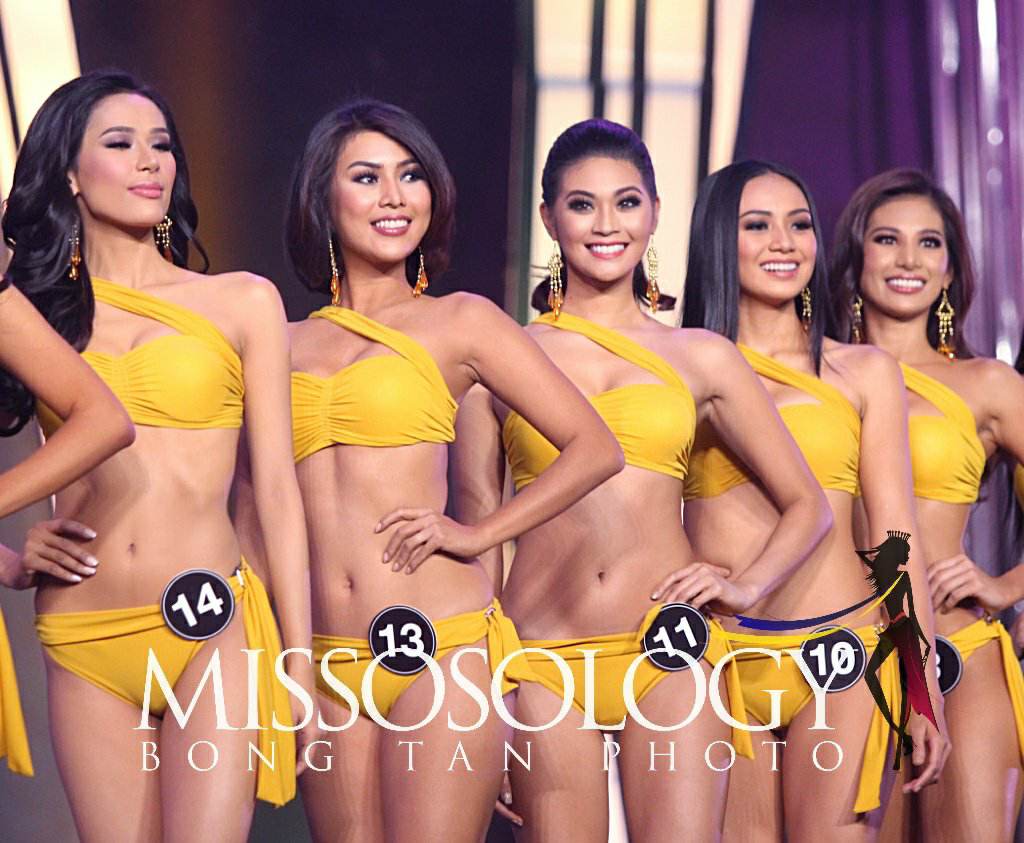 Meanwhile, this was probably one of the best sets of evening gowns worn by the Binibinis. Not only did these creations highlighted the beauty of each candidate, they also showcased the best of Philippine fashion. We feel there should be a special award for the best dress of the night!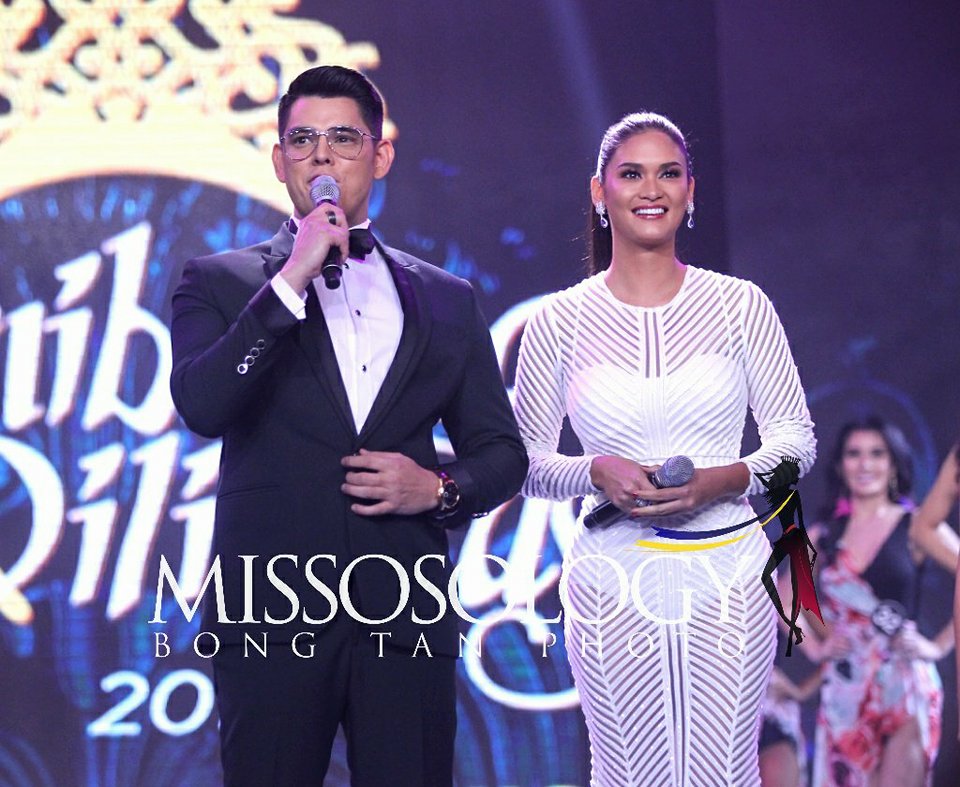 Richard Gutierrez and Pia Wurtzbach could have done a better job as hosts. But props to Pia for giving encouraging words to the ladies during the Q&A portion. Nicole Cordoves, meanwhile, was the biggest surprise of the night. She did a great job as the side commentator.
Overall, it was a good show and a great set of winners. The pressure is on these ladies to keep the country's momentum going in the international competitions assigned to them. Will they win crowns? We'll soon find out. Text by Drew Francisco; Photos by Bong Tan; Missosology.Org